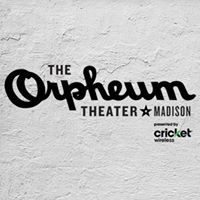 Constructed in 1926 by Rapp and Rapp, the French Renaissance interior and limestone Art Deco exterior, with Orpheum sign towering over State Street, made the building a Madison icon.  Originally built as a vaudeville venue and a movie theater, The Orpheum Theater opened its doors on March 31, 1927 and was the first building in Wisconsin to have air conditioning.  In 2013, after the theater had spent years in disrepair, the Gus Paras family bought the building and lovingly restored the theater to its former glory.  Currently, exclusively booked and operated by Live Nation, The Orpheum Theater hosts regular concerts, stand-up comedy shows, weddings, parties and special events.

Address:  216 State Street - Madison, Wisconsin 53703

Phone:  (608) 250-2600

Website:  www.MadisonOrpheum.com

  
www.Facebook.com/MadOrpheum


Upcoming Events & Tickets: www.MadisonOrpheum.com

Hours:  Box Office is open Tuesday, Thursday and Saturday from 12pm to 5pm and 12pm on all show days.