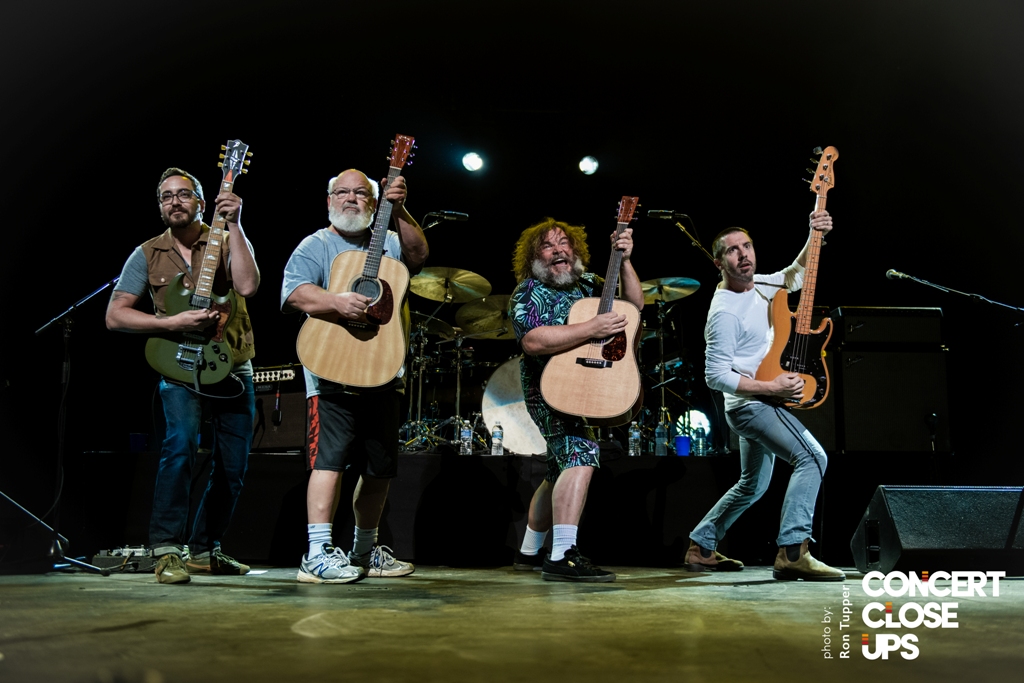 September 18, 2022
Review and Photos by Ron Tupper
Out on their 2022 North American Tour, Kyle Gass and Jack Black are currently celebrating the 20th anniversary of Tenacious D's 2001 self-titled debut album. The relatable and hilarious everyman, dad-bod rock squad, Tenacious D, delivered their only stop in Wisconsin to Milwaukee's own BMO Harris Pavilion on a warm and calm September evening. Tour dates in 2022 started in June and were peppered lightly throughout the states with stops in Colorado, Utah, Oregon, Washington and California. Following their Milwaukee performance, they will (by rock decree) perform in Minnesota, Iowa, and Louder Than Life music festival in Louisville, Kentucky and will close out 2022 by playing two nights at the Theater at Virgin Hotel in Las Vegas around New Year's Eve.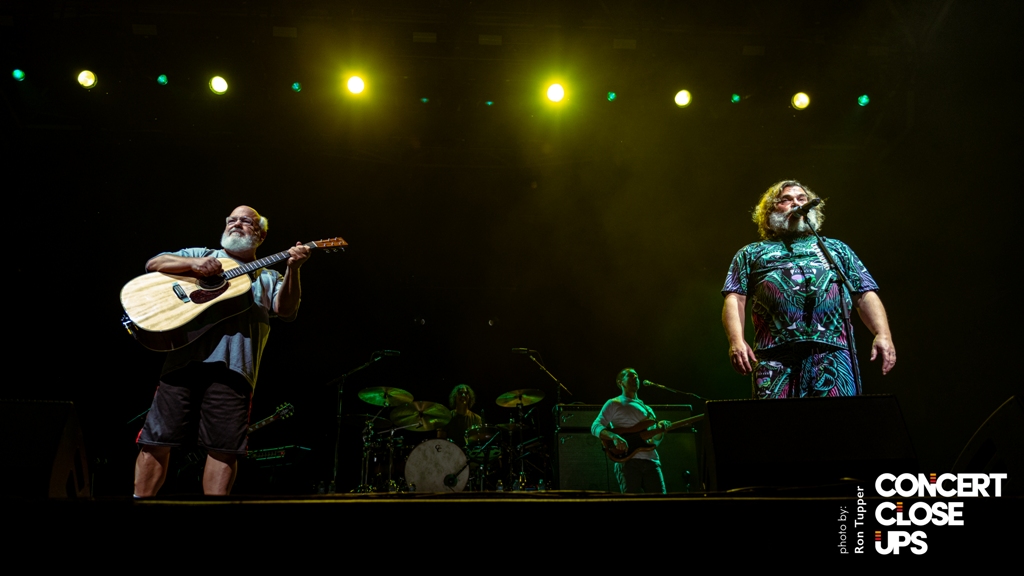 "God of Rock, thank you for this chance to kick ass. We are your humble servants. Please give us the power to blow people's minds with our high voltage rock. In your name we pray, Amen." – Dewey Finn, School of Rock
And rock they did. The folk-metal comedy duo arrived on stage to a nearly sold-out audience who rose to their feet, ready to absorb the awesomeness that is Tenacious D! Their setlist kicked off with a group of songs from the Post-Apocalypto album (released in 2018) and Low Hangin' Fruit from Rize of the Fenix, before tearing into a blistering cover of Thin Lizzy's Jailbreak with Kyle Gass on lead vocals.
"I am singing at the party, I am singing it's my turn to sing, at the party." – Nacho, Nacho Libre
But true to character, JB couldn't let Rage Cage have the spotlight for long. Jack Black feigned being too exhausted to perform on two separate occasions. As the song progressed, he rested on an office chair to seemingly catch his breath. The second time, he staggered around the stage before flopping to the floor. On both occasions, in classic James Brown fashion, he mustered up enough adrenaline just in the nick of time to
jump up to the mic to help sing the chorus.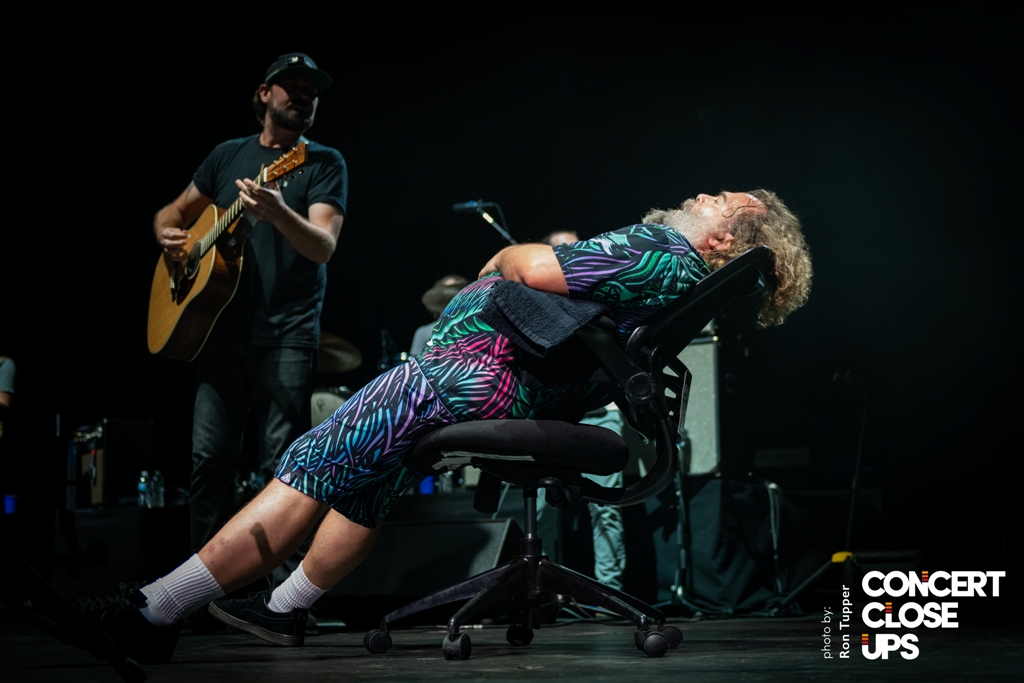 "No! I'm a middle-aged, overweight man." – Professor Shelly Oberon as Bethany, Jumanji: Welcome to the Jungle
They are middle-aged, overweight and self-aware, but that's the point. While Kyle Gass plays the straight man and lead guitarist, Jack Black is bombastic front man who jumps and gyrates on stage more akin to Bruce Dickinson of Iron Maiden. But The D are so much more than dick jokes and cock push-ups. These bearded brethren essentially Gen X-ers version Spinal Tap and we love them for it. The beautiful big-man balancing act of
legitimate musicianship (2014 Grammy Award Winners) combined with R-rated humor and wit proved to be a fantastic display of showmanship. With the submission of a single ticket, the audience had the opportunity to witness a comedy show and folk music with guitar riffs reminiscent of the late 70's and early 80's.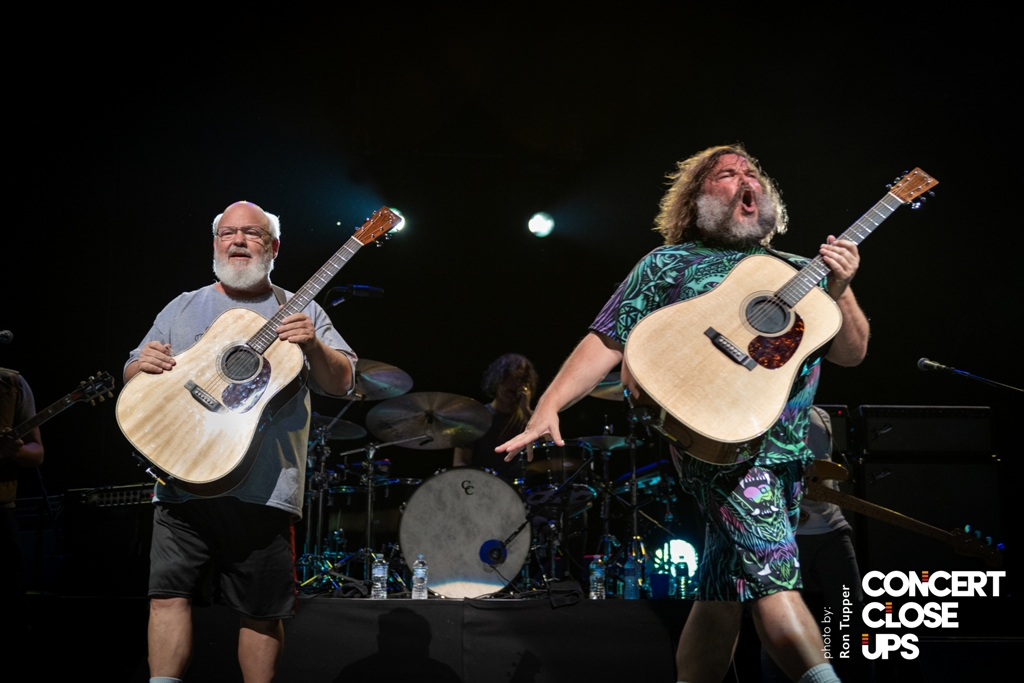 The true magic of Tenacious D is that sometimes they make up a song right in front of you. During the Milwaukee audience the duo created a song about a guy you might've heard about called "Antetokounmpo." While they admit to being hard core Los Angeles Lakers fans, they couldn't help but acknowledge Giannis undeniable talent. Of course, the Milwaukee faithful fans ate up every spoonful they were serving.
"Antetokounmpo, Antetokounmpo, Antetokounmpo, 1-2-3
Antetokounmpo, Antetokounmpo, Antetokounmpo, MVP
Antetokounmpo, Antetokounmpo, Antetokounmpo, Yes it's true.
Antetokounmpo, Antetokounmpo, Antetokounmpo, We love you!"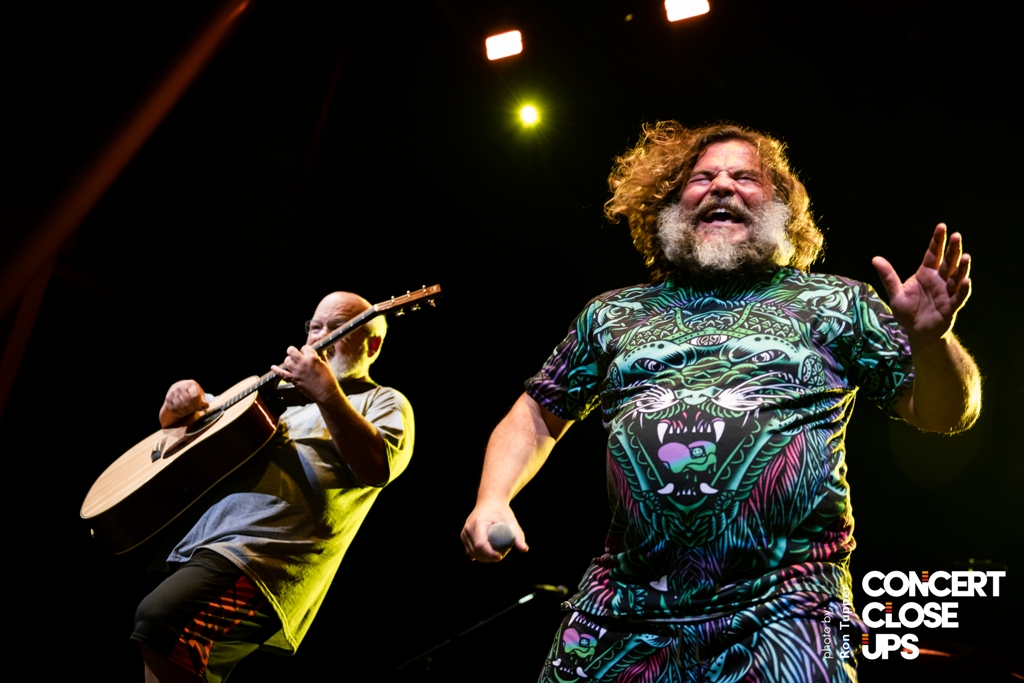 Mid way through the set, after an on-stage meeting with JB, Kyle comes to the mic and says, "I'm sorry Milwaukee…I quit." As he walks off the stage giving double middle fingers to Jack Black and mooning the crowd. Jack pleads for him to come back but it doesn't work. Tears ensue and Jack, continues alone on stage, singing Dude (I Totally Miss You), eventually encouraging KG back onstage to finish the song and then team up
for Friendship.
"We'll lead as Two Kings, oh, yeah, we'll fuckin' lead as Two Kings." – The D, City Hall
KG and Jables work together as one united force for the remainder of the show with Kielbasa, Tribute and Double Team before departing the stage. Having quite a bank of cover songs over the years, I was anxious to see if they played one during the encore. They didn't disappoint, with a wonderfully respectful presentation of Wicked Game from Chris Isaak. After serenaded the audience with the tender love ballad, Fuck Her Gently, Tenacious D left them with these parting words: "Milwaukee you know we fucked you hard! We love you."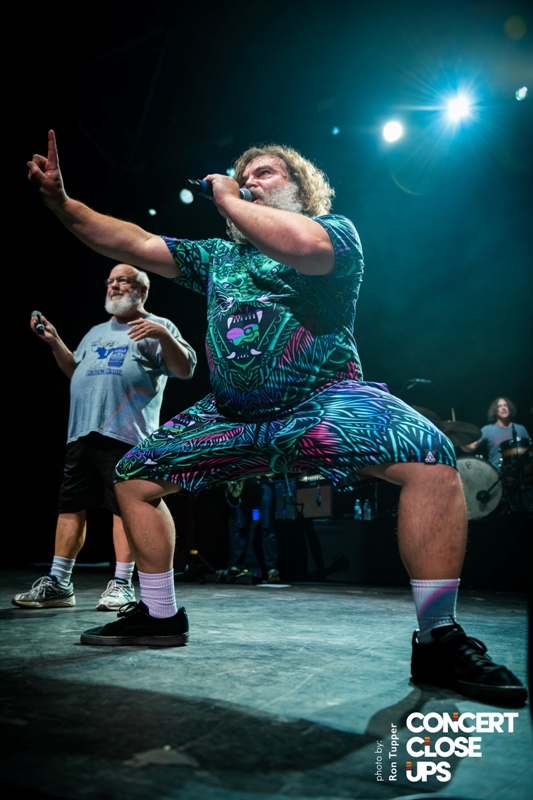 SETLIST:
JB JR Rap
Woman Time
Save The World
Post-Apocalypto Theme (Reprise)
Low Hangin' Fruit
Jailbreak (Thin Lizzy cover)
Don't Blow It, Kage
Rize of the Fenix
Antetokounmpo (improv song)
Sax-a-Boom
Roadie
The Metal
Kickapoo
Beelzeboss (The Final Showdown)
Friendship
Kielbasa
Tribute
Double Team
Encore:
Wicked Game (Chris Isaak cover)
Fuck Her Gently