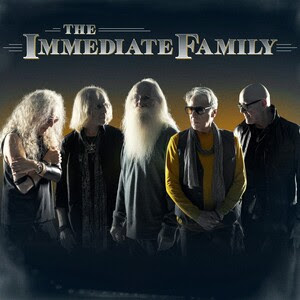 THE IMMEDIATE FAMILY
DANNY KORTCHMAR, WADDY WACHTEL, RUSS KUNKEL, LELAND SKLAR, STEVE POSTELL
RELEASE FIRST SINGLE "FAIR WARNING"
FROM UPCOMING NEW SELF-TITLED ALBUM AVAILABLE ON AUGUST 27
FALL TOUR BEGINS ON NOVEMBER 3
July 30, 2021 – The Immediate Family releases the single "Fair Warning" today which 
premiered earlier via Glide Magazine. 
Written by Waddy Wachtel, "Fair Warning" is the first single from the supergroup's upcoming new self-titled album to be released on August 27th via Quarto Valley Records.
"'Fair Warning,' a standout track on the new album that showcases the musical chemistry between these legendary and seemingly ageless musicians….an aptly titled tune that signals this Family can't be stopped when it comes to laying down serious rock and roll chops." – Glide Magazine
The new single is one of twelve original songs from the upcoming album. Produced
by The Immediate Family and recorded over three days at Jackson Browne's
Los Angeles studio, the new album also features two bonus tracks: live versions of the Danny Kortchmar/Jackson Browne collaboration "Somebody's Baby" and Warren Zevon's "Johnny Strikes Up the Band." 
The album is available for pre-order today.
These iconic musicians have played together for decades, but never as their own band. Known for their long, illustrious careers backing Hall of Fame artists like James Taylor, Keith Richards, Jackson Browne, Linda Ronstadt, Carole King, Stevie Nicks and Crosby, Stills, Nash & Young, guitarists Danny Kortchmar and Waddy Wachtel, drummer
Russ Kunkel and bassist Leland Sklar have come together, along with guitarist
Steve Postell, to perform their own songs as The Immediate Family.
Fair Warning credits:
Songwriter: Waddy Wachtel
Producer: The Immediate Family
Vocals: Waddy Wachtel, Steve Postell
BG Vocals: The Immediate Family
Guitars: Danny Kortchmar, Waddy Wachtel, Steve Postell
Bass: Leland Sklar
Drums: Russ Kunkel
2021/2022 Tour
November 3 – San Juan Capistrano, CA @ The Coach House
November 6 – Santa Barbara, CA @ Lobero Theatre
November 7 – Agoura Hills, CA @ Canyon Club
November 16 – Norwalk, CT @ Wall Street Theatre
November 17 – Yarmouth, MA @ The Music Room
November 18 – Derry, NH @ Tupelo Music Hall
November 20 – New York, NY @ Concert Hall at NY Society for Ethical Culture
November 21 – Ardmore, PA @ Ardmore Music Hall
February 14-18 – The Rock Legends Cruise IX
February 19 – Boca Raton, FL @ The Funky Biscuit
February 20 – Hallandale Beach, FL @ Sport of Kings Theatre at Gulfstream Park & Casino