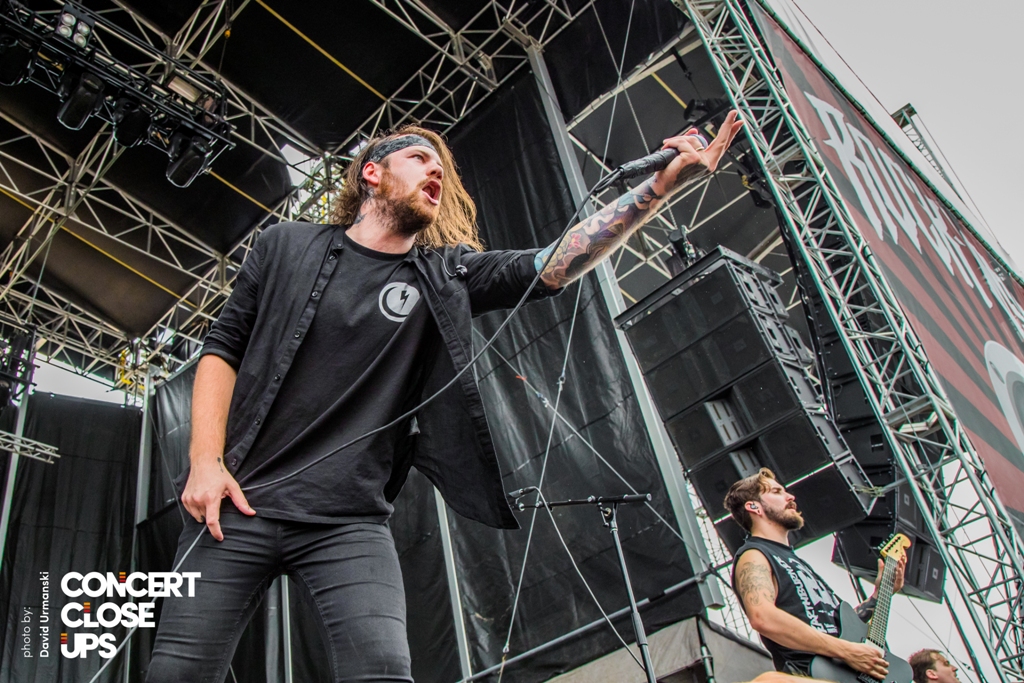 July 14, 2018
Photos by David Urmanski
BAND MEMBERS: BEARTOOTH
Caleb Shomo – Vocals
Kamron Bradbury- Guitar
Zach Huston – Guitar
Oshie Bichar – Bass
Connor Denis – Drums
Website: www.BeartoothBand.com


www.Facebook.com/BeartoothBand
BAND BIOGRAPHY: BEARTOOTH
Collaborative creativity can produce brilliant results, but there's something almost otherworldly about what emerges from the minds of remarkably talented artists, the types who've lived many lifetimes in a short period, left to his/her own devices.  As much as Nine Inch Nails, Smashing Pumpkins, The Cure or Foo Fighters (particularly on that first album) are considered "bands," they brazenly exhibit the precision focused passion of a specific person; often a person bursting at the seams with something to say. BEARTOOTH began and in many ways continues to be such an artist, bubbling forth from the psyche, soul and complex emotions buried in multitalented instrumentalist and songwriter, Caleb Shomo.
Beartooth shares equal inspiration with brutal metalcore as with old-school punk like The Ramones and the bombastic theatricality of Queen. The end result is a back-to-basics hardcore stomp that would get the crowd moving at a Hatebreed or Terror show, interspersed with a steadfast determination to give equal importance to anthemic choruses.  "I made the whole thing by myself," Shomo says of Beartooth's debut album, Disgusting. "The entire record, front to back, is literally a reflection of my thoughts and my mental well-being at the time. The album captures every end of the spectrum musically and lyrically. I know this may sound strange, but I didn't write these songs for anyone. I wrote just to write. All of the songs came about because I love writing Beartooth songs. That's it. I won't record a song unless I love it, unless I believe in it. I won't do it any other way."
Beartooth began as a way to blow off steam and add another dimension to Shomo's genre-hopping creative output. He and his hometown friends started jamming; hanging out in his Columbus, OH basement studio and playing music for fun. They released an EP, Sick, and then hit the road, touring North America and Europe with genre titans August Burns Red, Memphis May Fire, The Word Alive and Of Mice & Men, among others. In between support slots the five-piece headlined everything from basements to club shows, building a strong and devoted following. The EP's accompanying music videos for "Go Be the Voice" and "I Have a Problem" (both live and traditional) quickly accumulated over 1 million views, and set the stage for the band's next endeavor, Disgusting.
While he's still a very young guy, Shomo has lived a lifetime in music already. He had already dabbled in a project with Escape The Fate cofounder Max Green and Craig Mabbit (Blessthefall/The World Alive/Escape The Fate) when he was called up to play keyboards for Attack Attack! at the tender age of 15. The band incited polarizing dialogue around the world, as some jaded critics mocked the group's "crabcore" while a new generation of fans followed the band's every move. Shomo found himself thrust into the front man role following a series of lineup changes. The band's self-titled sophomore effort debuted at #1 on Billboard's independent chart.
Shomo was handling all of the vocals, programming and production duties by the time the third Attack Attack! album, This Means War, broke into the Top 10. The record sold 17,000 copies in its first week, debuting at #8 on the Billboard Top 200.  Battling the same type of depression, anxiety and overindulgence as many of his fans, Shomo bowed out of Attack Attack! to get himself together, and the songs on Disgusting reflect that struggle.
The closing track, "Sick and Disgusting," is so personal that Shomo has trouble listening to it. It an intense exploration of the mental health issues he's struggled with, not dissimilar from the raw truth found on Korn's eponymous debut, or Reznor's open confessions of drug addiction scattered throughout NIN. It's a song where Shomo just hit "record" and let it all pour out.
"I almost didn't put it on the record because I felt embarrassed about people hearing it," Shomo confesses. "It is really intense for me personally. It's hard to explain but suffice it to say, it's a song about a lot of mental health things I've dealt with. If people listen to it and understand where I'm coming from and respect it, great. If other people think I sound like an idiot because I start crying in a song, I really don't care. I know how much I put into that song emotionally. It's one straight take, all the way through. I realized I'd be shorting myself if I didn't put it on the record."
Alternatively, a track like "Beaten in Lips" is written from Caleb's experiences outside his own world: he wrote it from the perspective of abused kids with nowhere to turn. "I was just thinking about it one day, about how absolutely ridiculous it is that some parents abuse their children," he explains.  The album's opening track, "The Lines," hits a lighter note. "We have been playing that song live before the record comes out. It's just a fun jam. I wanted to write riffs that people can jump around and get wild to. People can sing at shows and have fun. I want people to sing along so they feel as much a part of the show as we are. I love doing house shows, shows without barricades, floor shows."
There's a beautiful authenticity in Beartooth's music, which is the result of Shomo's simple intention: to write songs for the sake of writing songs. There is nothing calculated, nothing crafted for mass appeal. It's simply the truth of his experiences and emotions.  "Red Bull has been backing whatever I want to do musically which has been really refreshing," Shomo says. "There isn't any pressure to write certain types of songs or to have a certain sound. I don't go into my basement thinking, 'OK, I've got to write a pop song' or 'I've got to write a heavy song.' The songs are what they are and are allowed to be whatever comes out of me. Beartooth ends up having a lot of dynamics that way, a lot of diversity. I never want to make a record that becomes boring."
-Ryan J. Downey
CONCERT REVIEW RATING SCALE:
1 = Poor
2 = Average
3 = Good
4 = Excellent
5 = Extraordinary
BEARTOOTH Concert Rating: 5
THE VENUE: ROCK USA

Scheduled for July 12-14, the 2018 Rock USA music festival brands itself as 'Solid Rock. No Limits.' and will open its gates to one of the nation's biggest annual rock events with three incredible days of a broad, world-class, limitless mix of rock at discount pricing in an effort to kick up the rock festival experience.  Join Rock USA for camping, shopping, great food and drinks and an always kick ass band lineup. Rock fans get more and pay less! Absolutely out on the edge.

Address:  4125 Washburn Street, Oshkosh WI 54904

Phone:  (920) 882-4949

Website: www.RockUSAOshkosh.com


www.Facebook.com/OfficialRUSA


Concert Tickets:  www.RockUSAOshkosh.com/Tickets