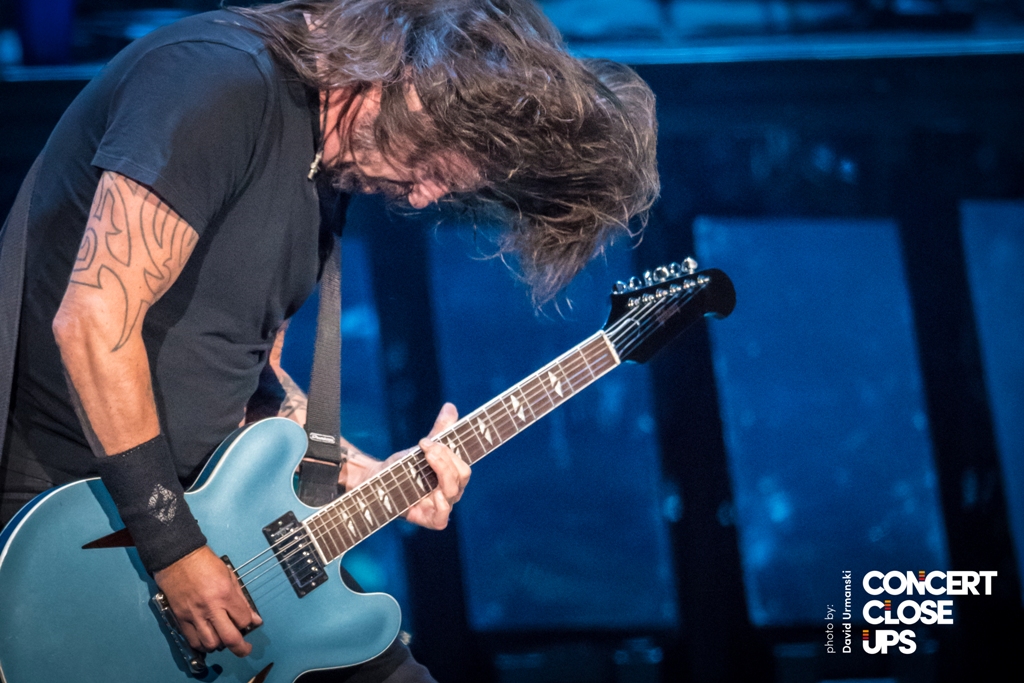 July 30, 2021
Review by Makena Betler
Photos by David Urmanski
BAND: FOO FIGHTERS
Dave Grohl – Vocals & Guitar
Taylor Hawkins – Drums & Vocals
Pat Smear – Guitar
Chris Shiflett – Guitar & Vocals
Nate Mendel – Bass
Rami Jaffee – Keyboard/Piano
Barbara Gruska – Backing Vocals
Laura Mace – Backing Vocals
Samantha Sidley – Backing Vocals
Violet Grohl – Backing Vocals
All my life I've been searching for something… and that something was a Foo Fighters concert! For the first time in almost two years, music filled the newly renovated American Family Amphitheater in Milwaukee Friday night. The sold out show was the perfect concert comeback on the sacred Summerfest grounds, with more than 23,000 in attendance. Concert-goers traveled from all over the country with many general admission devotees lining up outside the grounds as early as 6:00 am. "We actually tried lining up last night around 6:30 pm but the festival grounds keepers kicked us out and told us to return tomorrow," stated a supporter of the band and member of the Foo Fighters fan club. The amphitheater doors opened promptly at 6 pm and the madness began. Thousands of Foo fanatics raced to claim their spot as close to the stage as possible in anticipation of feeling the impending music radiate off the stage and straight into their souls.
Punk rock band, Radkey, from St. Joseph, Missouri opened with a lively nine song set performing a variety of singles from their storied music career since the band's inception in 2010. The trio consists of three brothers, Isaiah, Solomon and Dee Radke who grew up as homeschoolers who dedicated their time to perfecting their craft as musicians before releasing two EPs "Cat & Mouse" (2012) and "Devil Fruit" (2013) and their debut LP "Dark Black Makeup," in 2015. Over the years, the band toured worldwide and was included in the lineup at major music festivals like Rock On The Range in Columbus, Ohio as well as JJO's Sonic Boom festival in nearby Janesville, Wisconsin in 2017.
Originating in Seattle, Washington in 1994 and founded by former Nirvana drummer and current frontman, Dave Grohl, the Foo Fighters have been able to stay extremely relevant on the rock charts since the release of their first album Foo Fighters in 1995 while building a unique sound that has been deemed impossible to replicate. The peculiar band name was inspired by a nickname Allied aircraft pilots used for UFOs and the group has earned earned 12 Grammy awards to date, including Best Rock Album on four separate occasions.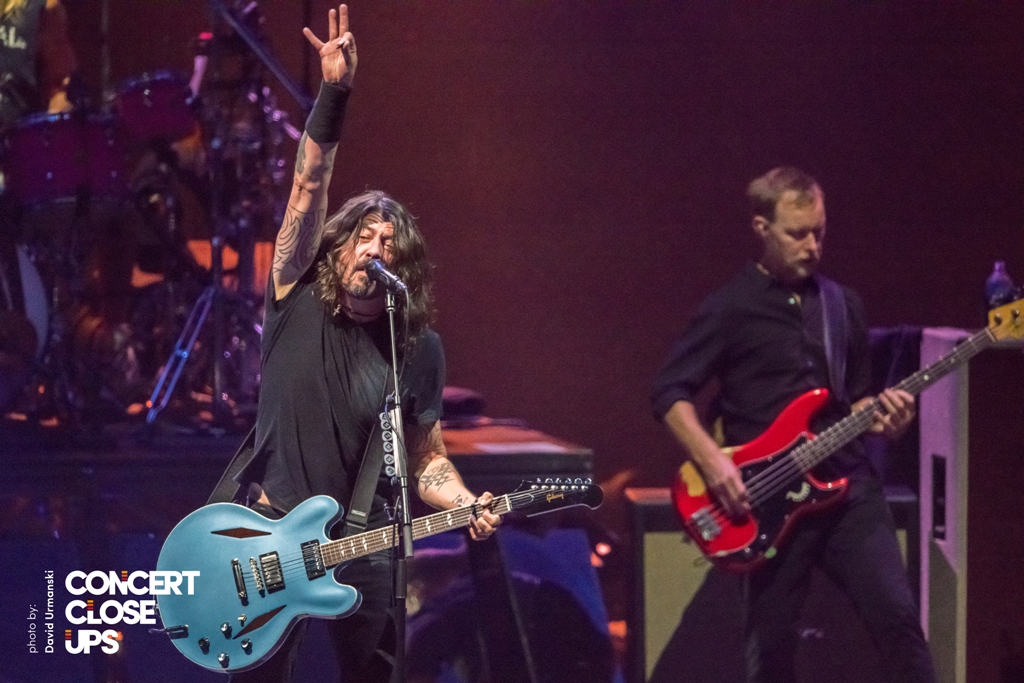 As the night went on, concert-goers continued to file in and settle into their seats. Then, at 9 pm, the lights dimmed and a low buzz overtook the audience as the members of Foo Fighters took to the stage. A brilliant spotlight shined on frontman Dave Grohl as he began to sing "Times Like These" a cappella as the rest of the band hid behind him in the pail blue light waiting for their cue. Cell phones lit up the entire venue when suddenly the stage lights illuminated, the band joined in, and live music was officially back in Milwaukee just like that. The room erupted and fans and friends joined in the long-awaited reunion.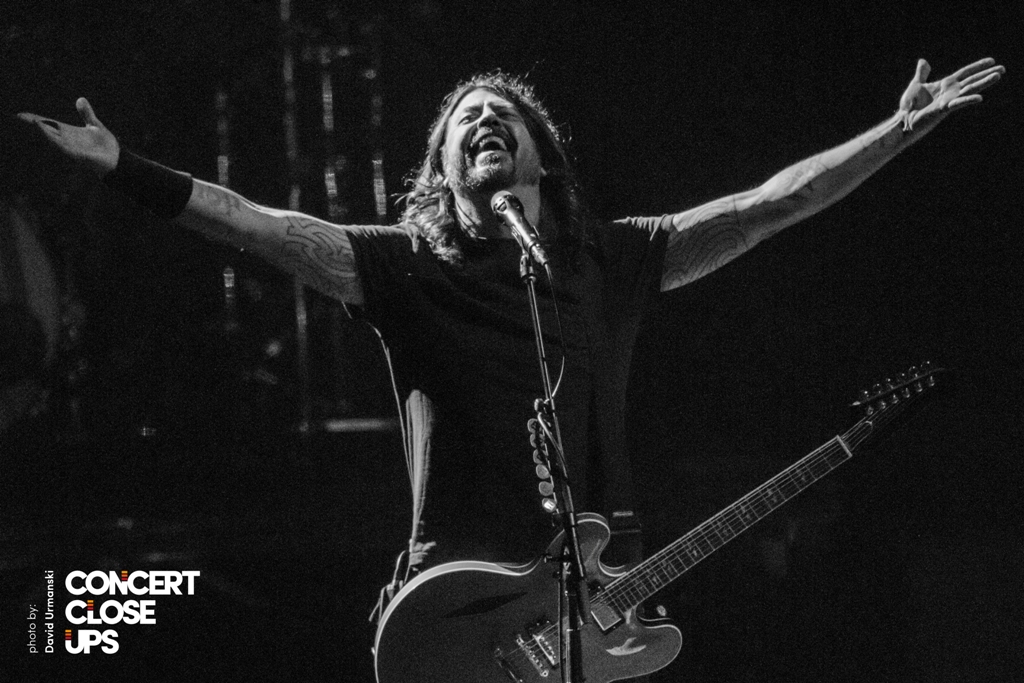 Right away, Grohl prefaced that it was going to be a long night and how the band has been waiting to play for so long that they had prepared a setlist that would go on for nearly three hours. The crowd was ready! They proceeded with two fan-favorites, "The Pretender," from the band's sixth studio album Echoes, Silence, Patience & Grace and "Learn to Fly," from 1999 release There's Nothing Left to Lose. With hardly any time to waste between songs, Dave said, "We have so much we want to play for you that we literally can't stop playing or we'll run out of time!"
As the night progressed, the Foo Fighters played a large mix of music, infusing tunes from nearly every album, including songs from their latest album Medicine at Midnight. There's no denying the release was a bit different compared to the band's previous studio recordings. Most noticeably, is that the release is more mellow compared to the heavier hits the fans have been accustomed to. Grohl shared, "We made this record right before everybody fucking closed their doors. We were like 'Woo we're going on fucking tour, we're gonna be on the road for a year and a half, it's gonna be great!' and then everything fucking shut down. We sat on that shit for a while." He talked about how difficult it was to determine if/when they should release the album. Eventually they decided to release it in February of 2021.
Dave went on with how he thought the record was received "We thought, alright, it's just you and a bottle of cheap-ass white wine in your bedroom on a Friday night, and you've got nothing to do. What are you gonna do? You know what you're gonna do? Party. All by yourself, in sweatpants. This is a sweatpants record, that's what that shit is." So, without further ado, they performed the title track from the 'sweatpants' record, "Medicine at Midnight."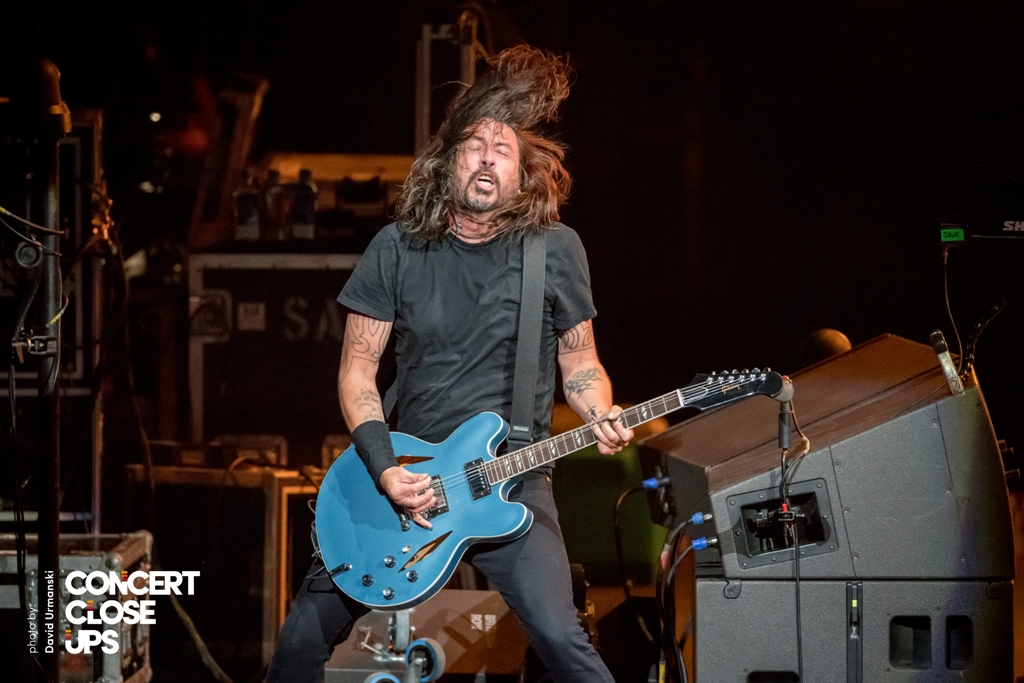 Grohl continued to describe what kind of work the band was doing during the long break while the world was shut down. "We were in the studio every day, and there would be a list of stuff to do. Record this, record this, record this, record a cover song. We've done a ton of cover songs but we decided to cover a Bee Gees song." He continued, "The next day I come to the studio, record this, record this, record a cover song. They're like, what do you wanna do? I'm like, let's do another fucking Bee Gees song. We wound up making a whole fucking record of Bee Gees songs. So the way I look at it, the Bee Gees couldn't be here tonight so guess what, y'all got the fucking Dee Gees." The Dee Gees is actually an established band the Foo Fighters created to release an album of all Bee Gees covers entitled Hail Satin just over a month ago in June 2021. The Foo Fighters then gave the crowd a tantalizing taste of the record and performed "You Should Be Dancing" with a massive disco ball looming over the crowd while lighting up the room as if we were witnessing John Travolta dancing in Saturday Night Fever.


Next, Dave made sure to introduce each member of the band, including the insanely talented back up singers Barbara Gruska, Laura Mace and Samantha Sidley. Additionally, there was one extra-special backing vocalist on stage that night, Violet Grohl, who just happens to be Dave's daughter. "Nothing like starting a band so old that your daughter can sing backup vocals with you on stage one day," explained Grohl through a few giggles. At this point, Taylor Hawkins and Dave switched to play Queen's iconic, "Somebody to Love." It was so much fun and nostalgic to see Grohl back on the drumset, watching his best friend take the reins and lead the crowd in song behind the microphone. To say Hawkins is an absolute beast on the kit is an understatement, but his vocals are equally outstanding. It's difficult to cover a Queen song, but it's near impossible to execute the dialect as perfectly as Hawkins did.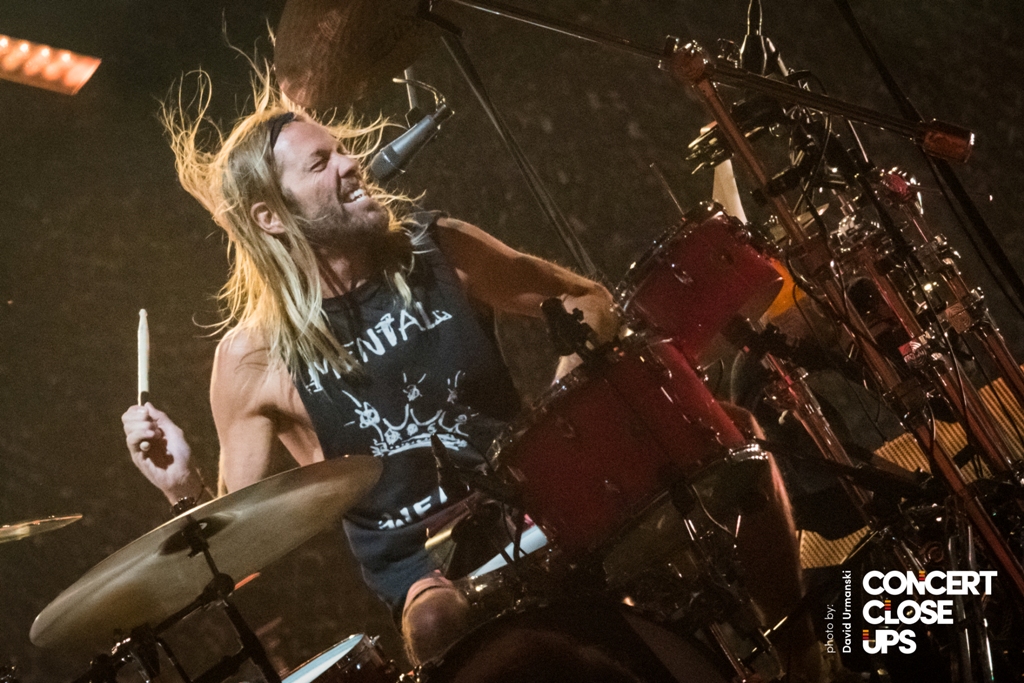 Next, the band performed a classic, old-school Foo Fighters song, "All My Life," from their 2002 album One by One. At this point, they had played for two hours, but the crowd was still begging for more. The energy bouncing between the band and the audience made for an electrifying evening. "Over the past year or so, I've been having these dreams. Some nights, it was Jennifer Lawrence," confessed Dave jokingly, "but other nights, I had this dream where we're playing a gig and I'd walk out on the stage and the audience would just go 'ahhhhhh'. We'd sit there staring at each other and think oh shit, we get to do this again. Then I'd wake up and have a Zoom call with some asshole." He continued with, "The whole time, I was like, I cannot wait to get back to playing shows and, to me, this is the best part. We get to come out here and stand in front of you and play these songs that we can sing together." The crowd reciprocated the sentiment with joyous outcry and a shared satisfaction that they were surrounded by fellow music lovers who were as equally passionate about being part of such a momentous musical occasion.
To end the night, the Foo Fighters brought down the house with powerhouse hits "Monkey Wrench" and "Everlong" from The Colour and the Shape album. The band took their final bow as the lights dimmed and the buzz from the wall of amps began to fade. The house lights came on and reality started to set in as the thousands of attendees started to decompress what they had just experienced. I was always told that the Foo Fighters put on an incredible performance, but it went above and beyond all expectations. The amount of energy, dedication and passion each member has for their music and their fans is incomparable and inconceivable. The show was one for the record books and I can confidently speak for all of those in attendance Friday night that Milwaukee, Wisconsin cannot wait to welcome them back again!


SETLIST:
Times Like These
The Pretender
Learn to Fly
No Son of Mine
The Sky Is a Neighborhood
Rope
Shame Shame
Breakout
My Hero
These Days
Medicine at Midnight
Walk
You Should Be Dancing (Bee Gees)
Somebody to Love (Queen) (Taylor Hawkins: vocals, Dave Grohl: drums)
All My Life
Making a Fire
This Is a Call
Aurora
Best of You
Monkey Wrench
Everlong