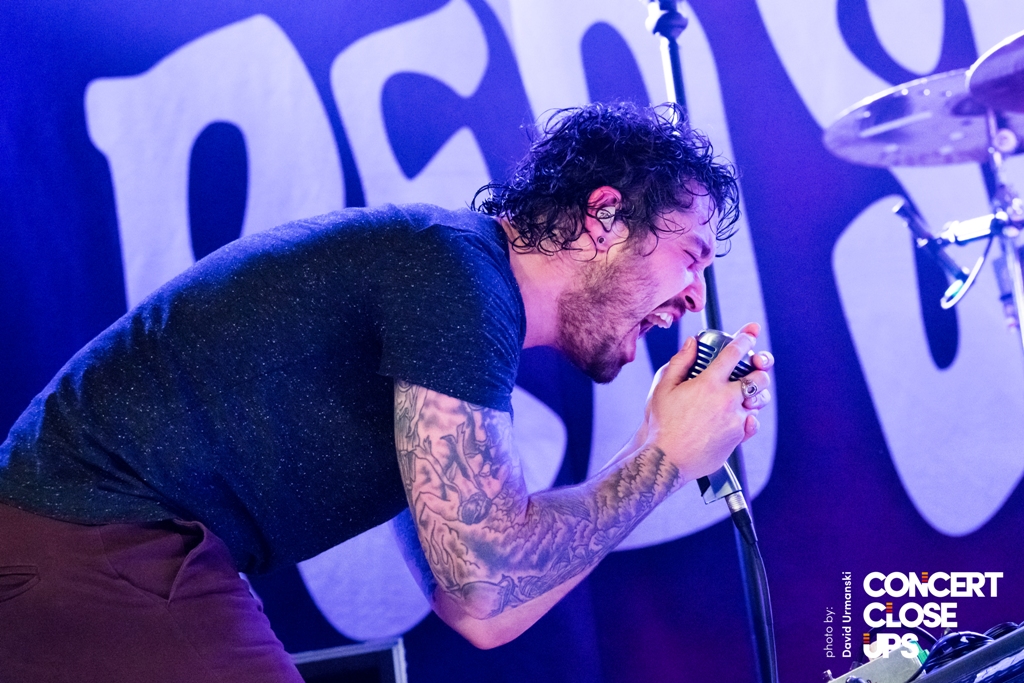 November 2, 2018
Photos by David Urmanski
Website: www.RedSunRisingMusic.com


www.Facebook.com/RedSunRisingMusic
BAND BIOGRAPHY: RED SUN RISING
Rock music should be built to last. Since its genesis, the genre has been all about longevity not a "flavor of the month" or a "flash in the pan." Whether you go back to the seventies or nineties pillars, the goal was to create something that can be lived with for a lifetime. It still can be that way. Akron, Ohio's Red Sun Rising—Mike Protich [vocals/guitar], Ryan Williams [guitar], Dave McGarry [guitar/vocals], Ricky Miller [bass/vocals], and Pat Gerasia [drums]. —proudly carry on that tradition with their full-length debut, Polyester Zeal [Razor & Tie]. "It's not today's rock, but it's a new alternative," declares singer and guitarist Mike Protich. "We want to uphold the foundation with subtle nuances of what's familiar. It's fresh because we're telling our story through that framework."
Sharing that story has been the goal since first breaking onto the scene in 2012. Akron is no stranger to rock 'n' roll, serving as home to everybody from Black Keys and Devo to Chrissie Hynde. That buzzing industrial landscape remains fertile ground for musicians to this day.
"A lot of people don't realize that Akron's a really cool, artsy community," says Mike. "There's great food, local beers, and culture. Because it's somewhat off the national grid, there's a real tightknit music scene. We spawned off of that. There are a lot of factories around and the grit seeps into the music too."
The work ethic is another trait Red Sun Rising embrace. Through tireless gigging, they built up an impressive local fan base, soon attracting the attention of multiple labels. Razor & Tie rushed to Akron in the Fall of 2014 and signed the band following a sold out hometown show.
"I guess we played well that night," chuckles Mike.
The band headed to Los Angeles shortly after to cut Polyester Zeal with celebrated producer Bob Marlette [Black Sabbath, Shinedown, Seether]. They managed to siphon the pure, potent, powerful guitar chemistry, towering vocals, and muscular rhythms into the record's 11 tracks with all of the "grit" intact. "Bob helped us execute creating the record we wanted to make for a long time," adds the frontman. "He knew how to achieve it. His philosophy was, 'You guys have all the colors to paint the perfect picture. I'm just going to show you how to use them.' That was cool."
The first single "The Otherside" sees thick clean guitars clash with an unshakable refrain that's as airy as it is anthemic. Penned by Ryan and Mike, it's an immediately inviting introduction into the group's sound.
"You can take it a couple of different ways," he explains. "While you're here on earth, it doesn't matter what troubles you go through—you're always going to come through on the other side. You could also look at it is just overcoming life's obstacles because of the support you receive from those around you. It grabs you and shows our vibe." "Emotionless" commences with a calculated blues-inspired riff before spiraling out into a macabre fairytale that's equally heavy and hypnotic.
"I had a nightmare with a really creepy storyline," recalls Mike. "I vaguely remember it now. This woman I loved was sleeping, but I couldn't wake her up. She was laying there motionless and emotionless. I linked those two things. I don't know what's scarier that or the fact Ryan and I put it together in twenty minutes on an acoustic in his mom's basement when I told him!" Album opener "Push" steamrolls ahead on a battering ram of distortion and a slick, sputtering verse, while "Imitation" highlights the inimitable incendiary interplay of six-stringers Ryan and Dave.
"They went back and forth on the solos in that one," Mike goes on. "Bob panned it so if you listen to it in stereo it's like you're watching on stage. You hear each solo go to the side of the stage where they'd be."
Elsewhere, "Amnesia" serves as a declaration of carpe diem bolstered by fiery fretwork and another expansive harmony. "It's about owning every moment that you're living because each instance defines you as a person," he exclaims. "You don't know what's coming or what will make a difference, so you have to embrace all of it. It won't be there forever." However, Polyester Zeal will be, and it firmly establishes Red Sun Rising's place in rock. "The title sums it up," concludes Mike. "Zeal is something you strive for, while Polyester is obtainable. The juxtaposition is, 'What's your obtainable dream?' Ours is to tell stories through these songs. Hopefully, it makes you feel something. That's what rock is supposed to do after all."
CONCERT REVIEW RATING SCALE:
1 = Poor
2 = Average
3 = Good
4 = Excellent
5 = Extraordinary
RED SUN RISING CONCERT RATING: 5