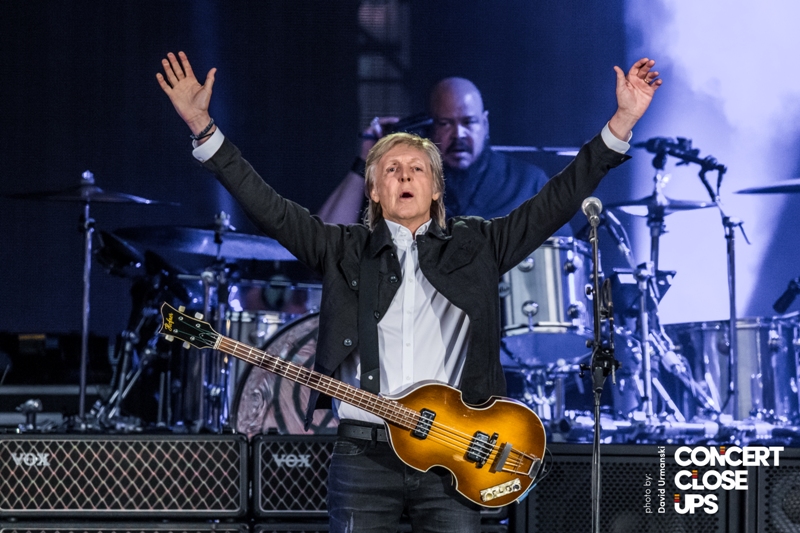 June 8, 2019
Review by David Urmanski
Photos by David Urmanski
Photo behind stage by MJ Kim at MPL Communications
Website: www.PaulMcCartney.com


www.Facebook.com/PaulMcCartney
For some concert-goers, a 38-song setlist may be a bit much. That was absolutely not the case for the 50,000-plus, sold-out crowd of music connoisseurs in attendance at the iconic home of the legendary Green Bay Packers, Lambeau Field, who finally had the opportunity to cross English singer-songwriter, multi-instrumentalist and composer Paul McCartney off their concert bucket list. Even those who had previously seen 76-year-old McCartney perform live over the span of his unrivaled 62-year music career, looked and listened in awe and amazement for just shy of three hours as Sir Paul and his magnificent band powered through one sensational hit after hit and shared witty commentary and unforgettable tales about prior bandmates, fellow musicians as well as a dedication to his wife, Nancy, who was in attendance Saturday night.
While there were plenty of invigorated and energized attendees in the crowd who appeared to have experienced Beatlemania first-hand back in the 60's, there were also plenty of young, bright-eyed, smiling faces and fans of all ages in-between singing along, word-for-word, to the plethora of Beatles, Wings, Quarrymen and McCartney solo hits from show starter Hard Days Night through encore finale The End. As if nothing changed since the peak of The Beatles-era with regards to the craze and infatuation that went along with being a key member of what was destined to be the most popular and influential group in history, Paul joked after mass applause broke out eight songs into the set when he removed his sports jacket only to reveal a long-sleeve button up dress shirt stating in jest, "Okay, that is the only wardrobe change of the whole evening..that's it."
McCartney also took special notice of all the signs that were directed his way by the diverse assemblage of devoted onlookers in an effort to draw his glance. While he stated, that "it is really great" and they "really love it", he was also quick to comment that "you try to remember your chords and you try to remember the words and try to do the song right and sing it right and your mind says don't read the signs. There's another bit of your mind that says, awe go ahead and read them." So like any good master of ceremonies, McCartney was happy to share these private-turned-public messages with the rest of the audience to include "Please read my sign", "Please say I love you man", "Hey Paul, you are our summer vacation", "Please sign my arm for a tattoo", "Please sign my butt" and the most appropriate and fitting for the evening, "All good cheeseheads go to heaven" in which he was quick to reply, "That's true".
Paul also enticed the crowd when recounting several personal stories throughout the show. One of which was when the late, great Jimi Hendrix paid what Paul deems as the greatest tribute to The Beatles in history when Jimi learned and opened his London show with a song from Sgt. Pepper's Lonely Heart Club Band only two days after the album's release. As McCartney recollects, Jimi played one "really wild solo" with his Bigsby vibrator arm and the audience loved it but many of the musicians in the crowd, including Paul, knew that was going to send the guitar out of tune. When the number was finished, Jimi proceeded to look in the audience for English rock and blues guitarist, Eric Clapton, to tune his guitar whereas Eric replyed "No, tune it yourself".
When it was all said and done, Sir Paul performed as only he can…with an unmatched combination of musicianship and storytelling aided by stimulating visual appeal featuring world-class video graphics, pyrotechnics, lasers, well-timed lighting and an abundance of scenic staging. He performed all of the fan favorites with heart as if it were a mass sing-along with old friends enjoying a night out on the town. I venture to guess most concert-goers arrived in anticipation of a great show only to leave knowing they just witnessed and became a part of music history. As McCartney stated at the onset of the show, "I'm getting the feeling we're going to have a bit of a good time here tonight." He could not have been more right.
SET LIST:
Hard Days Night
Juniors Farm
All My Loving
Letting Go
Who Cares
Got To Get You Into My Life
Come On To Me
Let Me Roll It
I've Got A Feeling
Let 'Em In
My Valentine
1985
Maybe I'm Amazed
I've Just Seen A Face
In Spite Of All The Danger
From Me To You
Dance Tonight
Love Me Do
Blackbird
Here Today
Queenie Eye
Lady Madonna
Eleanor Rigby
Fuh You
Mr Kite
Something
Obla Di Obla Da
Band On The Run
Back In The USSR
Let It Be
Live And Let Die
Hey Jude
ENCORE:
Birthday
Sgt Pepper
Helter Skelter
Golden Slumbers
Carry The Weight
The End
CONCERT REVIEW RATING SCALE:
1 = Poor
2 = Average
3 = Good
4 = Excellent
5 = Extraordinary
PAUL MCCARTNEY Concert Rating: 5