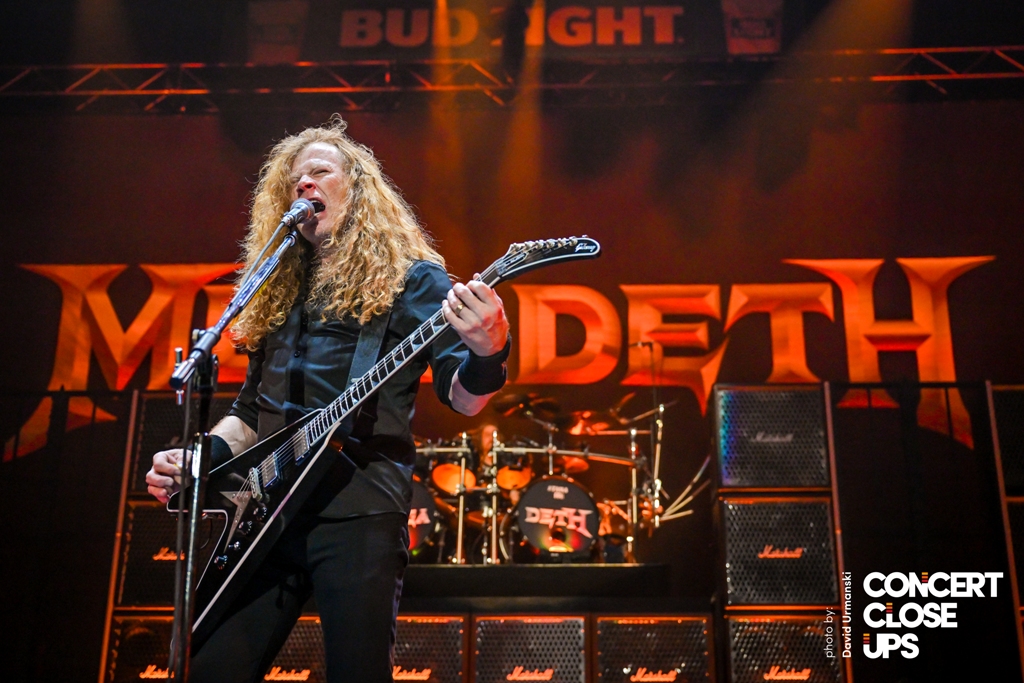 April 22, 2022
Review by Rick Kramer
Photos by David Urmanski
The Metal Tour of the Year, announced in 2019 as a co-headlining tour featuring Megadeth and Lamb of God, had originally planned to roll into Green Bay on Halloween 2020 but was pushed out to August 2021 and then ultimately cancelled due to the Covid-19 pandemic. Much to the delight of Wisconsin metal-heads, the year-and-a-half wait was over as the metal icons and their packed semis made way to Green Bay's Resch Center indoor arena, next to historic Lambeau Field, Friday night ready to rock in momentous fashion. This was the initial appearance at the venue for metal pioneers Megadeth and subsequent return to Green Bay since 1988 while Lamb of God had previously performed at the Resch Center in 2005. Special guests for the evening included metal legends Trivium and In Flames, with the latter finally re-joining the tour after addressing Visa issues to enter United States.
The list of bands which are universally accepted to be among the elite of metal music is few and far between, and without a doubt Megadeth makes the top of the list along with Metallica, Slayer and Anthrax which are commonly known as the "big four" of American thrash metal. By joining forces with icons Lamb of God, who are considered to be the "second" or "new" wave of American heavy metal, the stage was set for what was appropriately billed as "The Metal Tour of the Year."
Up first were the Swedish death metal band In Flames. While remaining active and relavant for over thirty years, they have seen numerous line-up changes since the bands 1990 inception, including heavy use of session musicians in their early years. Led by vocalist Anders Friden since 1995, the group has released 13 studio albums, three EPs and two live DVDs. Known for being a 'melodic' death metal band, In Flames' performance included some of the heaviest arrangements of the evening while at the same time keeping the audience captivated and invested from beginning until end as only solid melody and strong musicianship can accompish. With heavy guitars unleashing a warm, pleasing tone backed by synthesizers, similar to that of European metal, and blazing fast double-bass drum and tom fills, there were no instrument gaps to be filled while Friden had a pivotal performance switching back and forth between death metal growls and his well-oiled singing voice. Their set consisted of eight stupendous songs with highlights being the industrial infused "Cloud Connect" and their 2020 re-recorded rendition of fan favorite track "Pinball Map."


Next was the band whose name hails from classical antiquity via the great state of Florida… Trivium. First signed to Lifeforce Records in 2003 where they recorded and released "Ember to Inferno," the quartet have since released nine additional albums through Roadrunner Records. Over the course of the on-again, off-again Metal Tour of the Year, Trivium have stayed busy writing music and touring on their own, releasing "What the Dead Men Say" in 2020 and "In the Court of the Dragon" in 2021. Having performed in Green Bay twice before, at the Riverside Ballroom in 2008 and the Sandlot Entertainment Complex in 2015, many fans in attendance Friday evening have come to expect Trivium to blow crowds away with their progressive metal sound and extremely energetic live performance.
By way of further illustration, singer and guitarist Matt Heafy took time between songs on several occasions to further amp up the crowd by informing them that the best and loudest crowd the band encountered so far this tour was just one night prior in Fort Wayne, Indiana. Like any good frontman, he urged the Green Bay attendees to one-up their predecessors and it seemed to have worked as the crowd of concert-goers outburst was outright deafening. The seven song set consisted of numbers from their most recent releases, however the best reception was confirmed via a constant barrage of applause and adulation from the Wisconsin faithful during the band's finale "In Waves."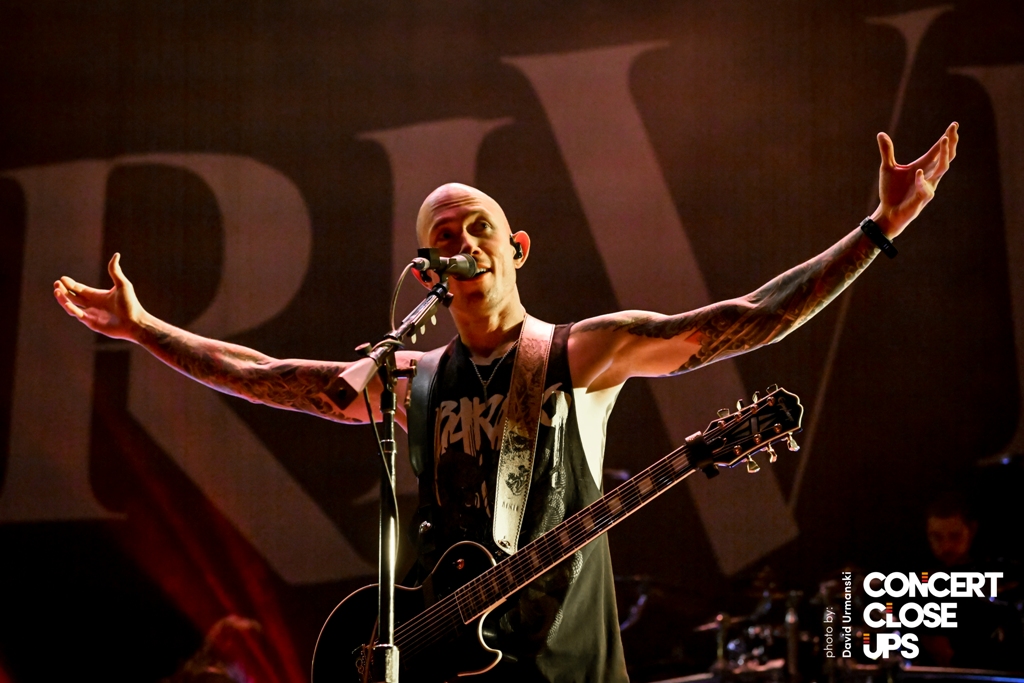 Not surprising, the set change to prepare for Lamb Of God was a much bigger job as the stage was hidden from fans behind a black curtain with two blue lights shining through from stage side while the band's logo was projected onto the curtain from the back of the arena. As ambient music played over the PA, from out of nowhere a voice started singing the intro to the hit song "Memento Mori" from Lamb Of God's latest self-titled studio album. The mystique and atmosphere gradually grew the anticipation of those in attendance as the curtain finally fell, the lights illuminated and pyrotechnics rained supreme as the audience roared with delight and gratification while Lamb Of God unleashed a relentless onslaught of metal mayhem for all to see and hear with a new face taking the helm center stage.
Unfortunately for die-hard Lamb of God fans, long-time original frontman Randy Blythe fell ill to COVID-19 earlier in the week and was unable to perform Friday night in Green Bay. Original replacement, Mark Hunter, was also unable to perform due to a non-COVID illness. With only 16 hours notice and a short two hours of prep time, Joe Badolato from New Jersey based metal band Fit For An Autopsy filled in on lead vocals. Additionally, Lamb of God bassist, John Campbell, had to miss the Green Bay show in order to "take care a family matter back home" and had former Machine Head and current Vio-Lence guitarist Phil Demmel fill in. Demmel had previously stepped in to cover for Lamb of God guitarist Willie Adler during the bands January appearance on the ShipRocked cruise.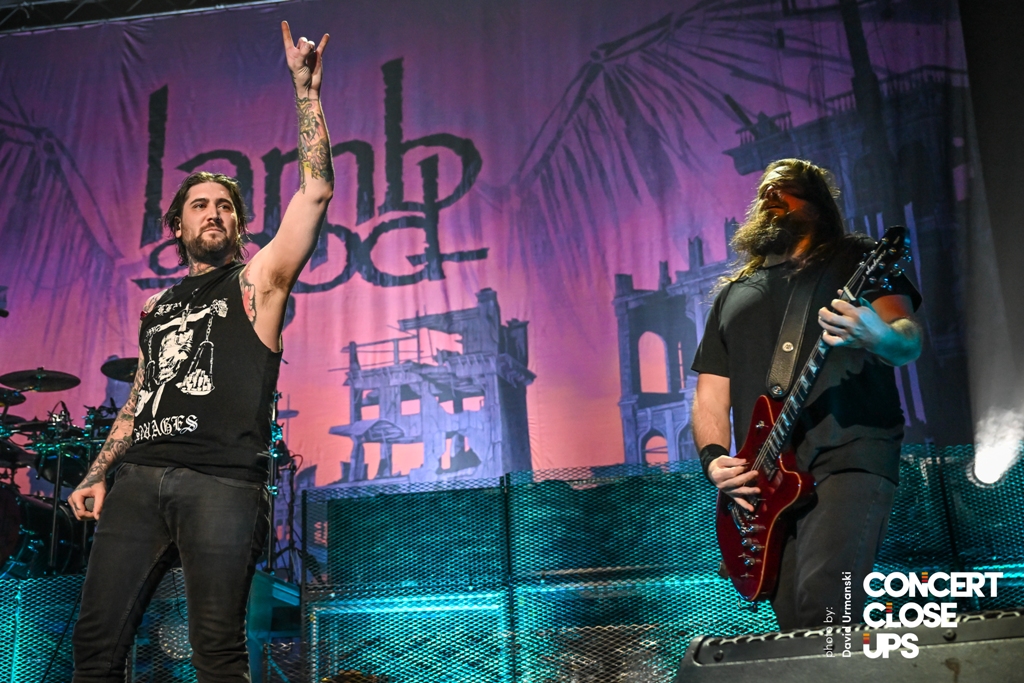 As they say, the show must go on and go on it did with an epic light show, tons of fog and a dozen or so flamethrowers mounted face-up toward the arena ceiling constantly dousing the room with heat. The flames were especially fitting during staple "Walk With Me in Hell" when the stage was flooded with red light. Joe started out "Now You've Got Something to Die For" by asking, "Hey, I need y'all to help on this one, like on every one, but especially on this one. I need help! This one's called 'Something Die For'." With intricate guitar work and Joe's masterful growling, it was clearly Lamb Of God in all their glory. Even without Blythe on vocals, it proved to be a masterful metal performance.
Joe's spoken introduction during "Omerta" and closing tune "Redneck" got the crowd into a frenzy, however the highlight from the Lamb of God set was the one-off performance of "Black Label" which had not been performed live since 2015 and was selected for the set based on the fact that Joe already knew it and did not need cue cards. The fill-in frontman introduced the song by explaining how he was on the phone with someone from the band's management team and shared "…that I know a really old song, that they haven't played in ten f*cking years."
It was truly something special to witness the band's Green Bay performance as there will likely never be a Lamb Of God show quite like this again. From the other musicians checking in with Joe throughout the performance and exuding their appreciation with a fist-bump and a few short words of encouragement, to Joe rotating the giant, hand-written cue cards in front of him, to Joe's fascination with Lamb of God having their own rugs, to the love and affection for Joe from the audience every time Joe asked if they had his back with an overwhelming and roaring response of acceptance and approval in return. It was all spectacular. Both Badolato and Demmel performed magnificently with Badolato making the stage his own yet overtly humbled to have the opportunity to front one of the biggest metal bands on the planet for an entire show. Fittingly, each band member hugged Joe as he graciously thanked the crowd and Lamb Of God for letting him be part of the evening before walking off the stage after what could only be assumed as one of his greatest moments on stage.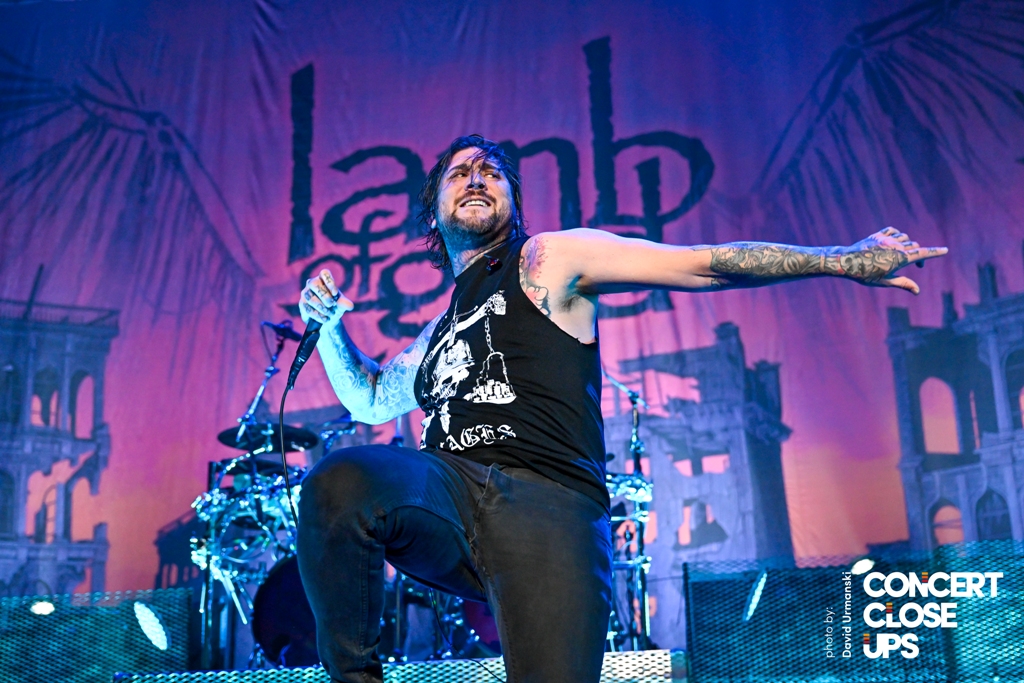 Following three phenomenal performances, Dave Mustaine joined the current incarnation of Megadeth to the loudest ovation of the evening yet. Featuring multiple guitar solos, the band kicked the show off with "Hangar 18" followed by "Dread and the Fugitive Mind" and "The Conjuring" without breaking in-between songs to address the onlookers. It was clear that Megadeth were in Green Bay to shred first and talk second which proved to a successful strategy according to the approving audience.
Prior to performing "She-Wolf," Dave stood in the middle of stage with the spotlight shining brightly upon him looking over the crowd as those in attendance reciprocated their love for the legend. After a quick bow, Mustaine walked to the front edge of the stage clapping and pointing as the crowd noise elevated to new heights. "Are you feeling good?" he shouted and quickly responded, "Me, too! Feel real good right now." He also shared, "This morning I was walking around and I went across the street to that magic football field over there" resulting in additional applause and admiration from Green Bay Packers fans scattered throughout the venue as Dave stated, "It's gonna be such a f*ckin magic night tonight."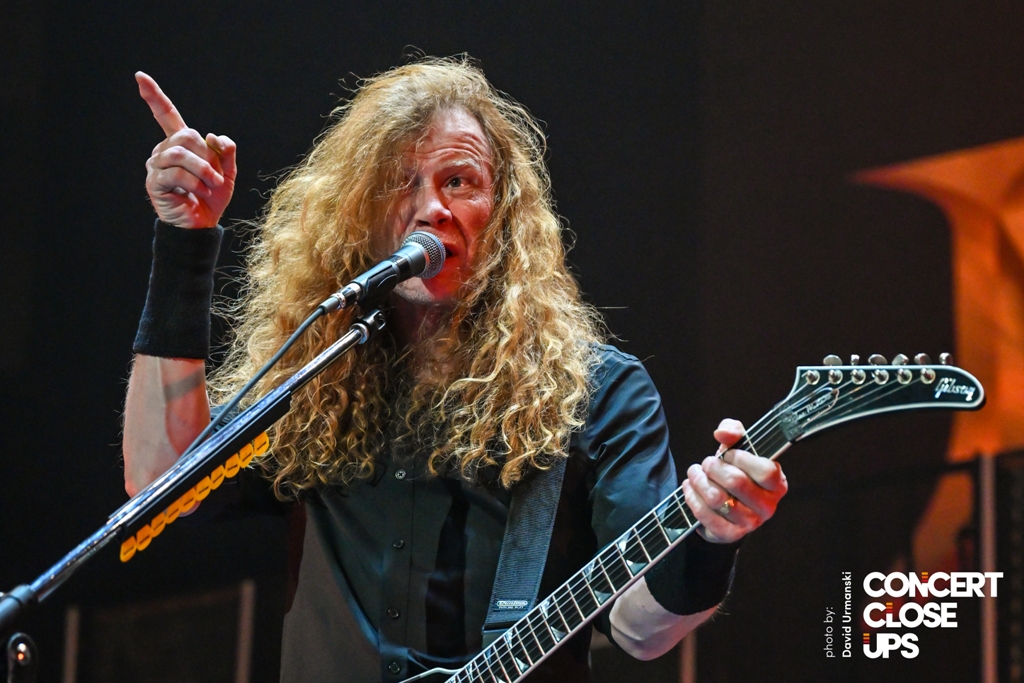 Referring to how long it had taken for the tour to finally hit the road, Mustaine exclaimed, "I couldn't wait to play, listening to the other bands play for you tonight… was a really great thing for me…" as he choked up a bit but continued, "… listening to your voices, listening to you sing." As the crowd cheered, Dave switched gears to share his frustration stating, "You know, I don't know who 'they' are, but 'they' tried to take live music away from us. They were f*ckin wrong!" Once again, he had the pulse of the crowd nailed and followed with another mini-set of five back-to-back shredders which included "Conquer or Die!", "Dystopia" and "Tornado of Souls" and epic "Sweating Bullets" where the audience sing-a-long nearly drowned out Dave's vocals.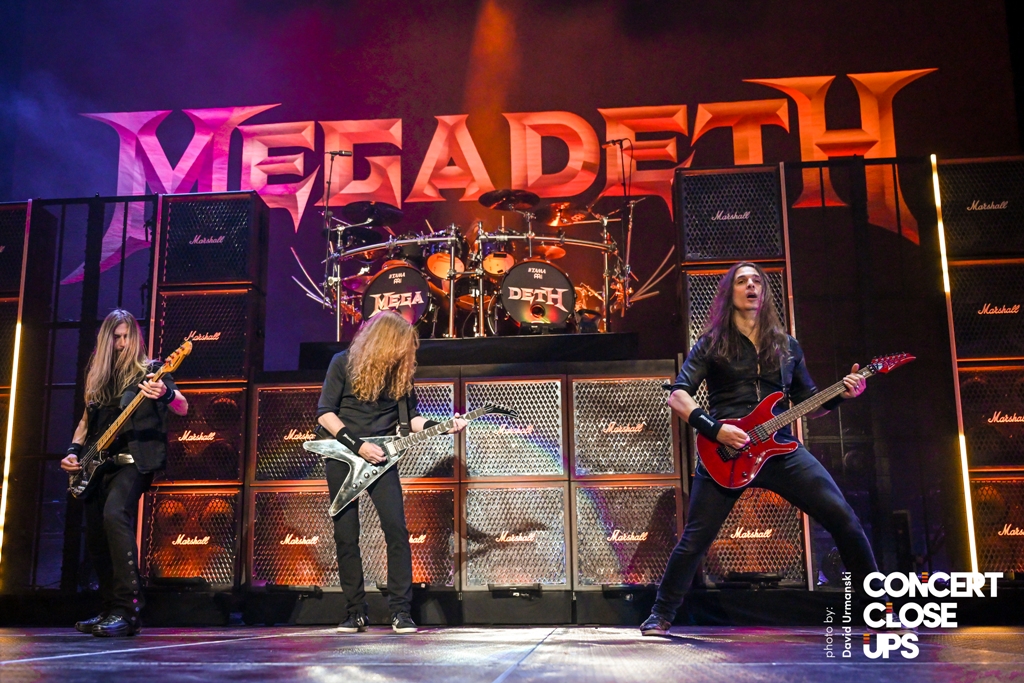 The Megadeth bandmates sounded like they've been playing together for a decade. Every moment and every song were performed flawlessly to include "Conquer and Die" when Vic Rattlehead, the Megadeth skeleton mascot, made his on-stage appearance. As guitarist Kiko Loureiro played the classical opening to the number, a "regular sized" Vic strut around the stage menacingly shining a flashlight on concert-goers. Soon thereafter, the speaker cabinets beneath the drum riser opened up and out came eight foot tall "robot" Vic. Then the aforementioned Vic led the robot across the stage and pointed out 'suspect' fans to the jubilation of those in attendance. The quality of showmanship and precision musicianship raised the performance to an all-time high. Scrolling and whirling videos accompanied every song with impression synchronicity, further reinforcing the themes of the Megadeth catalog to include war, aliens and politics just to name a few.
Prior to rounding out the show with fan favorites "Symphony of Destruction" and "Peace Sells", Mustaine thanked the audience and challenged them to a good old-fashioned cheering contest. Per Dave, "I'm going to go home tonight and think that Green Bay is alright but everyone on the left was really weak." So, as he pointed to the center of the area he exclaimed, "You are going to need to decide what side you're on. Are you on the right side (which can be construed as a political reference also referring to Dave's stage right perspective) or the left side? I'm just going to think you guys checked out and don't really know who you are" as Mustained claimed victory for the right. After the band dove into the final encore "Holy Wars" and left the stage for the last time Friday evening, the audience left knowing they had shared an epic moment with some truly iconic bands. Hopefully, they also left with a sense of who they are as the world certainly needs to put away our differences and unite against those who challenge our very being. Can you put a price on peace?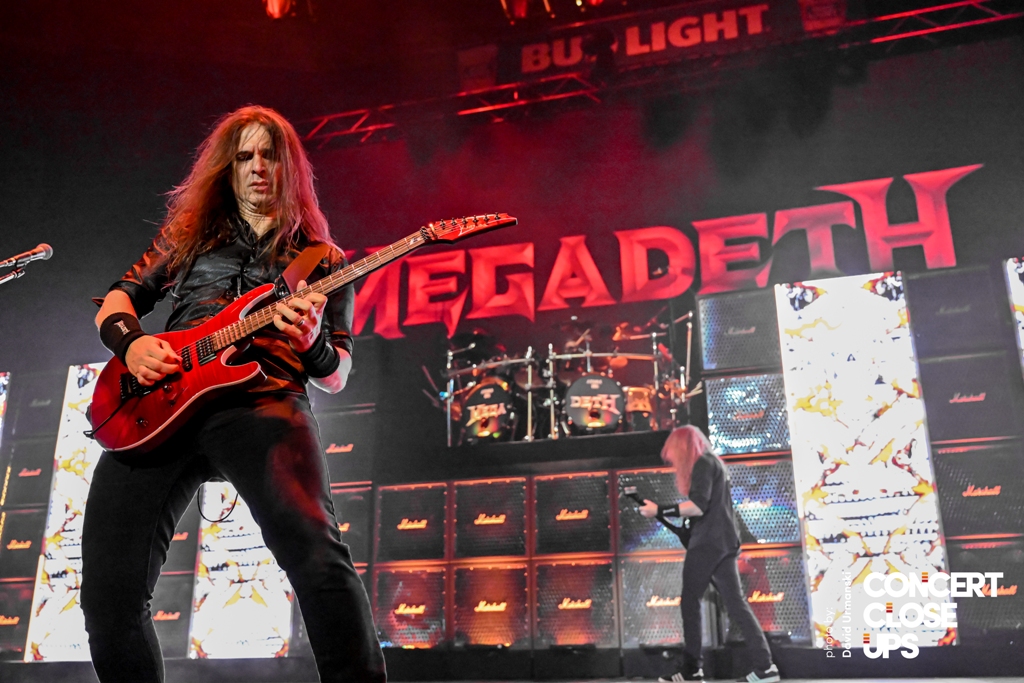 SCROLL DOWN FOR FULL PHOTO GALLERY
IN FLAMES SETLIST:
Cloud Connected
Behind Space
Everything's Gone
Where the Dead Ships Dwell
Call My Name
All for Me
I Am Above
Take This Life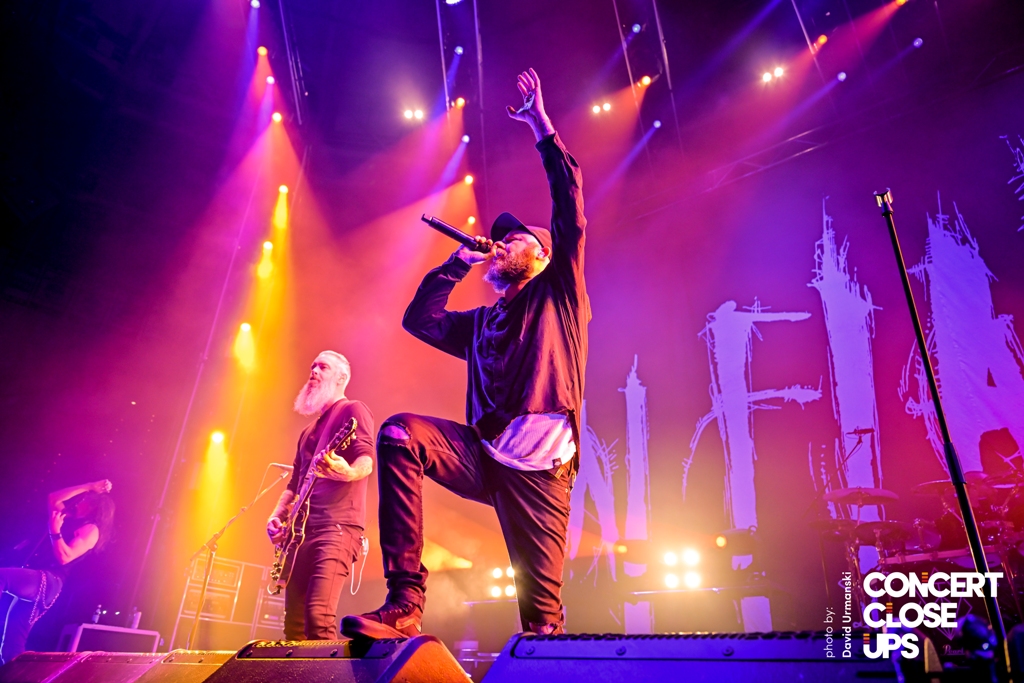 TRIVIUM SETLIST:
In the Court of the Dragon
Like a Sword Over Damocles
Beyond Oblivion
Throes of Perdition
Rain
Feast of Fire
Capsizing the Sea (Recorded Intro)
In Waves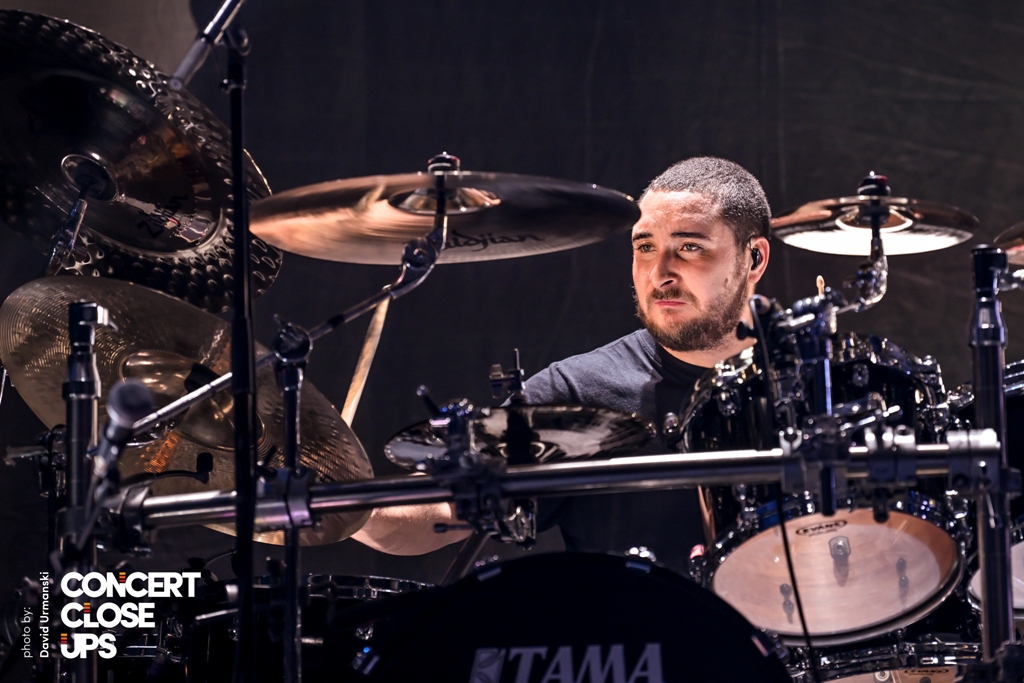 LAMB OF GOD SETLIST:
Memento Mori
Ruin
Walk With Me in Hell
Resurrection Man
Now You've Got Something to Die For
11th Hour
Omerta
Black Label (First time played in front of an audience since 2015)
Laid to Rest
Redneck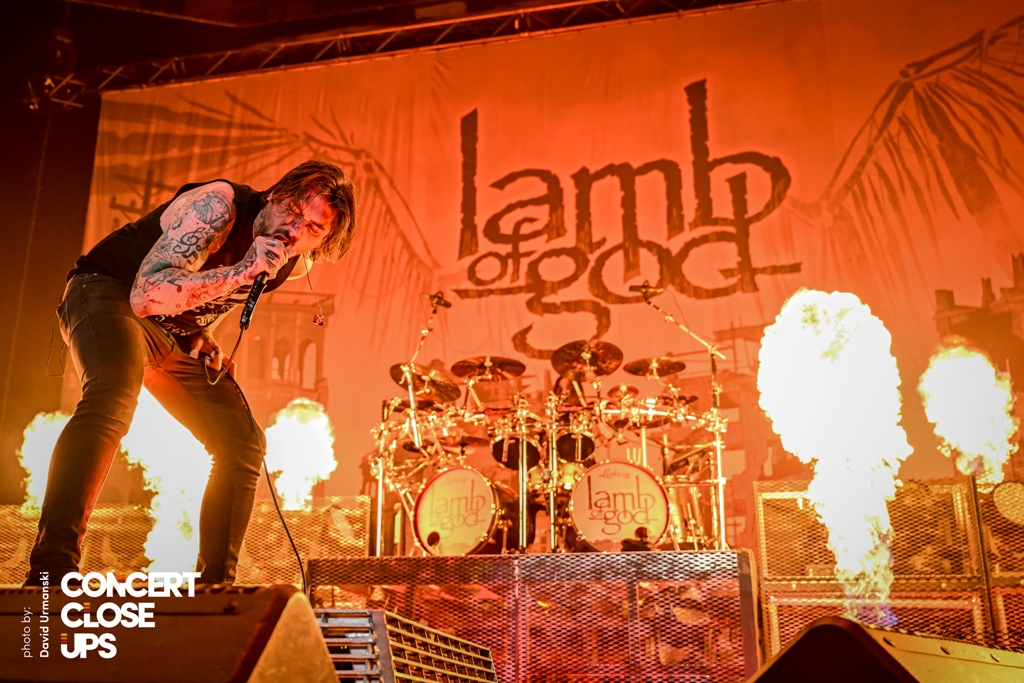 MEGADETH SETLIST:
Hangar 18
Dread and the Fugitive Mind
The Conjuring
She-Wolf
Conquer or Die!
Dystopia
Tornado of Souls
Sweating Bullets
Trust
Symphony of Destruction
Peace Sells
ENCORE:
Holy Wars