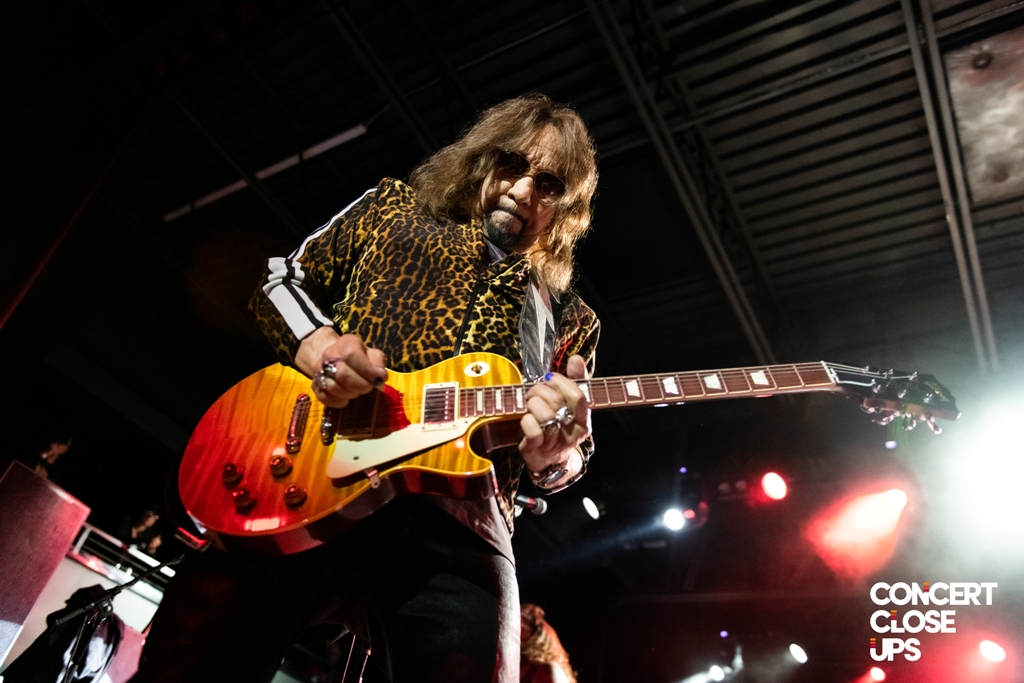 November 5, 2022
Review and Photos by Ron Tupper
"I feel so good tonight – who cares about tomorrow." New York Groove lyric (1978)
In the past decade, Ace Frehley has performed in Wisconsin a total of nine times. However, Saturday's early November show was a new first, as the rock legend took the stage at Green Bay's premier concert venue, Epic Event Center, located adjacent to Green Bay's legendary stadium district offering an array of entertainment for up to 2,100 guests. Just after 9pm and bathed in red light, the 71-year old guitar icon walked onstage before a highly energetic audience donning a leopard printed jacket, jewelry and signature shades.
As the once lead guitarist and co-founder of KISS, it's no surprise that about two-thirds of the band's set was carved from that era with Ace and bandmates performing an expanded setlist that was reminscent of last October's performance at BMO Harris Pavilion in Milwaukee while performing as the direct supporting act on Alice Cooper's Detroit Muscle tour.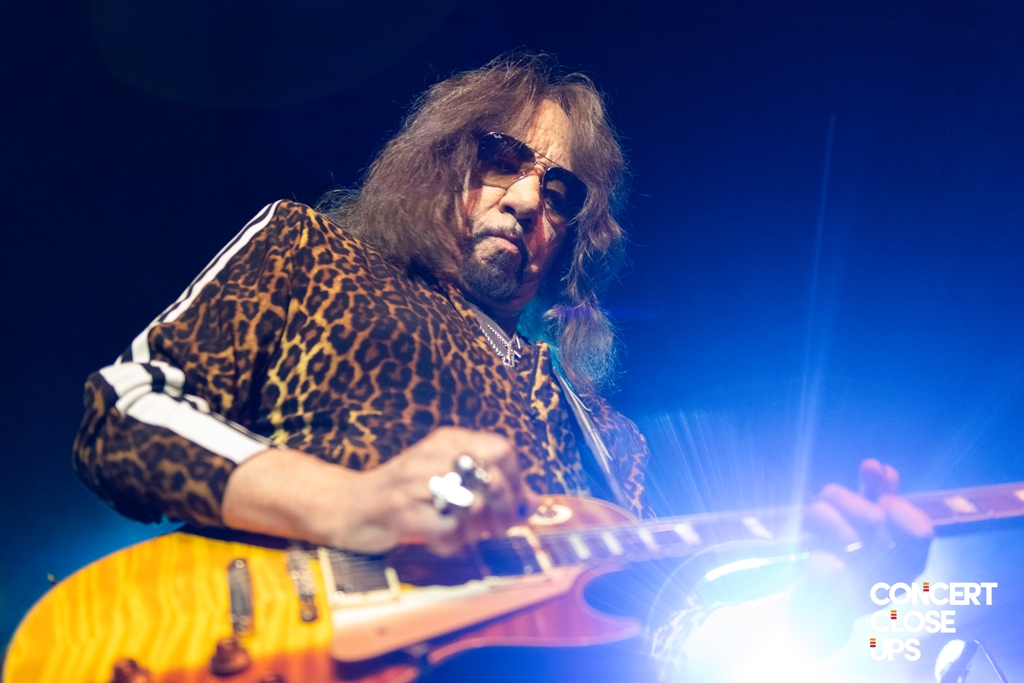 While the band may have grown up playing air guitar in their bedrooms with Space Ace posters on their walls, the KISS heritage runs deep with these musicians. Bassist and vocalist Zach Throne hails from Bruce Kulick's band, while guitarists Ryan Cook and Jeremy Asbrock are from "The finest 70's Rock N Roll played by Nashville's finest Rock N Rollers," Thee Rock N Roll Residency as well as Gene Simmon's solo band God of Thunder.
Ace doesn't hesitate to put his fellow entertainers out front and center to share in the spotlight either. Each of these guys took a turn at lead vocals with Zach Throne singing Strutter and Ryan Cook knocking out Detroit Rock City while Jeremy Asbrock finished the hat trick with a turn on vox during the 1974 release Strange Ways. They even jammed out a version of Love Theme From Kiss from the 1974 debut album for the seasoned members of the KISS Army in the crowd Saturday night.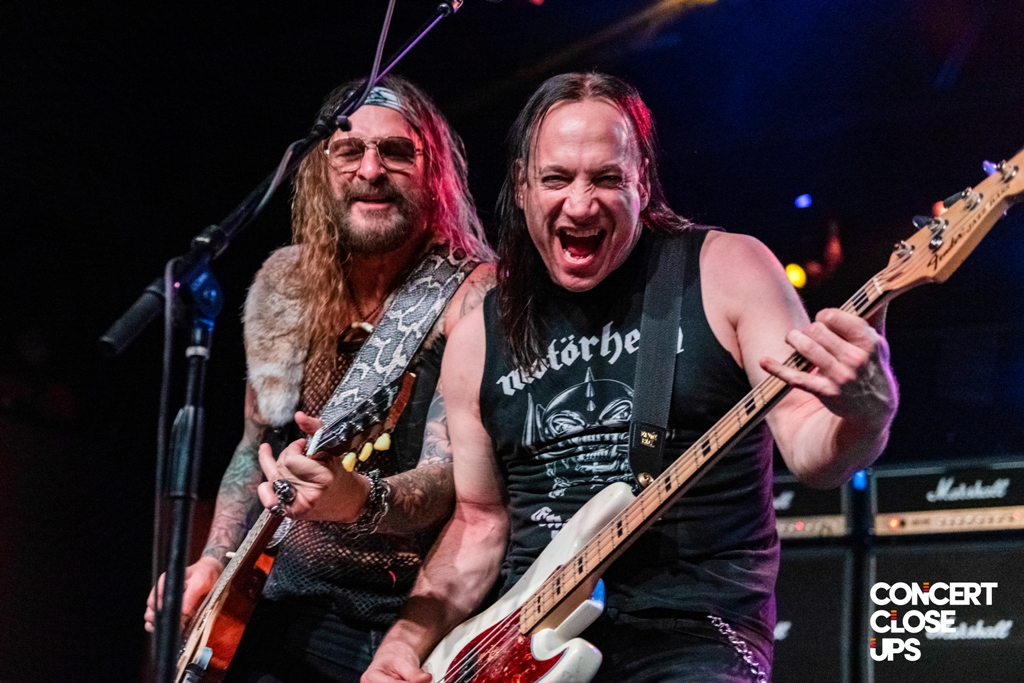 While Ace's guitar riffs and solos have evolved quite a bit since the 70's, everyone in the audience seemed to unknowingly inch closer to the stage while standing on their tip-toes to get a glimpse of the Space Ace during his smoking guitar solo. Likewise, his Marshall amps and Gibson Les Paul Custom guitars with triple pickups were all in tune and on fire as he ripped through the back-half of the set which included fan favorites New York Groove, Shock Me, Cold Gin, Black Diamond and encore Deuce. Additionally, in true Ace fashion, he was more than generous when flinging guitar picks to fateful fans anxiously awaiting a meaningful souvenir from the show.
As Ace raised his Les Paul and gave fans a thumbs up and final farewell he exuberantly exclaimed, "Green Bay, we love you. Rock and Roll! We'll see you next time. Goodnight!"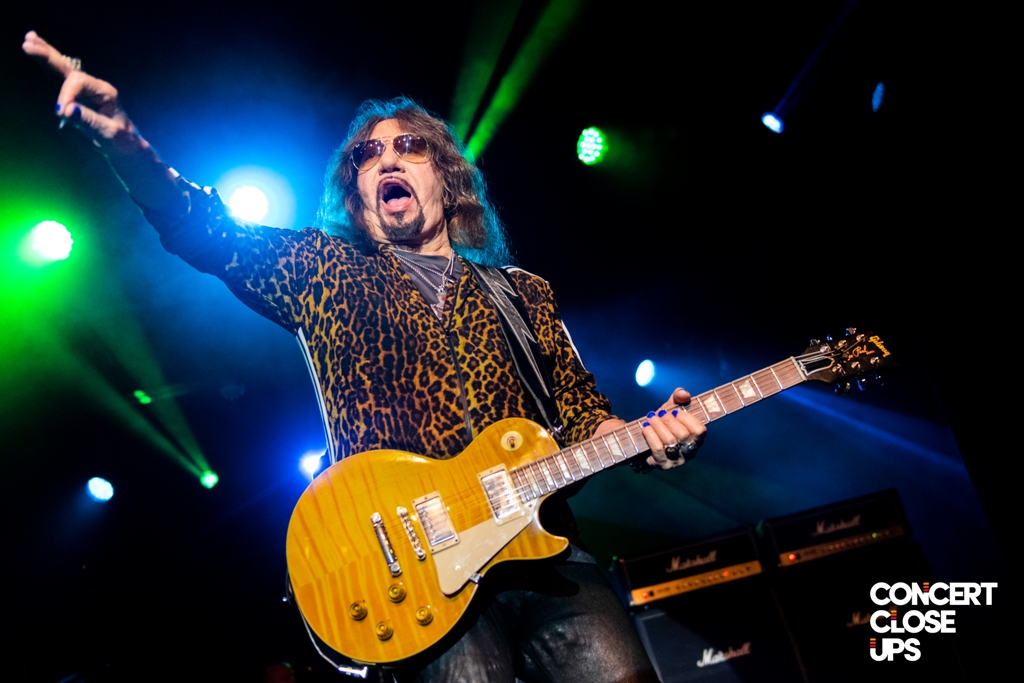 SETLIST:
Rip It Out
Parasite
Strutter
Rocket Ride
Rock Soldiers
Never in My Life / Good Times Bad Times
Love Theme from Kiss
Detroit Rock City
Hard Times
Strange Ways
New York Groove
Shock Me (w/Guitar Solo)
Cold Gin / Black Diamond
ENCORE:
Deuce
REMAINING 2022 TOUR DATES:
November 16, 2022 – Englewood, NJ – Bergen PAC
November 17, 2022 – Hudson Falls, NY – The Strand Theater
November 19, 2022 – New York, NY – Rock 'N' Roll Fantasy Camp
December 9, 2022 – Kent, OH – The Kent Stage
December 10, 2022 – Westland, MI – The Token Lounge
December 11, 2022 – Holland, MI – Holland Civic Center
SPOTIFY LIVE SETLIST 2022: Here
CD'S AND VINYL: Here
Die-hard KISS fans can pre-order their 40th Anniversary Super Deluxe Edition (November 18th): Here