THE BOBBY LEES RELEASE "MA LIKES TO DRINK" SINGLE & VIDEO IN FINAL PREVIEW FROM BELLEVUE (OCT. 7, IPECAC RECORDINGS)
PRE-ORDERS AVAILABLE NOW
UPCOMING TOUR DATES WITH GEESE & AFTERSHOCK 2022 PERFORMANCE
"The Bobby Lees' music, with its Sonic Youthian freakouts and barebones grit, is kind of like the best bad trip ever." – Consequence
"…screaming feedback, howling vocals, and a thumping beat suggest that rock'n'roll is still very much alive" – The Arts Desk
"…deliciously sleazy garage rock 'n' roll. It's an old-school adrenaline rush, overrun with jagged guitar work and vocals that recall the spit and vigor of CBGB's in the '70s." – Guitar World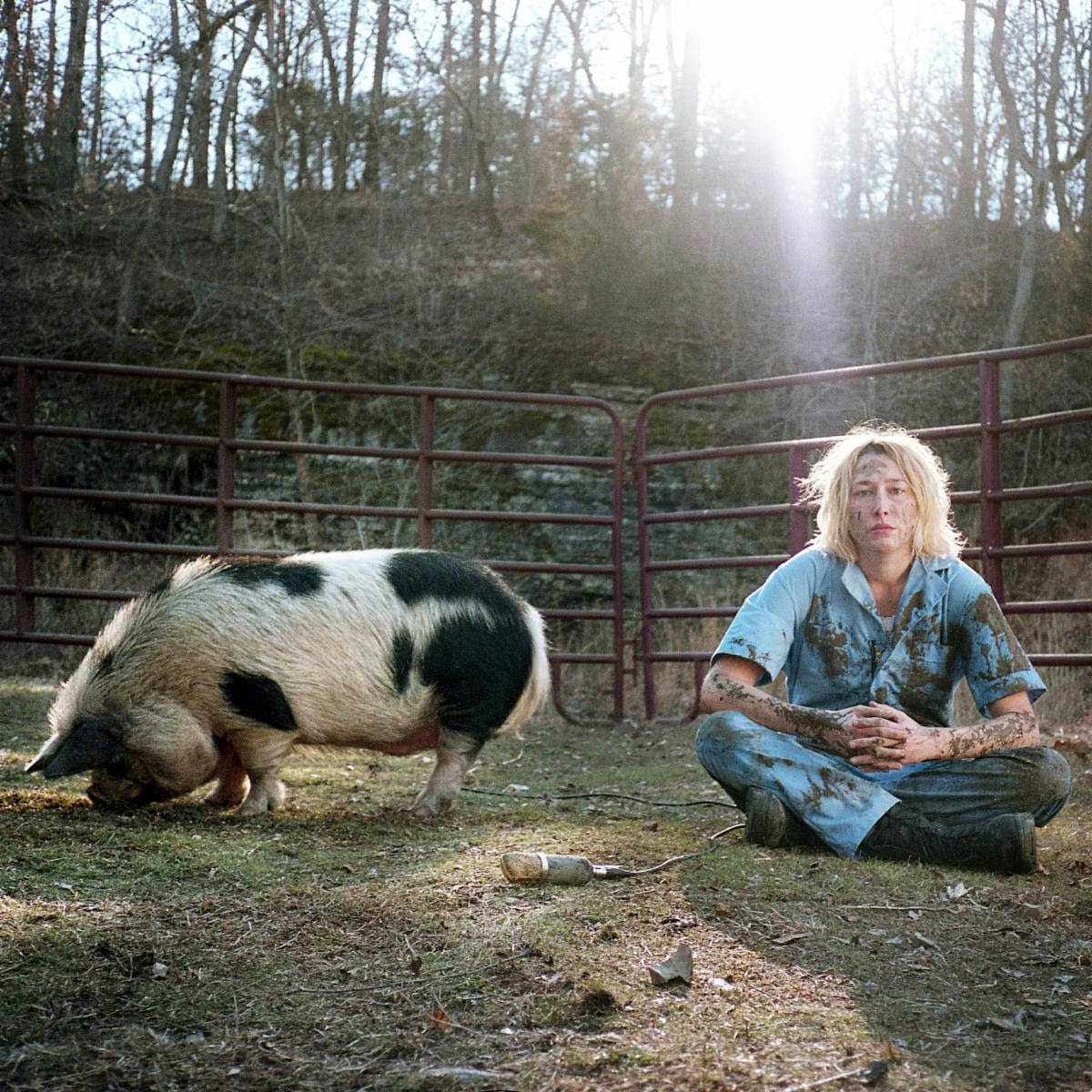 Bellevue album cover
The Bobby Lees offer a final preview of their forthcoming album, Bellevue (Oct. 7, Ipecac Recordings), with today's release of "Ma Likes To Drink" and its companion video (https://youtu.be/ITo2lETlQfk).
Drummer Macky Bowman said of the track: "To paraphrase John Berger: there is a stark difference between being naked and being a nude. To be naked is to be natural. Stripped of societal confines you are free to be as languorous or wanton as you wish. Even in naked acts of exhibition the primary spiritual benefactor will be the model, not the voyeur. Conversely to be a nude is to be reduced to no more than your physical form, displayed as a trite odalisque for the pleasure of greasy slobs. On an unrelated note we are all very proud of this song and video! We really hope you enjoy. Love you!"
The static shot clip, featuring singer Sam Quartin on a stationary bike sandwiched between a pair of mannequins, was directed by John Swab who also created the band's videos for "Dig Your Hips" (https://youtu.be/ny6Q-mTsk0g), and the video-meets-film short, "Hollywood Junkyard" (https://youtu.be/7dnTajHLeyQ).
The Bobby Lees recently wrapped up a European tour that included the Woodstock, N.Y-based band's first stint in the UK. The four-piece band have several shows coming over the next few months including a free show on Sept. 17 at Rockefeller Center for Indieplaza Fest and an Oct. 9 performance at Aftershock 2022.
The Bobby Lees tour dates:
September 17 New York, NY Rockefeller Plaza (Indieplaza Fest)
September 18 Durham, NC The Pinhook
September 20 Atlanta, GA Masquerade Purgatory
September 22 Asheville, NC The Grey Eagle
September 23 Baltimore, MD Ottobar
October 9 Sacramento, CA Aftershock 2022
October 25 Brooklyn, NY Baby's All Right
October 28 Woodstock, NY Colony
November 5 Tulsa, OK Cain's Ballroom
September 18 to 23 w/Geese
"I named the album Bellevue because when I listen back, I hear someone going through that stuff, who is now able to laugh about it and have fun re-telling the stories," Sam explains. "It's a reminder for me that the most painful and intense things I go through end up being the most rewarding creatively." The 13-song album, which was recorded live in-studio, was produced by Vance Powell (Jack White, Chris Stapleton, The Raconteurs).
Iggy Pop, Debbie Harry, Henry Rollins…these are just a few of the punk icons who have shown support for Woodstock, NY based band The Bobby Lees. Sam Quartin [vocals, guitar], Macky Bowman [drums], Nick Casa [guitar], and Kendall Wind [bass] — make music that is punk in spirit and soul; unfettered and resolutely honest. To say their sound is wild and untethered is an understatement. It's the kind of aural exorcism any listener can tap into, something that struck a chord with Henry Rollins who brought them to Ipecac Recordings where Mike Patton and Greg Werckman signed them.
Bellevue tracklist:
1.    Bellevue
4.    Death Train
5.    Strange Days
7.    Have You Seen A Girl
8.    In Low
9.    Little Table
10. Monkey Mind
11. Greta Van Fake
12. Be My Enemy
13. Mystery Theme Song
Album pre-orders, which include three vinyl variants: standard black, and limited-edition white and Coke bottle clear as well as a limited-edition white cassette, CD digipak, and digital pre-saves, are available now: https://thebobbylees.lnk.to/bellevue.
About The Bobby Lees:
The Bobby Lees are Macky Bowman (drums), Nick Casa (guitar), Sam Quartin (vocals/guitar) and Kendall Wind (bass). The Woodstock, N.Y.-based band have released two albums: Beauty Pageant (2018) and Skin Suit (2020), with the latter produced by Jon Spencer. Classic Rock Magazine adeptly said of the band: "Rock and roll as it ought to be: off the hook, unhinged, ravaged by Satan, hysterically vital, both kicking serious arse and against polite society's pricks. As undisciplined as No Wave, as steeped in comatose cool as '70s CBGB's blank generation, and as stylishly ferocious as the Yeah Yeah Yeahs."
# # #
https://www.instagram.com/thebobbylees/