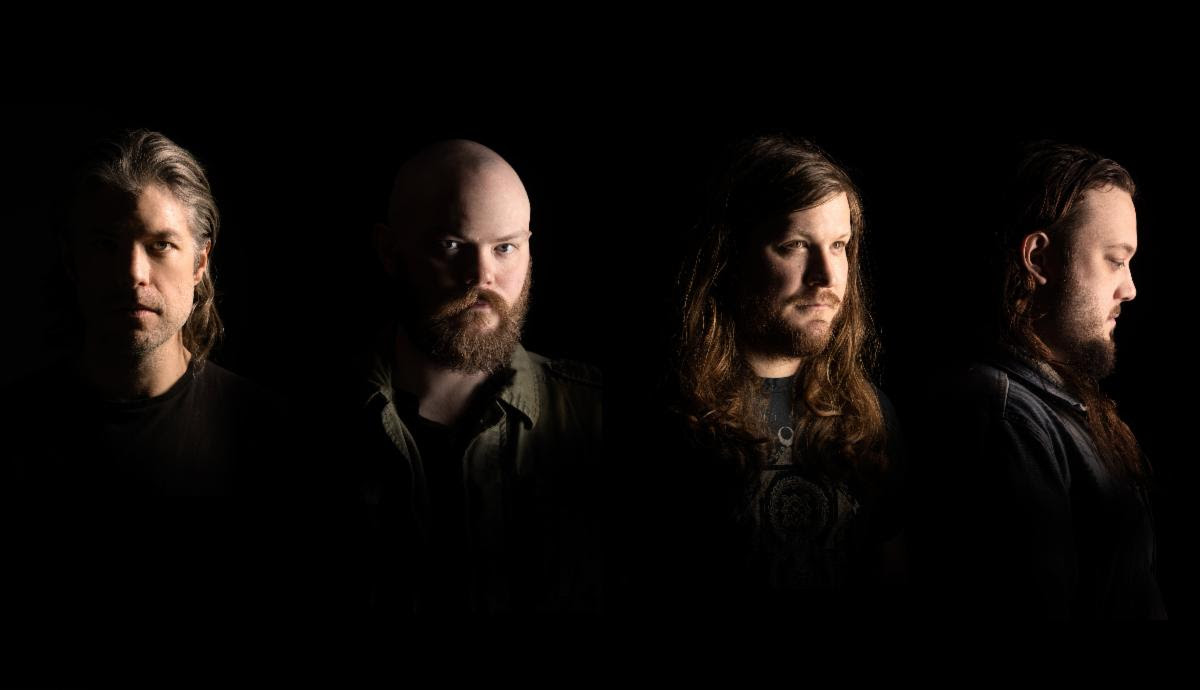 PALLBEARER RELEASE LIVE VIDEO FOR "VENGEANCE & RUINATION"
EUROPEAN TOUR DATES WITH ELDER AND IRIST START THIS MONTH
Arkansas avant-garde doom quartet, Pallbearer, have released a live video for their track "Vengeance & Ruination," taken from their formidable latest record Forgotten Days. The footage was recorded at St Vitus in Brooklyn, last year, during a particularly sublime performance.
Unable to tour around the release of Forgotten Days, Pallbearer will finally get the chance to play the album's material during their extensive European tour, alongside heavy psych band Elder and nascent post-metallers Irist. The tour kicks off Sept. 22 in Berlin, full routing below.
Pallbearer vocalist/guitarist Brett Campbell stated,
"After our short run of Sorrow and Extinction anniversary shows, we are extremely ready to get back out and finally give the Forgotten Days material the road treatment in the EU and UK with Elder and Irist! See you this fall!"
Released in 2020, Forgotten Days is a poignant album, wrought with catharsis and somber emotion.
Metal Hammer UK lauded the record, stating that "Forgotten Days is a glorious headfirst plunge back into the darkest recesses of Pallbearer's sound, taking the crushing abyssal tones of their debut and marrying it to their newfound ear for monolithic songs… (it) captures a band not only at the top of their game but also genre." with Kerrang! proclaiming, "This is the sound of a genre being refreshed, and of a band making it entirely their own."
Consequence stated that "Pallbearer are serving up their most riff-filled doom metal album in years… Forgotten Days is arguably the best doom metal album of 2020", with Loudwire declaring that "The mystical Pallbearer are never here to bullshit the listeners, keeping their songwriting prowess and stylistic arc solid through their fourth full-length", whilst Revolver referred to Forgotten Days as "…sweeping and melancholic, it carves out a shadow-cast yet verdant valley between the majesty of vintage Black Sabbath and the morbid romanticism of Type O Negative."
Tickets for Pallbearer's tour with Elder and Irist are available via the below links.
Pallbearer + Elder – European Co-Headline Tour 2022 w/ special guests Irist:
23 Sep UT Connewitz – Leipzig, DE
24 Sep Futurum Music Bar – Prague, CZ
26 Sep Arena Wien – Vienna, AT
27 Sep Akvárium Klub – Budapest, HU
28 Sep Orto Bar – Ljubljana, HR
01 Oct Up In Smoke Festival – Pratteln, CH
03 Oct L'Ampérage – Grenoble, FR
09 Oct Okkult Session 3 – Madrid, ES
11 Oct Le Rex de Toulouse – Toulouse, FR
12 Oct Rockstore – Montpellier, FR
13 Oct Le Ferrailleur – Nantes, FR
15 Oct  Desert Fest Antwerp – Antwerp, BE
16 Oct Poppodium 013 – Tilburg, NL
18 Oct Fonden Voxhall – Aarhus, DK
19 Oct Parkteatret Scene – Oslo, NO
20 Oct Union Scene – Drammen, NO
22 Oct Kulturhuset – Bergen, NO
25 Oct Slaktkyrkan – Stockholm, SE
26 Oct Pustervik – Gothenburg, SE
28 Oct Pumpehuset – Copenhagen, DK
29 Oct Gruenspan – Hamburg, DE
30 Oct  Desertfest Ghent – Gent, BE
31 Oct JunkYard – Dortmund, DE
03 Nov The Fleece – Bristol, UK
05 Nov Damnation – Manchester, UK
About Pallbearer:
Pallbearer is Brett Campbell (vocals/guitar), Devin Holt (guitar),Joseph D. Rowland(bass/vocals), and Mark Lierly (drums). The Little Rock, Arkansas-based band formed in 2008 and have since released four albums: Sorrow and Extinction (2012), Foundations of Burden (2014), Heartless (2017), andForgotten Days (2020). Pallbearer has received widespread praise with Rolling Stone dubbing their music "beautiful melancholia," the New York Times saying, "Pallbearer takes the genre's distorted guitars and dread and adds an ambitious element of optimism," and Decibel, who have twice afforded the band their cover slot, declaring the Pallbearer's songs both "majestic" and "extraordinary."
# # #