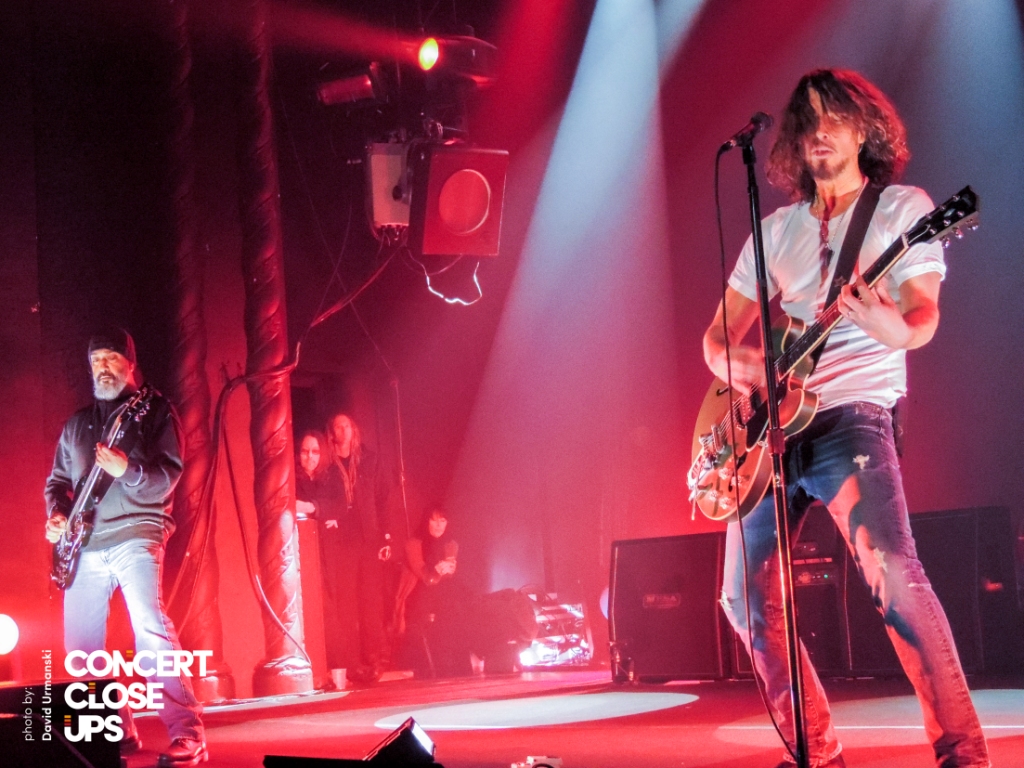 February 1, 2013
Photos by David Urmanski
BAND MEMBERS: SOUNDGARDEN
Chris Cornell – Vocals
Hiro Yamamoto – Guitar
Ben Shepherd – Bass
Matt Cameron – Drums
BAND BIOGRAPHY: SOUNDGARDEN
"When I think of Soundgarden, I think of a sound, I think of one entity, one organic thing," says singer and guitarist Chris Cornell, "but I guess that the exciting part is that it's always been really varied."
Hailed as grunge innovators, Soundgarden redefined rock music for a generation. In the 80s and 90s, the band's mesmerising soundscapes and compelling lyrics seduced audiences hungry for originality. It was a sound rooted deeply within the wild landscape of the Pacific North West – an atmosphere which still resonates strongly for Cornell. "The band is dripping with it", he says. "that indescribable longing. It's not about the society, it's not about the people, it's not about the city. It's some other thing."
That elusive 'other thing' pervades Soundgarden's new album 'King Animal', recorded close to their roots in Seattle and released November 13 2012. Over a year in the making, it promises to continue the musical evolution we anticipate from one of the world's most groundbreaking bands. One song, the yearning 'Taree', is a hymn to the wilderness – "my love song to the natural side of the north west where I grew up," as Cornell explains. "It was easy to feel like we were growing up in this strange, mystical place." By contrast, riotous album opener 'Been Away Too Long' is a doubled-edged blast of homecoming celebration and urban angst.
Soundgarden had been away since 1997, when its four members amicably agreed to put the band to rest while they pursued other projects. But by 2009 they'd decided to work together again. Rehearsals for a world tour swiftly turned into songwriting sessions. "It isn't really a matter of reinventing ourselves for a new chapter," says Cornell. "There's quite a bit of natural progression in just living life for 15 years….our lives progressed as they would have done if we'd still been together. We were just catching up."
The band's unique alchemy reasserted itself and ideas flowed freely, with some songs still under construction while others were already being mixed. "There's a certain amount of trust…that things are going to work out, and that songs are going to appear out of nowhere. The first day we started, everybody just would play a part or an idea or a song arrangement that they had, and it started going from there," recalls Cornell. "We had a studio engineer recording all our rehearsals and a few songs actually came out of that. The song 'Rowing' – Ben [Shepherd] played this incredible bass ad-lib part and because it was recorded, I went home and looped it and wrote a whole song to it. I've learned over the years that following Ben — or Matt, or Kim – down these moments of creative brilliance is always a good idea."
'King Animal' can be explosive, as in 'Blood On The Valley Floor' ("the quintessential, perfect, heavy Soundgarden song"), nightmarish ('Worse Dreams') or wistful ('Halfway There'), leading us through changing sonic landscapes that can embrace both the jazz inflections of 'Black Saturday' and the driving simplicity of feral rocker 'Attrition'. The subject matter is broad – Kim Thayil's lyrics for 'Non-State Actor' are an incisive and cynical take on the powers behind political thrones, while Cornell's bruised and introspective 'Bones of Birds' explores the terrors and vulnerabilities of parenthood. "Having children forces you to look past your own mortality," says Cornell. "How loss is going to affect them, even long after I'm gone."
Soundgarden remain a truly 'alternative' band in an age when the word has been devalued to just another genre label. Though firmly rooted in their shared sense of place, they continue to be instinctive pathfinders. "I don't think we've ever had to find a compass and redirect ourselves to the north," says Cornell. "That's never happened to us, and it certainly didn't happen to us this time."
Website: www.SoundgardenWorld.com
CONCERT REVIEW RATING SCALE:
1 = Poor
2 = Average
3 = Good
4 = Excellent
5 = Extraordinary
SOUNDGARDEN Concert Rating: 5
THE VENUE:  THE RAVE
The Rave is a premiere multi-level, multi-venue, entertainment complex conveniently located off highway 94 in Milwaukee, Wisconsin hosting hundreds of concerts each year. The Rave/Eagles Club houses seven venues (The Eagles Ballroom, The Rave, The Eagles Ballroom Club Stage, The Eagles Penthouse Lounge, The Eagles Hall, The Rave Bar, and The Rave Craft Beer Lounge) ranging in capacity from 400 to 4000 people.

The Rave/Eagles Club is highlighted by the spectacular Eagles Ballroom featuring an elegant 25,000 square foot dance floor and a stunning balcony that circles the ballroom. From the elegant domed ceiling to the eagle sculptures and intricate trim on the pillars, a concert at the Eagles Ballroom is a truly spectacular experience.  Over the past decades, The Rave/Eagles Club has hosted some of the biggest names in rock, pop, electronic, and alternative music as well as many up and coming acts and regional bands from Wisconsin, Illinois and surrounding areas.

Address:  2401 West Wisconsin Avenue - Milwaukee, Wisconsin 53233

Phone:  (414) 342-7283

Website:  www.TheRave.com

  
www.Facebook.com/TheRave


Upcoming Concerts & Tickets:  www.TheRave.com/Concert_Tickets

Hours:  The Rave box office is open 10am to 6pm Monday thru Friday and 1pm on Saturday and Sunday if there is a show. The box office remains open until 10pm on show nights.