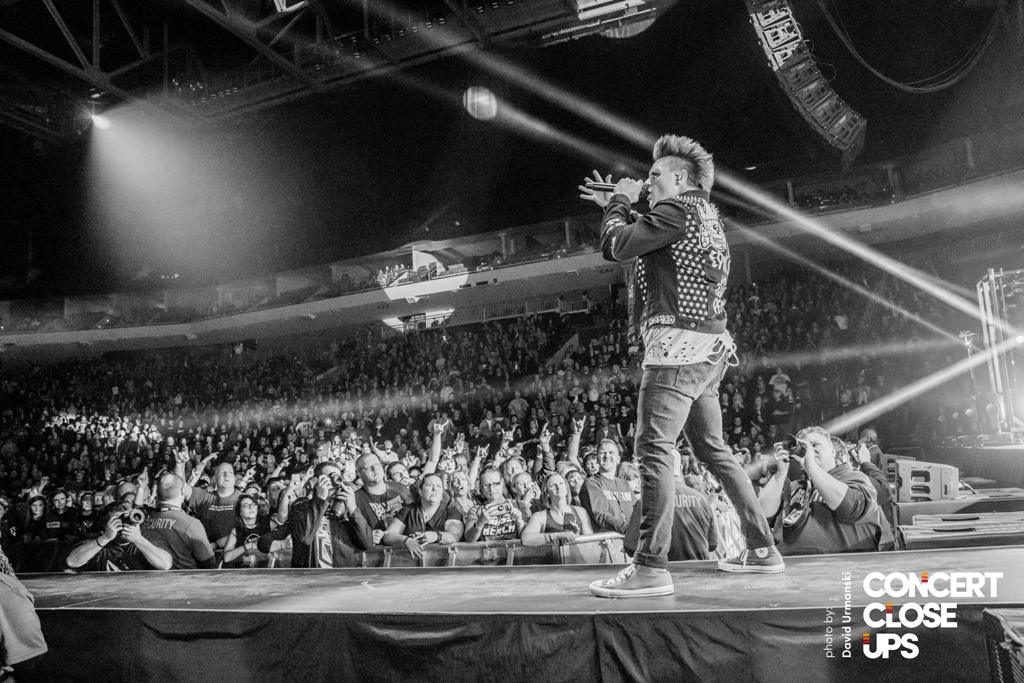 March 8, 2019
Review by David Urmanski
Photos by David Urmanski
Website: www.PapaRoach.com

BAND MEMBERS: PAPA ROACH
Jacoby Shaddix – Vocals
Jerry Horton – Guitar & Backing Vocals
Tobin Esperance – Bass & Backing Vocals
Tony Palermo – Drums
Two-time Grammy nominated American alternative-rock quartet, Papa Roach, has established themselves as true trendsetters in rock music since signing with DreamWorks Records in 1999. With over 20 million records sold over the last two decades, Papa Roach continues to be recognized, respected and loved for their mainstream success and what they continue to bring to the table time and time again with each new album release.
Touring in support of their highly-anticipated 10th studio album, "Who Do You Trust?", the love of all things Papa Roach was apparent as they took the stage as direct supporting act for Shinedown at the Fiserv Forum in Milwaukee Friday night. From the first note of nu metal anthem "Last Resort" to the last note of "…To Be Loved", the band kept the packed house on their feet and energy flowing for their entire, emotionally-charged 14-song set.
With so many hits from previous albums to keep the crowd inspired to rock out, Papa Roach thoroughly impressed the audience when performing tunes from the new 12-track anthemic album including the heavy rhythmic guitars and catchy hooks of "Who Do You Trust?", "Renegade Music" and melodic "Not The Only One". Whether you listen to the band live or crank up their studio tracks in the privacy of your own personal space, the melodies are maddening and provoke you to sing-along as if against your own free will.
Sporting a "Can't Do Epic Shit With Basic People" jacket, frontman Jacoby Shaddix pulled no punches and made it obvious that Papa Roach arrived in Milwaukee with the intent of putting on a spectacular show and leaving concert-goers with a feeling that they were part of something monumental. Mission accomplished Papa Roach! We all feel a little bit cooler for having spent quality time with you.
SET LIST
"Last Resort"
"Help"
"Who Do You Trust"
"Getting Away With Murder"
"Face Everything and Rise"
"Renegade Music"
"Between Angels and Insects"
"Elevate"
"Not the Only One"
"Forever"
"Come Around"
"Scars"
"Born for Greatness"
"…To Be Loved"
CONCERT REVIEW RATING SCALE:
1 = Poor
2 = Average
3 = Good
4 = Excellent
5 = Extraordinary
PAPA ROACH Concert Rating: 5
THE VENUE:  FISERV FORUM

Address: 1111 Vel R Phillips Avenue, Milwaukee, Wisconsin 53203

Phone: (414) 227-0500

Website: www.FiservForum.com

  
www.Facebook.com/FiservForum


Upcoming Events & Tickets: www.FiservForum.com/Events

Box Office #:  (414) 227-0511  Hours:  10am to 5pm Monday through Friday; 12pm - 4pm Saturday

The Fiserv Forum is a new multi-purpose arena in downtown Milwaukee. The Wisconsin Entertainment and Sports Center is much more than just the new home for the Milwaukee Bucks basketball. Designed to reflect the heritage, history and personality of Milwaukee while actively projecting progress, accessibility and a renewed sense of community, this state of the art, 714,000 square foot arena is the hub of entertainment in Wisconsin and the engine that drives growth in downtown Milwaukee.

Why Fiserv?
At Fiserv, we believe in putting our signature on our work, the mark of our commitment to excellence in everything we do. We're proud to partner with the NBA's Milwaukee Bucks as we put our name on this visible symbol of partnership, connection and community. Proud to be first to amplify the role of financial services technology in this way, and to call more attention to the importance of technology in the advancement of financial and payment experiences.

Even more proud to shine a brighter light on the vital role our clients play in helping their customers move money and information with ease, speed and convenience. "We are excited for this unprecedented opportunity to elevate and further differentiate our brand in support of our purpose of delivering value and excellence to our clients every day." Jeff Yabuki, Fiserv President and CEO

With this new home, this state-of-the-art venue for world-class sports and entertainment, we proudly deepen our connection to our hometown, our clients and the millions of consumers who rely on our clients and our technology. Solutions that enable financial services in step with the way people live, work and play. On behalf of our 24,000 associates worldwide, we're honored to introduce Fiserv Forum: A place that uniquely connects our past, the present and our optimism for the future. We can't wait to see you there.

The Design
The period – or proof point – that follows 'Fiserv' in our wordmark has always embodied our full-hearted commitment to excellence in everything we do. In our visual identity for Fiserv Forum, that point evolves into a connection point. It represents where our brand promise – to be Partners in Possibility – meets our local community, where our legacy of leadership in financial services technology meets our future of bringing our aspiration and purpose to a newly broadened audience. This point connects Fiserv and our clients to all the vibrancy that Fiserv Forum will hold: games, shows, celebrations, family, friends, and fun. Using our brand typeface, our graphic system makes use of its numerous weights, allowing room for expression, play, and a vocal energy that is as diverse as the experiences Fiserv Forum has to offer.

What's in a Name?
The name 'Fiserv Forum' is a nod to our annual world-class client experience, where the best and brightest technology and business professionals gather each year to exchange ideas, learn, and experience financial technology. Like our annual client conference, which bears the same name, this new Fiserv brand touchpoint is designed to showcase diverse and unique experiences and perspectives.