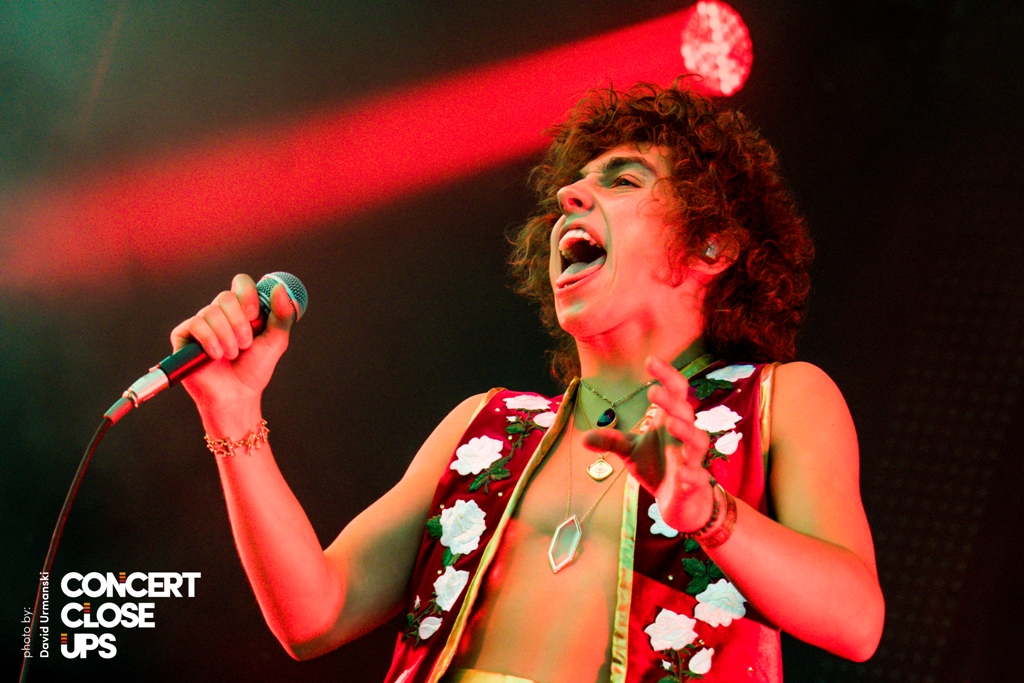 June 4, 2019
Review by David Urmanski
Photos by David Urmanski
Website: www.GretaVanFleet.com


www.Facebook.com/GretaVanFleet
THE BAND: GRETA VAN FLEET
Josh Kiszka – Vocals
Jake Kiszka – Guitar
Sam Kiszka – Bass
Danny Wagner – Drums
Concocted as a retro-yet fresh, high-energy hybrid of rock n' roll, blues and soul, Greta Van Fleet saved the best for last and performed a flawless set to a 10,000-plus crowd of screaming, singing and adoring fans at Breese Stevens Field in Madison Tuesday evening wrapping up their 18-date US tour before heading overseas later this month.
The band of four hailing from Frankenmuth, Michigan consisting of twin brothers Josh and Jake, younger brother, Sam, and longtime family friend, Danny, took the Wisconsin State Capitol by storm showing no signs of wear considering the wild ride they have been on since forming in 2012 and exploding exponentially in 2017 with sold-out shows in North America and Europe, glowing press, accolades from a plethora of fellow artists, millions of YouTube video plays and Spotify streams, two #1 singles, two #1 EPs, and, most importantly, an extraordinary and undying connection with their fans.
Touring in support of their debut full-length studio album, Anthem of the Peaceful Army, which topped the Billboard Rock Album charts in the first week following its release in October of last year, Greta Van Fleet wasted no time kicking off the show in grand fashion with the album's first single and the band's third number-one single on the US Billboard Mainstream Rock charts "When the Curtain Falls" immediately followed by other fan favorites "Highway Tune" and "Black Smoking Rising" before ending their strong 90-plus minute set with "Safari Song" which won acclaim as Song of the Year at the 2019 iHeartRadio Music Awards.
In fact, Greta Van Fleet is no stranger to Madtown and proves to be a regular staple at various concert venues throughout the city to include their show at Freakfest in 2016 and recent performance at The Sylvee last fall. If that weren't enough to confirm Madison holds a special place in the band's heart, Aaron Frank, a third-generation member of the family who owns Madison-based Frank Productions, is the band's manager.
Based on the overwhelming love and support expressed from concert-goers who packed the field and bleachers front to back, it was apparent that the band felt right at home and expressed genuine gratitude for the warm welcome. Once Midwestern boys, always Midwestern boys. No wonder they are being hailed as rock's saviors. Sometimes it takes listening to and witnessing a band like Greta Van Fleet live to reawaken our souls and remind us just how much rock music is truly alive and well.
SET LIST:
When the Curtain Falls
Highway Tune
Black Smoke Rising
Flower Power
Watch Me (Labi Siffre cover)
The Music Is You (John Denver cover)
You're the One
Brave New World
Watching Over
Lover, Leaver (Taker, Believer)
Age of Man
The Cold Wind
Black Flag Exposition
Encore:
I Shall Be Released (The Band cover) (with Ida Mae)
Safari Song
CONCERT REVIEW RATING SCALE:
1 = Poor
2 = Average
3 = Good
4 = Excellent
5 = Extraordinary
GRETA VAN FLEET CONCERT RATING: 5