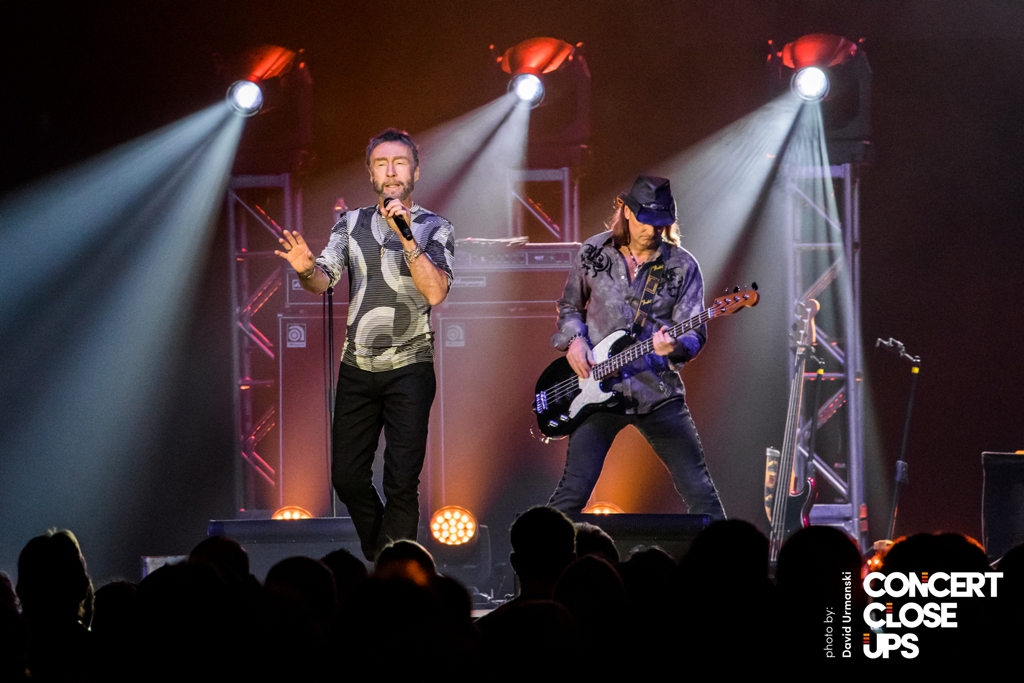 October 28, 2018
Photos by David Urmanski
THE BAND: BAD COMPANY
Paul Rodgers
Mick Ralphs
Simon Kirke
with guitarist Howard Lesse and bassist Todd Ronning
Website: www.BadCompany.com


www.Facebook.com/OfficialBadCompany

BAND BIOGRAPHY: BAD COMPANY
One of the most acclaimed bands of the classic rock era, England's Bad Company has put its indelible stamp on rock 'n' roll with a straight-ahead, no-frills musical approach that has resulted in the creation of some of the most timeless rock anthems ever. Led by the incomparable singer and songwriter Paul Rodgers, arguably the finest singer in rock 'n ' roll and a huge songwriting talent.
Formed in 1973, Bad Company came to life when Rodgers was looking to start anew after the disintegration of his legendary band Free. His powerhouse vocals and songwriting were a main ingredient during Free's impressive five-year run; a period of time that saw the release of seven extremely influential albums that featured Free's minimalist blues-rock approach. Included among Free's dynamic body of work is the 1970 smash, "All Right Now," one of the most recognizable rock anthems ever recorded. Lyrics and melody by Rodgers. He was Free's main songwriter.
Rodgers had met Mott The Hoople guitarist Mick Ralphs and after jamming together and listening to new songs that Ralphs had penned and songs that Rodgers had penned, Ralphs made the decision to leave Mott and form a new band with Rodgers. The duo recruited former King Crimson bassist/vocalist Boz Burrell, added drummer Simon Kirke and christened themselves Bad Company, the name inspired by Rodgers. Rodgers' brought in Led Zeppelin manager Peter Grant and Bad Company became the first band signed to Zeppelin's Swan Song label. "I had to fight to get the management and the record company to accept the name Bad Company," explains Rodgers. "They thought it was a terrible name. Peter Grant called a meeting and the band met beforehand. I told them that I had been through this before with Free as Island Records had wanted to call us the Heavy Metal Kids. We agreed to go in and tell them that we were going to be called Bad Company and that was the end of the story. As soon as Peter heard how strongly I felt about the name, he became very supportive and he and I turned the record company around."
CONCERT REVIEW RATING SCALE:
1 = Poor
2 = Average
3 = Good
4 = Excellent
5 = Extraordinary
BAD COMPANY Concert Rating: 5
THE VENUE: THE RESCH CENTER
The Resch Center Complex is comprised of the Resch Center, Brown County Veterans Memorial and Shopko Hall. It also includes Bart Starr Plaza and Subway and U.S. Cellular Parking Lots. The Complex is located across the street from Lambeau Field and is a vital part of the Entertainment District. The Complex hosts a wide variety of events, including concerts, comedy, family shows, sporting events, theater, consumer/trade shows, tailgating, and parking. It is managed by PMI Entertainment Group (PMI) with tickets being sold by Ticket Star, a regional ticketing company owned and operated by PMI. In addition, many of the events within the Complex are produced by Expo & Event Production, also a division of PMI.