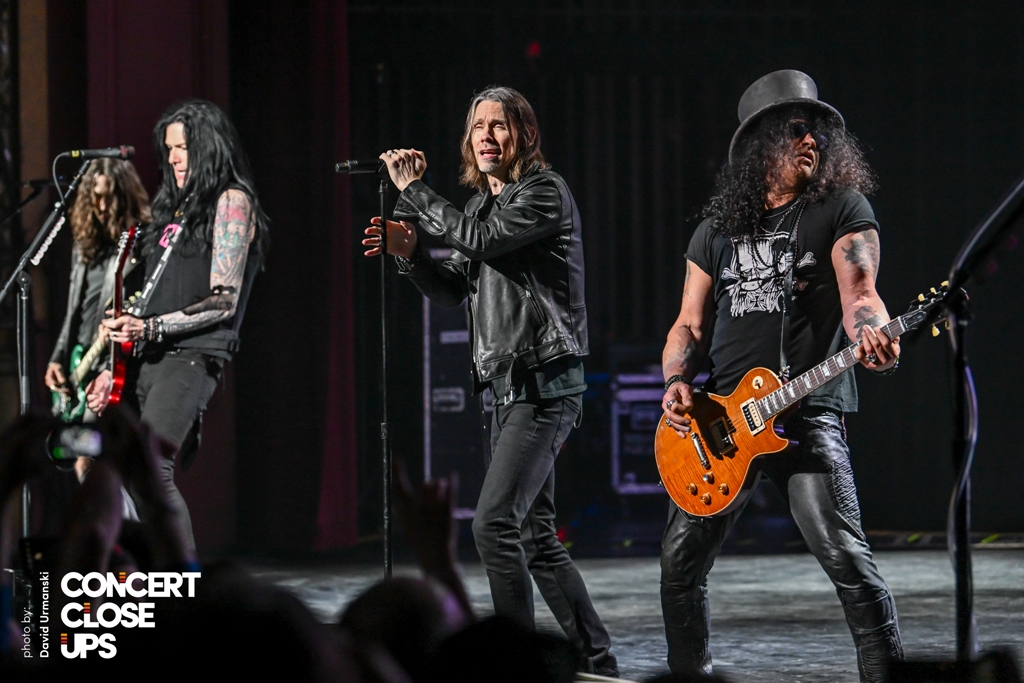 February 28, 2022
Review and Photos by David Urmanski
THE BAND:
Slash – Lead Guitar
Myles Kennedy – Vocals
Todd Kerns – Bass
Frank Sidoris – Rhythm Guitar
Brent Fitz – Drums
Website: www.SlashOnline.com
When you really take the time to think about it, there are very few names that are truly synonymous with rock n' roll. Among the short list are Alice, Angus, Axl, Billie, Bono, Corey, Dave, Eddie, Elton, Elvis, Freddie, Jim, Jimi, Jimmy, John, Johnny, Lemmy, Mick, Ozzy, Paul, Prince and Stevie just to name a few. However this list could never be considered complete without including one of the greatest guitarists of all time, Saul Hudson, better known as Slash.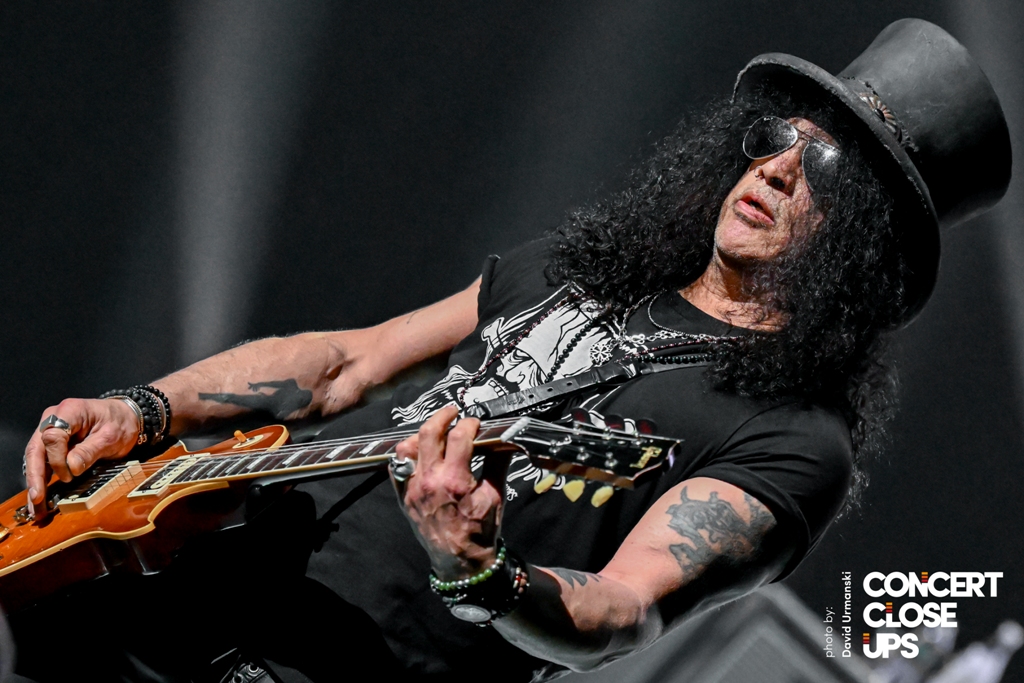 Since achieving worldwide success as the lead guitarist of American hard rock band Guns N' Roses after the release of the band's 1987 debut album, Appetite for Destruction, with over 30 million copies sold worldwide to date, Slash has earned his stripes and well-deserved recognition one album and one stage at a time by continuing to remain relevant for the last 35-plus years.
Upon wrapping up his first stint with GNR in 1996, Slash has been a workhorse and driving force behind the creation of some killer tunes and truly amazing bands including Slash's Snake Pit featuring former GNR bandmates Matt Sorum and Gilby Clarke on drums and rhythm guitar as well as Alice in Chains' Mike Inez on bass and Jellyfish's Eric Dover on vocals. Eight years later, in 2002, Slash formed Velvet Revolver with Duff McKagan on bass and Matt Sorum on drums as well as the late, great Scott Weiland on vocals before Weiland split in 2008 to rejoin Stone Temple Pilots.
In an effort to take a break from all the politics associated with a band and do his own thing, Slash released a solo album entitled Slash in April 2010 which featured an all-star roster of guest musicians, including Ozzy Osbourne, Fergie of The Black Eyed Peas, Adam Levine of Maroon 5, M. Shadows of Avenged Sevenfold, Lemmy Kilmister of Motörhead, Dave Grohl of Nirvana/Foo Fighters, Chris Cornell of Soundgarden/Audioslave, Myles Kennedy of Alter Bridge and "The Godfather of Punk" Iggy Pop as well as musical collaborations with former GNR bandmates Izzy Stradlin, Duff McKagan and Steven Adler.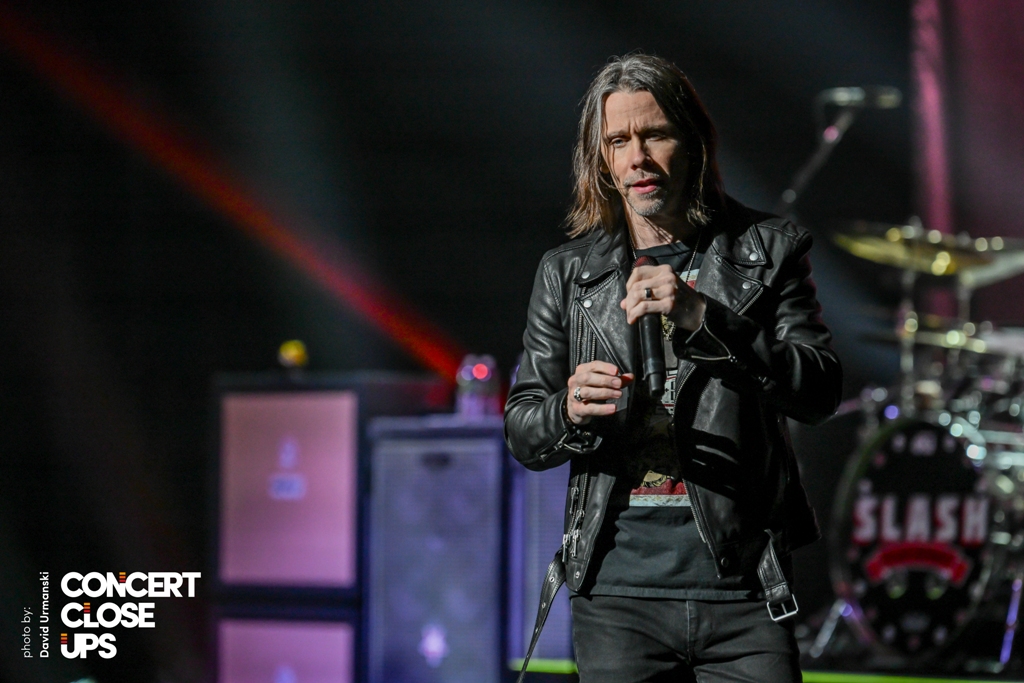 To promote the solo album, Slash embarked on his first solo world tour with Myles Kennedy on vocals, Bobby Schneck on rhythm guitar, Todd Kerns on bass and Brent Fitz on drums. In June 2011, Slash began working on his second solo album, collaborating with touring bandmates Kennedy, Kerns and Fitz, resulting in the release of the landmark Apocalyptic Love album in May 2012 billed to "Slash featuring Myles Kennedy and The Conspirators". The album debuted at #2 on the Canadian Albums Chart and subsequently catapulted the band to release three additional hard-hitting records World on Fire in 2014, Living the Dream in 2018 and the new, highly-anticipated studio album 4 released a few short weeks ago on February 11th. Is it even possible for Slash to record a bad song? I think not.
With such a diverse range of material to draw from, it certainly helped make the band's Milwaukee appearance Monday night a show to remember. Kicking the performance off with Slash's 2018 tracks "Driving Rain" and "My Antidote" from the Living the Dream album was enough to get the crowd going before transitioning into the meticulously vigorous riffs driving "Shots Fired" from Apocalyptic Love.
Deemed a rather amazing guitarist in his own right, Myles Kennedy held back from performing the six string fretted instrument during the 20 song set but instead shared his vast knowledge of music theory by extending a hand triangle solo during the percussion intro to "Whatever Gets You By" from new studio album 4. A far cry from Kennedy's true musicianship and technical-mastery but an entertaining occurrence none the less.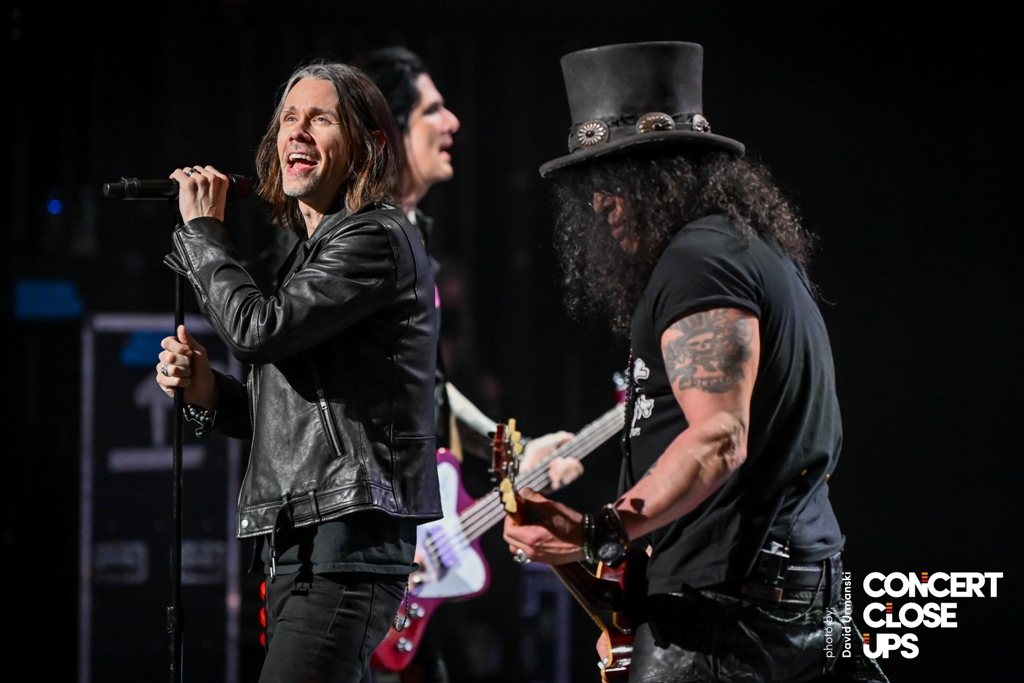 Overall, the Monday night performance at the Riverside Theater met or exceeded the audiences extremely high expectations. There was not a soul in the venue who did not foresee the band blowing the doors off the joint similar to the band's previous performance at the Pabst Theater in July of 2019. When Slash Featuring Myles Kennedy and the Conspirators comes to town, Milwaukee is ready for a high-octane performance from the best musicians in the business. Likewise, the band performed amazing renditions of Lenny Kravitz cover "Always on the Run" as well as Elton John's "Rocket Man" and the left the crowd wanting more after performing new single "C'est La Vie" to a live audience for the first time featuring Slash on talk box. Finally, no show would be complete without the master guitarist himself performing an extended guitar solo as the finale to a perfect night of entertainment and yet another historical musical moment in Milwaukee.
SET LIST:
Driving Rain
My Antidote
Shots Fired
Serve You Right
Back From Cali (Slash song)
Spirit Love
The River Is Rising
Whatever Gets You By (with Myles' triangle solo)
Always on the Run (Lenny Kravitz cover)
Standing in the Sun
Speed Parade (Slash's Snakepit cover)
C'est La Vie (Live Premiere)
Fill My World
The One You Loved Is Gone
Call off the Dogs
Doctor Alibi (Slash song)
Rocket Man (I Think It's Going to Be a Long, Long Time) (Elton John cover)
Nothing to Say (Slash song)
You're a Lie
World on Fire (Extended Slash solo)
SCROLL DOWN FOR FULL PHOTO GALLERY
Check out the "C'est La Vie" video here: