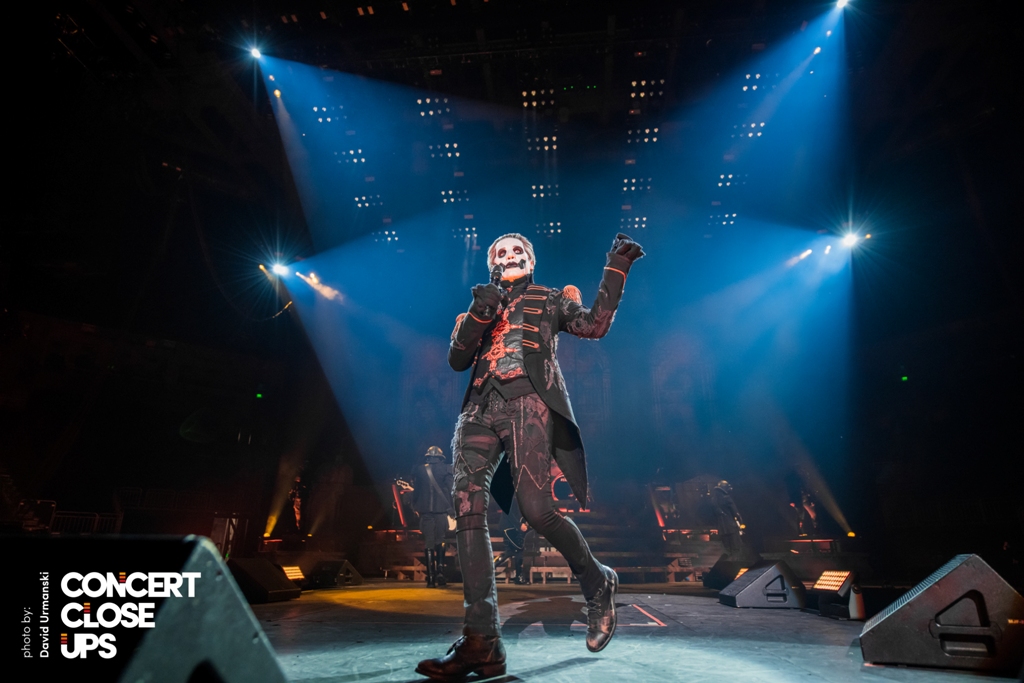 February 20, 2022
Review and Photos by David Urmanski
Two of the most celebrated rock bands in the world today, Swedish band Ghost and Danish rockers Volbeat, teamed up for what could easily be deemed the most monumental co-headlining arena tour of 2022. Upon arriving in Milwaukee Sunday night, along with Los Angeles-based supporting band Twin Temple, the lineup wasted no time kicking off their 19th performance of the 26-city tour in awe-inspiring fashion to a super-charged audience nearing the 17,000-plus capacity of the Fiserv Forum.
Kicking off with a short but ceremonious set were the one and only purveyors of Satanic Doo-Wop, Twin Temple. Devout Satanists, this black-clad and effortlessly stylish duo delivered a six-song set that blended their satanic ideology with a classic melody of '50s and '60s rock 'n'roll. While Sunday is generally reserved as the Lord's Day by Christians and the principal day of communal worship and weekly memorial of the resurrection of Jesus Christ, Twin Temple had something else in mind as the band started their show with a demonic ritual and attempted to convert the crowd of concert-goers over to the dark side by hailing satan and asking the audience to pledge their allegiance to lucifer.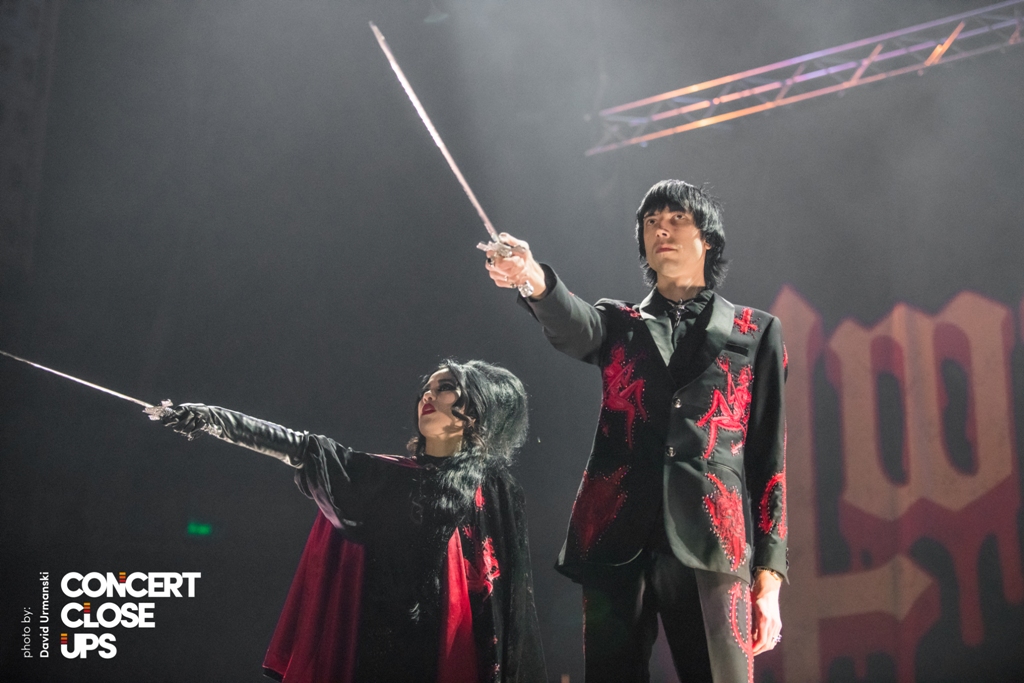 While many in the crowd did not know how to take them, their haunting and devilish performance earned them significant praise throughout the arena and, what can only be predicted, a multitude of new fans and fellow worshipers. With vocalist Alexandra James's soulful and serene intonation and partner Zachary James' unique arrangements, the band offered a surprisingly memorable performance and delivered a dark, cool and catchy sound uncharacteristic of what one would typically expect from a traditional doo-wop style rock band.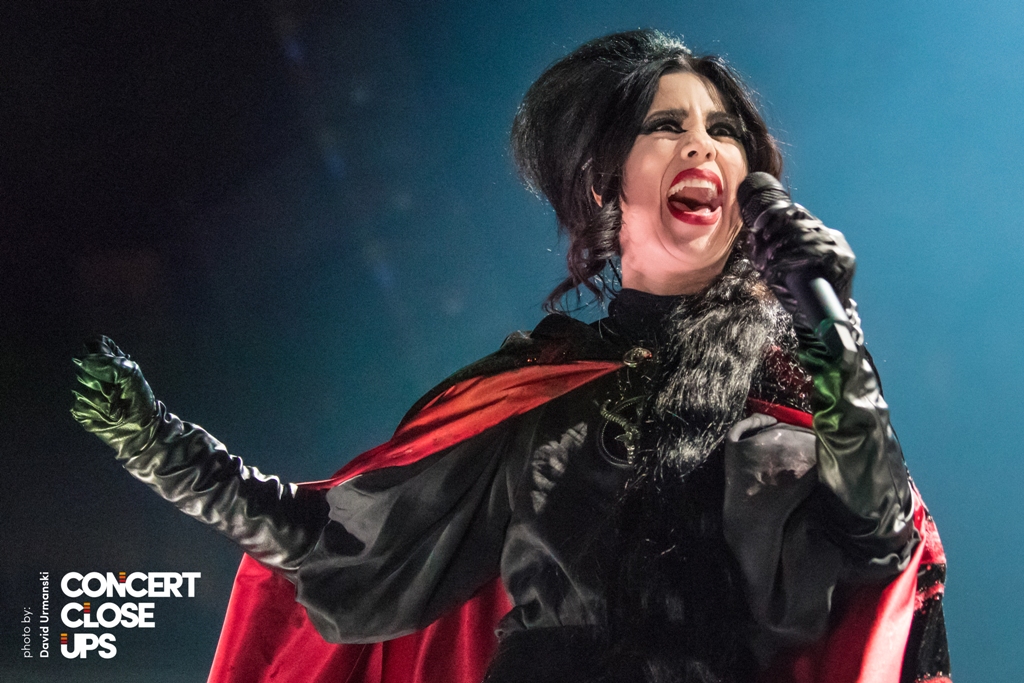 After a window of opportunity to exorcise the demons during the short intermission, Danish rockers Volbeat took to stage a bit earlier than expected in familiar spirited and energetic fashion. Once the kabuki curtain dropped, the bright lights and huge video screens were revealed and a wall of sound filled the arena with punchy guitar riffs and a thunderous beat as the band opened with "The Devil's Bleeding Crown" thus carrying on the evening's theme in song about a vengeful devil and his spawn getting hurled from heaven, crawling up beneath a church and wreaking vengeance on the faithful.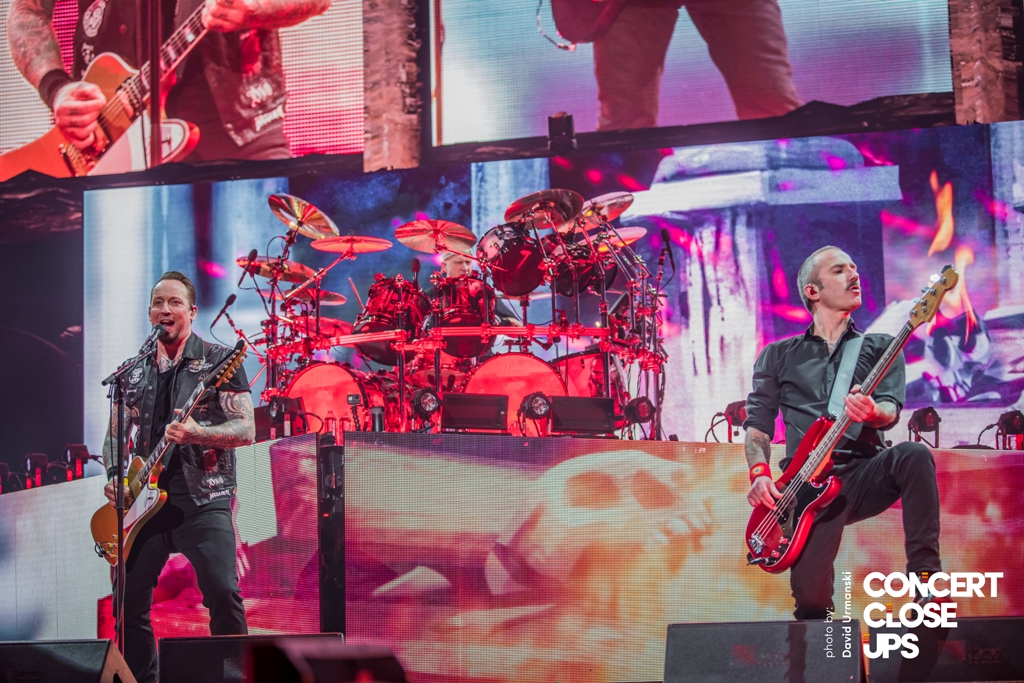 Since forming in 2001, Volbeat has gone from performing in local Copenhagen clubs to headlining stages around the world in support of seven record-breaking albums earning them ten #1 songs and counting on the U.S. Mainstream Rock Chart, multi-platinum certifications, various awards and a Grammy Award nomination for Best Metal Performance for their 2013 single "Room 24" which is a song inspired by a terrifying experience in a hotel room that happened to Volbeat frontman Michael Poulsen while the band was touring in the U.S. on the Gigantour. Upon waking up, Poulsen was unable to move his arms or legs, felt like he was choking and about to have a stroke or heart attack, later realizing he had experienced an episode of sleep paralysis where your brain wakes up but is not communicating with the rest of your body.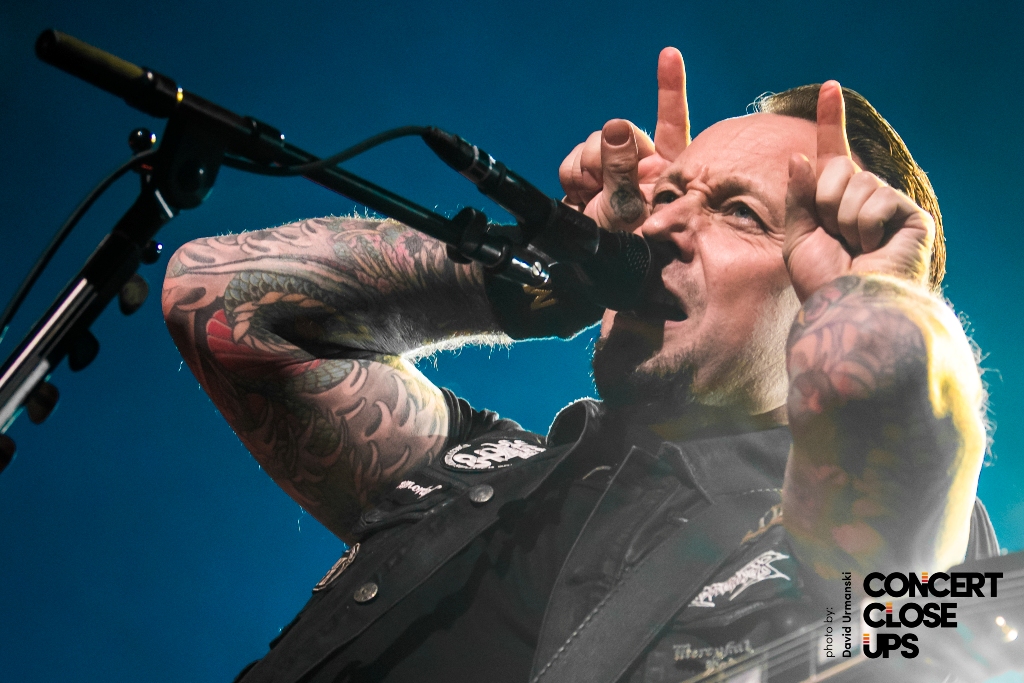 The band's latest album, Servant of the Mind, was written and recorded during the shutdown and quarantine necessitated by the COVID-19 pandemic. Released just three short months ago on December 3rd, the album has already spawned hit singles "Wait A Minute My Girl" and "Shotgun Blues," both of which were performed mid-set to an extremely receptive crowd Sunday evening.
Poulsen cheered the Milwaukee audience on as they sang along to the lyrics of each song, prior and new, while lead guitarist Rob Caggiano lured the fans in with his welcoming and infectious smile while earning the onlooker's respect with his speedy and dynamic guitar riffs and solos. Additionally, the rhythm section thumped much harder than what I could remember from previous shows as my chest cavity pulsed to 130-plus beats per minute for the entire 16-song set courtesy of bassist Kaspar Boye Larsen's weighty runs and fills and drummer Jon Larsen's low, booming kick drum. The Danish rockers closed out their Milwaukee performance with 2008 mega hit "Still Counting," which was re-released as a single in 2012, advancing Volbeat with it's second single to reach #1 on the Billboard Mainstream Rock chart between September 2011 and July 2012.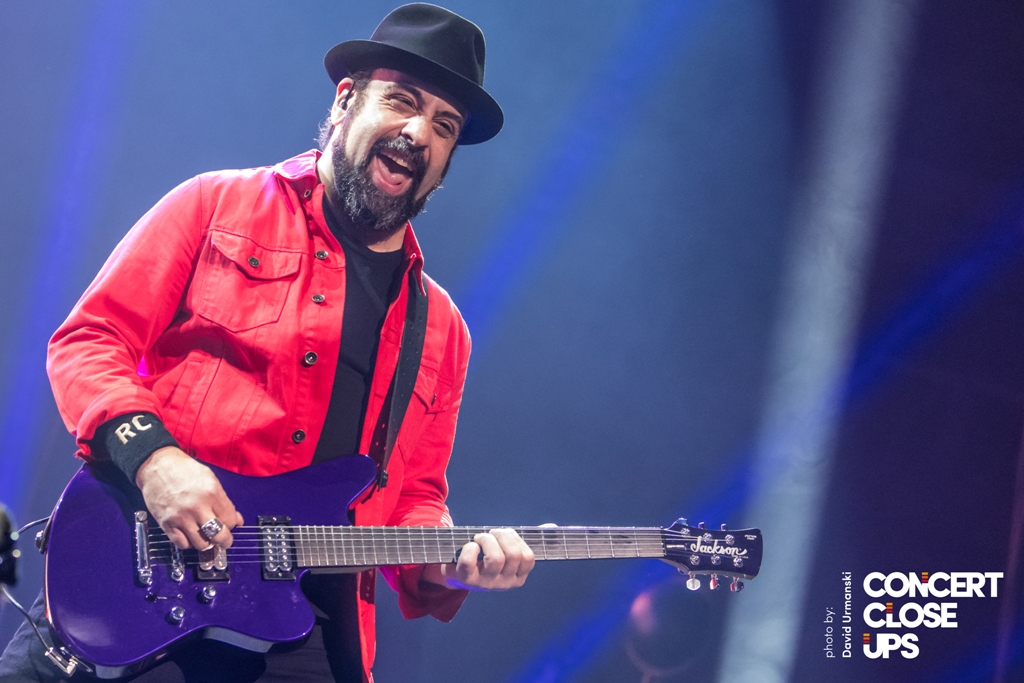 Then came critically acclaimed, Grammy Award winners Ghost. With four consecutive #1 Active Rock radio singles, debuting at #1 (Rock) and #3 (Top 200) on the Billboard album charts, and an accumulation of well over a billion streams since their inception, the Swedish rockers have proven over and over again that they are a band of the ages. Known for their dark lyrical content, catchy melodic hooks, eccentric on-stage presence and ability to continually push their creative boundaries, Ghost surged in popularity and earned the distinct honor of headlining arena tours since the release of their debut full-length album Opus Eponymous.
The band also seized a direct supporting act slot to heavy metal icons Metallica in which Metallica lead guitarist, Kirk Hammett, mentioned during a 2019 YouTube chat with Ghost frontman Tobias Forge that everyone in Metallica is a big fan of Ghost. To no surprise, Forge responded that it's a big honor for them. It's no wonder why Ghost pays homage to Metallica when performing cover "Enter Sandman" on this tour.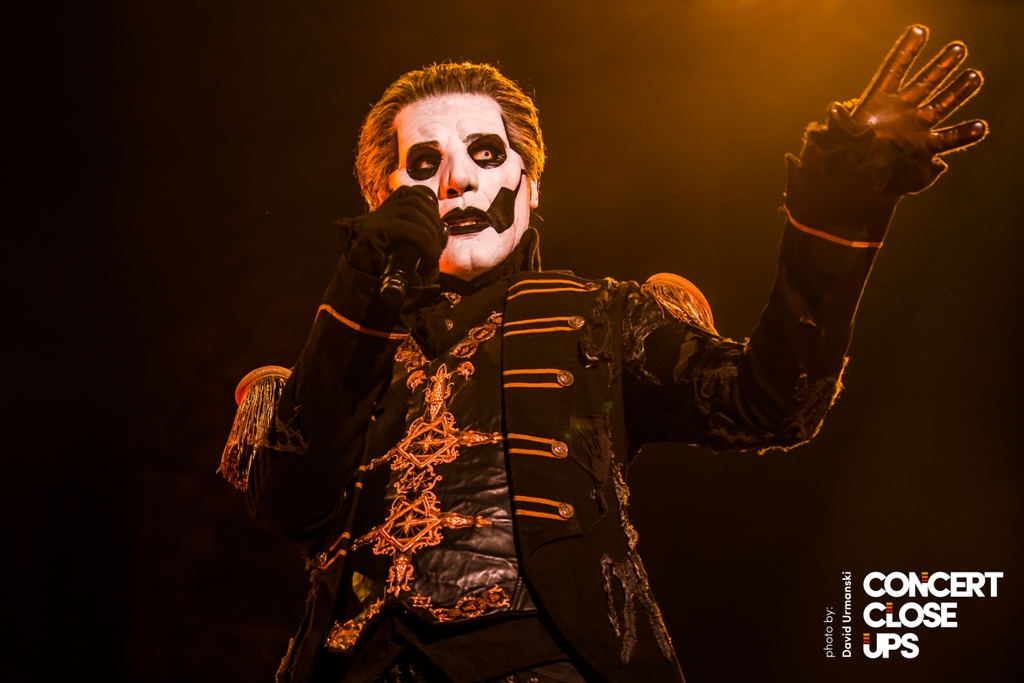 Ghost once again reached a new pinnacle with the release of new single and soundtrack "Hunter's Moon" in support of the 2021 slasher film Halloween Kills. As a introduction to the new track that only a Wisconsinite could appreciate, frontman Forge stated, "Thank you Milwaukee! How the fuck are you doing? I learned a new expression today. I know it's Sunday so I'm guessing you're not Wisconsinbly drunk. No? Yes? You're getting there? You're working up a little swagger? Alright, I was wrong then. Fuck Sundays! Let's just pretend that it's Saturday instead. Okay? (to momentous applause). I think we'll party like it's Saturday so Saturday it is. Party on mother fuckers! Cause you all like to party right? What if it's a movie night? You all like to go to the movies? It's been a long time coming, I'm coming back for you, my friend…" Check out the video here:

As all good things must come to an end, Ghost perfectly performed one momentous hit after another and captivated the congregation of concert-goers from beginning until heartbreaking end. Whether mesmerized by the magnetic musicianship of the Nameless Ghouls' wearing virtually identical, face-concealing costumes or the enchanting and seductive appeal of band leader and masked Swedish singer and songwriter, Tobias Forge, performing in his Papa Emeritus IV (formerly Cardinal Copia) persona, Ghost has no end. They just evolve into successive generations and such is life. Such is Ghost!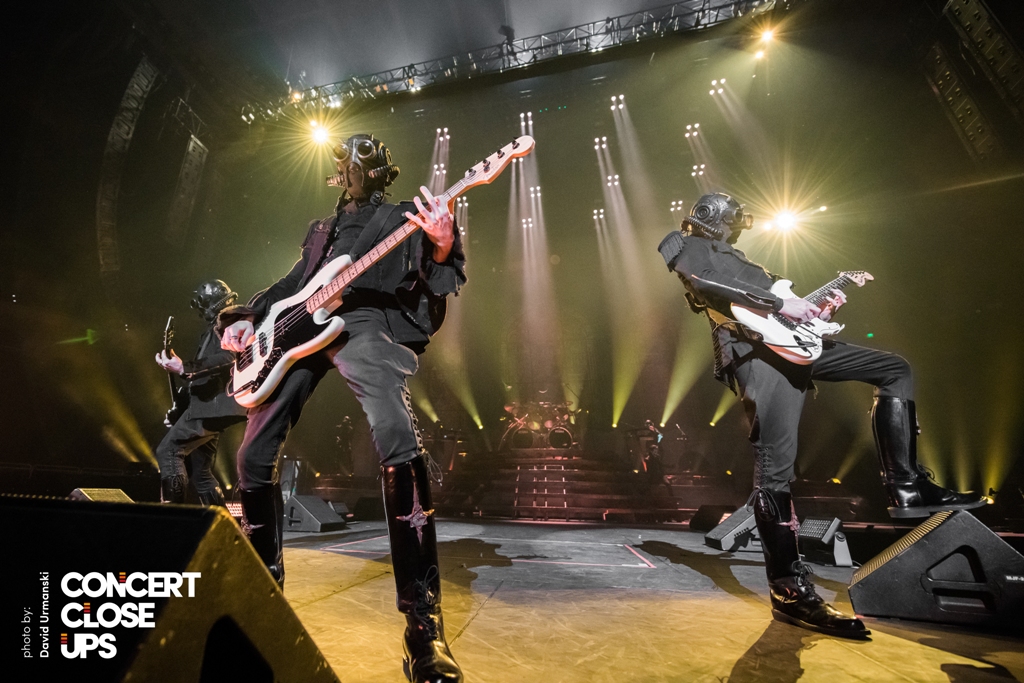 GHOST SETLIST:
Kaisarion
Rats
From the Pinnacle to the Pit
Mary on a Cross
Devil Church
Cirice
Hunter's Moon
Faith
Helvetesfönster (abridged)
Year Zero
Ritual
Mummy Dust
Enter Sandman (Metallica cover)
Dance Macabre
Square Hammer
Sorrow in the Wind (Emmylou Harris song)
VOLBEAT SETLIST:
The Devil's Bleeding Crown
Pelvis on Fire
Temple of Ekur
Lola Montez
Sad Man's Tongue
A Warrior's Call / I Only Want to Be With You
Say No More
Wait a Minute My Girl
Black Rose
Shotgun Blues
Seal the Deal
The Devil Rages On
Doc Holliday
The Sacred Stones
Die to Live
Still Counting
TWIN TEMPLE SETLIST:
In Lvx
Sex Magick
Let's Have a Satanic Orgy
Satan's a Woman
I'm Wicked
In Nox
SCROLL DOWN FOR FULL PHOTO GALLERY
THE VENUE:  FISERV FORUM
The Fiserv Forum is a new multi-purpose arena in downtown Milwaukee. The Wisconsin Entertainment and Sports Center is much more than just the new home for the Milwaukee Bucks basketball. Designed to reflect the heritage, history and personality of Milwaukee while actively projecting progress, accessibility and a renewed sense of community, this state of the art, 714,000 square foot arena is the hub of entertainment in Wisconsin and the engine that drives growth in downtown Milwaukee.

Address:  1111 Vel R Phillips Avenue, Milwaukee, Wisconsin 53203

Phone:  (414) 227-0500

Website:  www.FiservForum.com

Upcoming Events & Tickets: www.FiservForum.com/Events

Box Office #:  (414) 227-0511  Hours:  10am to 5pm Monday through Friday; 12pm - 4pm Saturday