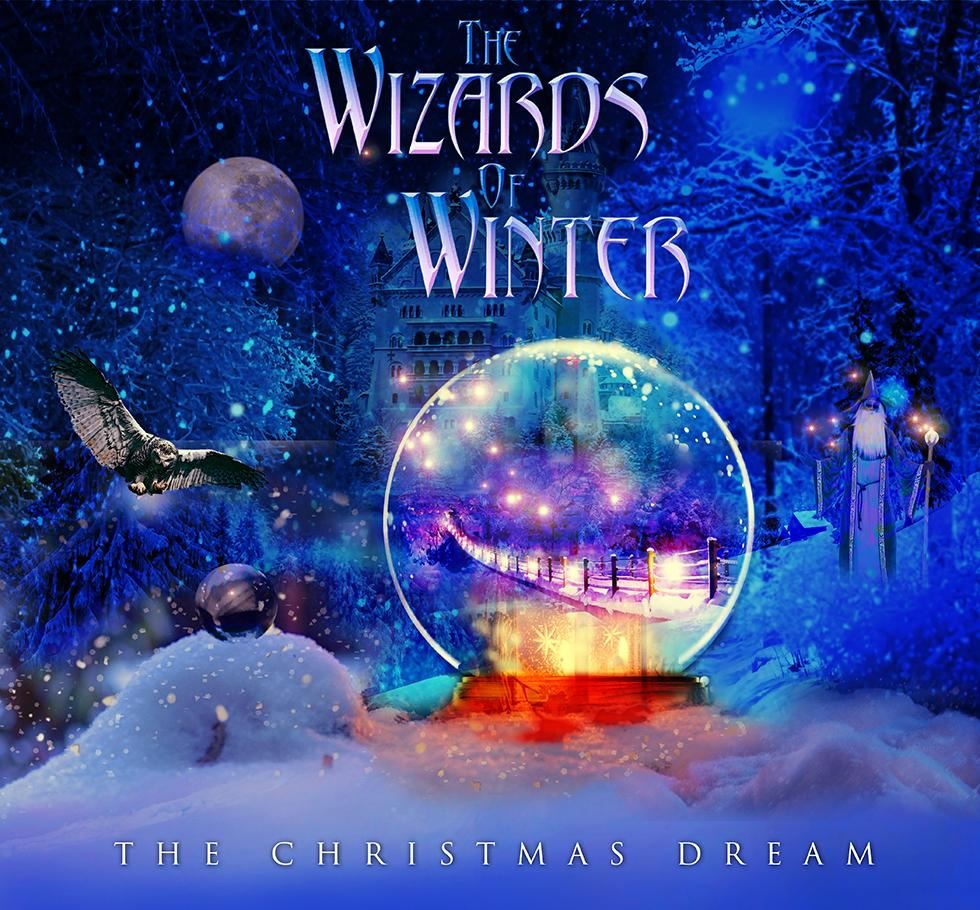 Holiday rock ensemble THE WIZARDS OF WINTER release their anxiously-awaited new album, The Christmas Dream, today.
Featuring 10 new original songs, The Christmas Dream is a rocking holiday sleigh ride that crosses musical boundaries from prog metal to contemporary, appealing to a broad and diverse audience. The Christmas Dream is THE WIZARDS OF WINTER's strongest release thus far.
The Christmas Dream tracklisting:
1. Secrets of the Snow Globe
2. Handel's Torch
3. Gonna Snow
4. Polar Eve
5. Midnight Noel
6.The Four Kings
7. The Happy Song
8. In Plain Sight
9. Christmas Dream (Salzburg Carol)
10. A Toast to Time (Farewell)
THE WIZARDS OF WINTER are celebrating their 10th year of enchanting audiences across North America this year, where the band will weave their classical and progressive-influenced rock music throughout a theatrical holiday-themed show, performed in an intimate setting. The ensemble will head back out on the road beginning November 14 in Melbourne, FL, and will visit cities and towns across North America. Fans can expect to be dazzled with music from The Christmas Dream, as well as many of their own original classics that audiences have grown to cherish throughout the years.
THE WIZARDS OF WINTER 2019 Holiday Tour Dates:
11/13 – Key West, FL @ Key West Theatre
11/14 – Melbourne, FL @ Melbourne Auditorium
11/15 – Clearwater, FL @ The Bilheimer Capitol Theatre
11/16 – Stuart, FL @ Lyric Theater
11/21 – Pueblo, CO @ Pueblo Memorial Hall
11/22 – Alto, NM @ Spencer Theatre
11/23 – Gilbert, AZ @ Higley PAC
11/24 – Wickenburg, AZ @ Del E. Webb PAC
11/29 – Patchogue, NY @ Patchogue Theatre
11/30 – Asbury Park, NJ @ Paramount Theatre
12/1 – Englewood, NJ @ Bergen PAC
12/5 – Angola, IN @ T. Furth PAC
12/6 – Pontiac, MI @ Flagstar Strand Theatre
12/7 – Johnson Creek, WI @ Gobbler Theatre
12/8 – St. Charles, IL @ Arcada Theatre
12/12 – Wisconsin Rapids, WI @ Wisconsin PAC
12/13 & 14 – Harris, MI @ Island Resort Casino
12/15 – Wabash, IN @ Honeywell Theatre
12/17 – Canton, OH @ Canton Palace
12/19 – Derry, NH @ Tupelo Music Hall
12/20 – Jim Thorpe, PA @ Penns Peak
12/21 – Roanoke Rapids, NC @ Roanoke Rapids Theatre
12/22 – Bristol, TN @ Paramount PAC
+More dates TBA!
THE WIZARDS OF WINTER have added even more new talent to their ranks this year, including violinist and backup vocalist Kornelia Rad, lead vocalist and auxiliary keyboardist Alexis Smith, and last but not least, lead guitarist Steve Brown.
Aside from being a founding member of hard rock icons Trixter,lead guitarist Steve Brown has performed with Dennis DeYoung (formerly of Styx), Joe Lynn Turner (formerly of Rainbow, Deep Purple, Yngwie Malmsteen), and on Broadway in the hit musical "Rock Of Ages". In 2013, and again in 2018, Steve was invited to be the vicarial guitarist for the legendary Def Leppard. Lead vocalist and auxiliary keyboardist Alexis Smith has performed as a lead vocalist on Holland America cruises, in several Off Broadway and additional theatre productions, and performed a one-woman show at the Davenport Theater. Award-winning violinist and backup vocalist Kornelia Rad has toured worldwide with Shen Yun Symphony Orchestra, has worked with many accomplished European composers, and has been performing since childhood.
About the THE WIZARDS OF WINTER:
Each night on tour, the THE WIZARDS OF WINTER evoke the spirit of Christmas, weaving a story entirely based on their latest full-length album, The Magic of Winter, and new music. Each THE WIZARDS OF WINTER performance showcases soaring vocal harmonies, precision string instrumentation, outstanding guitar leads, powerful percussion and stunning keyboard work – taking the listener on a musical journey, covering many genres from pop to progressive rock. Previous tours have seen the THE WIZARDS OF WINTER performing their brand of theatrical yuletide rock to tens of thousands of attendees and has grabbed the attention of mainstream media such as Entertainment Weekly and Yahoo Music. The ensemble's singles have also been aired on SiriusXM Holly.
To learn more about the THE WIZARDS OF WINTER, please visit www.facebook.com/TheWizardsofWinter and www.thewizardsofwinter.com.
THE WIZARDS OF WINTER is:
Scott Kelly – Founder, Keyboards
Sharon Kelly – Vocals/Flute
Fred Gorhau – Lead Guitar
Greg Smith – Bass
John O'Reilly – Drums
Steve Brown – Lead Guitar
Vincent Jiovino – Vocals
Karl Scully – Vocals
Alexis Smith – Vocals/Auxiliary Keys
Kornelia Rad – Violin/Vocals
Tony Gaynor – Narrator