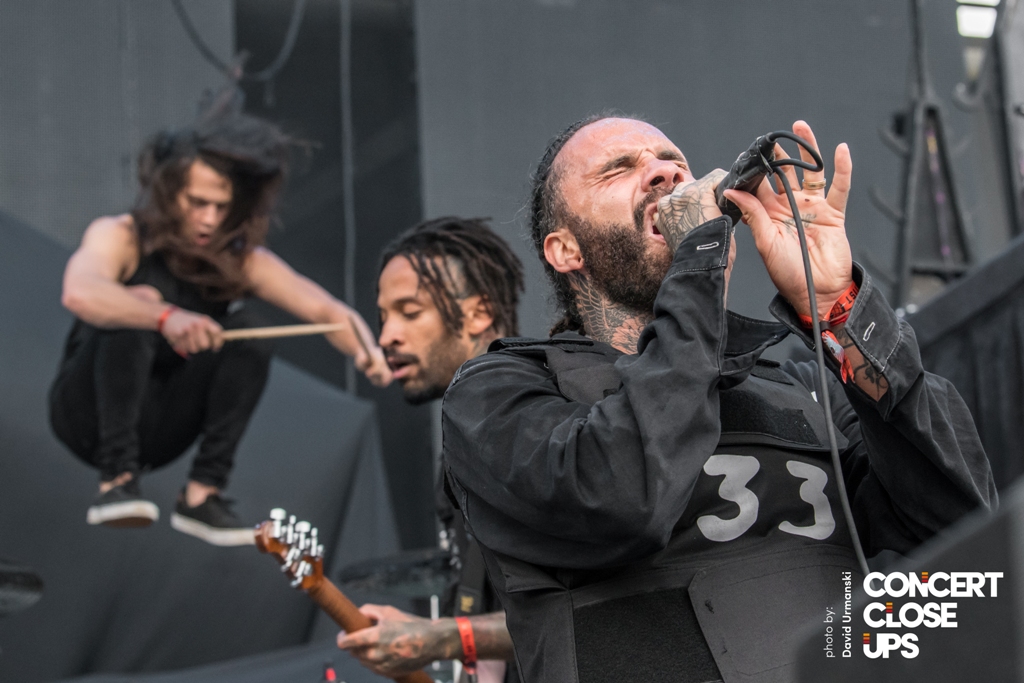 May 19, 2019
Photos by David Urmanski
Website: www.Fever333.com

BAND MEMBERS: FEVER 333
Jason Aalon Butler – Vocals
Stevis Harrison – Guitar
Aric Improta – Percussion
BAND BIOGRAPHY:
Rhymes and riffs incite more change than bullets and bombs ever could. In 2019, the United States of America feels ripe for a musical uprising. Divided more than ever in its 243-year history over systemic issues of immigration, race, class warfare, inequality, and misogyny, the time for change is now. The band is Fever 333.
Comprised of vocalist Jason Aalon Butler [ex-letlive.], drummer Aric Improta [Night Verses], and guitarist Stephen Harrison [ex-the Chariot], the Los Angeles trio lock and load gnashing guitars, guttural beats, and brazenly bold bars and then pull the trigger on a hard-hitting hybrid of hip-hop, punk, and activism.
"The movement is much greater than the music," exclaims Butler. "The art is only a contingent piece. We want to make sure we're just as involved in the activism and actual activation. By no means do we expect other artists to take on this task. Most of the people who made big improvements were either assassinated or just called crazy. We make it ostensibly clear that everything we do is in an active effort for change. It's about bringing back that socio-political mindfulness. We're trying to write the soundtrack to the revolution that we know is about to happen." In the end, the revolution truly starts with Fever 333.
"'The Fever' involves self-possessed autonomous human beings spreading an idea of understanding and empathy from one mind to another," he leaves off. "It's infectious. Three is the magic number. The strongest shape in geometry is the triangle with its three points. 'C' is the third letter in the alphabet. The 'Three C's' are 'Community, Charity, and Change.' The people who want to invest in this are as fucking important as we are. By invest, I don't mean sales or awards; I mean success towards making this revolution a reality. Our generation has so much power. We have these systems in place that are completely fucked, but we're up next. If we can rally together and cultivate this strength and solidarity, I believe we can be the change."
SETLIST:
Burn It
We're Coming In
Made an America
One of Us
Drum Circle
The Innocent
Only One
("PREY FOR ME" second part titled "3")
Hunting Season
CONCERT REVIEW RATING SCALE:
1 = Poor
2 = Average
3 = Good
4 = Excellent
5 = Extraordinary
FEVER 333 Concert Rating: 5
THE FESTIVAL:  CHICAGO OPEN AIR


CHICAGO OPEN AIR @ Seatgeek Stadium - Bridgeview, IL




May 18th & May 19th, 2019





Founded in 2016, Chicago Open Air Presents is the premier, all ages outdoor music festival in Illinois with two incredible days of world-class rock music featuring System of a Down, Tool, The Prodigy, Ghost, Meshuggah, Gojira, Beartooth, In This Moment, Code Orange, Fever 333, Knocked Loose, The Black Dahlia Murder, Vein & Alien Weaponry!


Address: 7000 South Harlem Avenue, Bridgeview, Illinois 60455

Website: www.ChicagoOpenAir.com


www.Facebook.com/ChiOpenAir