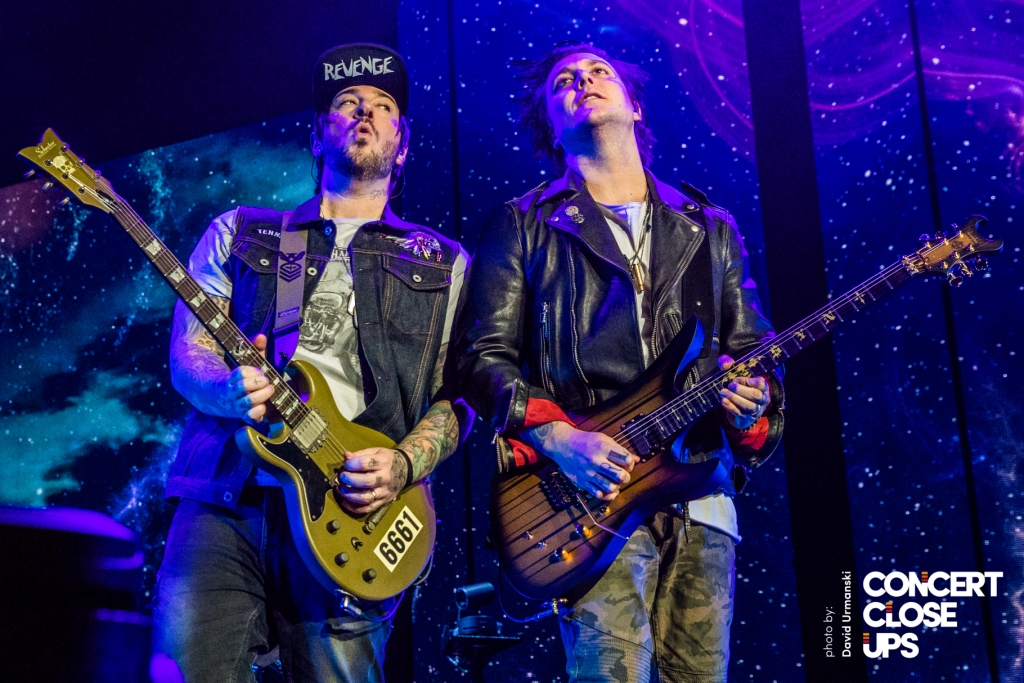 January 24, 2017
Review by David Urmanski
Photos by David Urmanski
THE BAND: AVENGED SEVENFOLD
M. Shadows – Vocals
Synyster Gates – Lead Guitar
Zacky Vengeance -Guitar
Johnny Christ – Bass
Brooks Wackerman – Drums
Website: www.AvengedSevenfold.com


www.Facebook.com/AvengedSevenfold

Avenged Sevenfold, often times referred to as A7X, took Green Bay by storm Wednesday evening during a dramatic and energetic performance to a nearly sold out crowd of 7,000 engaged concert enthusiasts. On the first round of their North American "The Stage World Tour" with special guests Breaking Benjamin and Bullet For My Valentine, this American heavy metal band hailing from Huntington Beach, California has proven its worth as a mainstream success story and one of the most iconic hard rock bands of modern times.
Formed in 1999 and releasing their first studio album Sounding the Seventh Trumpet in 2001, Avenged Sevenfold has certainly come a long way and are currently touring in support of their seventh studio creation, The Stage, and recently earned their first Grammy nomination for Best Rock Song. In fact, since the band's inception, they have earned numerous accolades to include Loudwire Music Awards and Golden God Awards among others. This is a direct reflection of their hypnotizing vocal melodies, captivating dual guitar riffs, pronounced rhythm section and precisely articulated song structure. These guys really do it all and have the forethought to put it all together and package it for mass consumption.
That said, concert-goers certainly knew what was in store for them when they crossed through the threshold of the Resch Center Wednesday evening as Avenged Sevenfold graced Green Bay with the pleasure of their presence during another unforgettable show. As a popular headliner for a variety of Wisconsin music festivals in recent years including performances at Rock USA in Oshkosh and Rock Fest in Cadott in July of 2017, WJJO's Sonic Boom in Janesville in October 2016 and their upcoming show scheduled in May at Northern Invasion in Somerset, Avenged Sevenfold has become a Wisconsin staple and gained the trust of the legion of rock disciples who desire to experience the live version of the favorite songs on their playlists like Afterlife, Nightmare, So Far Away, The Stage and Golden God's 2014 Song of the Year Hail To The King. Needless to say, Avenged Sevenfold exceeded the lofty expectations of the local fan base once again. Until next time Avenged Sevenfold…Wisconsin will be waiting for you!
CONCERT REVIEW RATING SCALE:
1 = Poor
2 = Average
3 = Good
4 = Excellent
5 = Extraordinary
AVENGED SEVENFOLD Concert Rating: 5
THE VENUE: THE RESCH CENTER
The Resch Center Complex is comprised of the Resch Center, Brown County Veterans Memorial and Shopko Hall. It also includes Bart Starr Plaza and Subway and U.S. Cellular Parking Lots. The Complex is located across the street from Lambeau Field and is a vital part of the Entertainment District. The Complex hosts a wide variety of events, including concerts, comedy, family shows, sporting events, theater, consumer/trade shows, tailgating, and parking. It is managed by PMI Entertainment Group (PMI) with tickets being sold by Ticket Star, a regional ticketing company owned and operated by PMI. In addition, many of the events within the Complex are produced by Expo & Event Production, also a division of PMI.

Address:  820 Armed Forces Drive - Green Bay, Wisconsin 54304

Phone:  (920) 494-3401

Website:  www.ReschCenter.com

  
www.Facebook.com/ReschCenter


Upcoming Events & Tickets: www.ReschCenter.com/Events

Hours:  7pm to 2am Thursday, Friday and Saturday