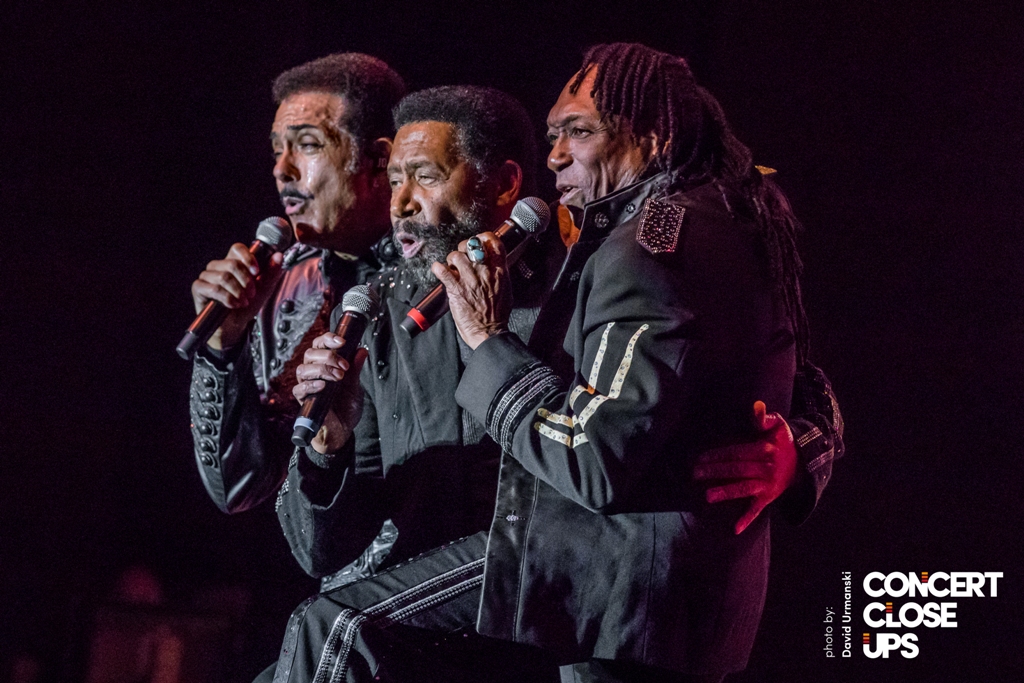 June 14, 2018
Photos by David Urmanski
Website: www.CommodoresLive.com


www.Facebook.com/TheCommodores

BAND BIOGRAPHY: THE COMMODORES
Renowned for the R&B hits "Just to Be Close to You," "Easy," and "Brickhouse," to name but a few, Commodores were one of the top bands during their long tenure at Motown. The group is credited with seven number one songs and a host of other Top Ten hits on the Billboard charts, and their vast catalog includes more than 50 albums.
The members of Commodores, all of whom attended Tuskegee Institute in Alabama, came together as a result of two groups disbanding The members nearly went stir-crazy trying to pick a name for the group, but with no success. As a last resort, Orange gave King a dictionary and told him to pick a name — that name was the Commodores. With Clyde Orange the only learned musician in the group, Commodores began spreading their music throughout their base, which included Tuskegee, Montgomery, and Birmingham, AL.
Commodores' long association with Motown began as a result of a tour opening for the Jackson 5. That opportunity occurred in 1971, when the group auditioned in New York City for an unknown yet high-profile gig. Their excellent shows naturally led to a deal with Motown, and they debuted with the up-tempo instrumental dance cut "Machine Gun." Written by Milan Williams, its Top Ten outing gave the group immediate attention. It was followed by the Top 20 single "I Feel Sanctified," which led to their third single — and first number one record — in "Slippery When Wet." Inside of 17 weeks, the septet was rocking the airwaves with their brand of Southern funk, spiced with an animated vocal delivery courtesy of Lionel Richie and Clyde Orange.
In the years to come, the Commodores would be responsible for hits like "Just to Be Close to You," "Fancy Dancer and "Brickhouse," the song that soon became the group's anthem. Later on there was "Three Times a Lady" And "Still," the last number one for the group with Richie as a member. In 1981, Richie recorded "Endless Love" with Diana Ross. The song peaked at number one for seven and nine weeks, respectively, on the Billboard R&B and pop charts. Its success was a prelude to what Richie enjoyed upon his 1982 exit from the group.
Commodores finally left Motown in 1985. Consequently, the group signed with Polydor the same year and had another swing at the Top Ten with "Goin' to the Bank." During the '90s, the band was reduced to a core of three: Orange, King, and Nicholas. The threesome were nearly as active as they'd ever been, performing around the world and managing their own label, Commodore Records.
CONCERT REVIEW RATING SCALE:
1 = Poor
2 = Average
3 = Good
4 = Excellent
5 = Extraordinary
THE COMMODORES Concert Rating: 5
THE VENUE: NORTH STAR MOHICAN CASINO RESORT
Recognized as the Official Best Casino in Wisconsin in 2012, North Star Mohican Casino Resort offers the best of Las Vegas-style entertainment in the Northwoods in an elegant, spacious, comfortable, natural light setting. Relax in their 130 room hotel and Aveda concept Terradea Spa. Try your luck on their 1,200 slots and 16 table games including Ultimate Texas Hold'em, Let it Ride, 3 Card Poker, Double Pitch and 5 Deck Blackjack, Craps and Roulette or get your game on in their Poker Room. Daub your way to victory in their 350-seat Bingo Hall and Entertainment/Event Center.

Delight in the best food in the area at The Longhouse Restaurant, Deli-licious, Groove Lounge and Aroma Café or grab a drink and bask in the natural skylight in their signature Center Bar. North Star Mohican Casino Resort offers live entertainment every Friday and Saturday night at 8 p.m. in The Groove Lounge. Every Tuesday is Senior Day featuring $10 in Free Play when you earn 5 points and a $5 all you can eat chicken dinner buffet for seniors 50+ from 11 a.m.- 8 p.m. Enjoy free parking in a covered parking ramp away from the rain, sun, sleet and snow and breathe easy with a state-of-the-art smoke removal system.

Address: W12180 CR-A, Bowler, Wisconsin  54416

Phone: (800) 952-0195

Website: www.NorthStarCasinoResort.com


www.Facebook.com/NorthStarMohicanCasino


Upcoming Events & Tickets: www.NorthStarCasinoResort.com/Entertainment

Hours: Always Open