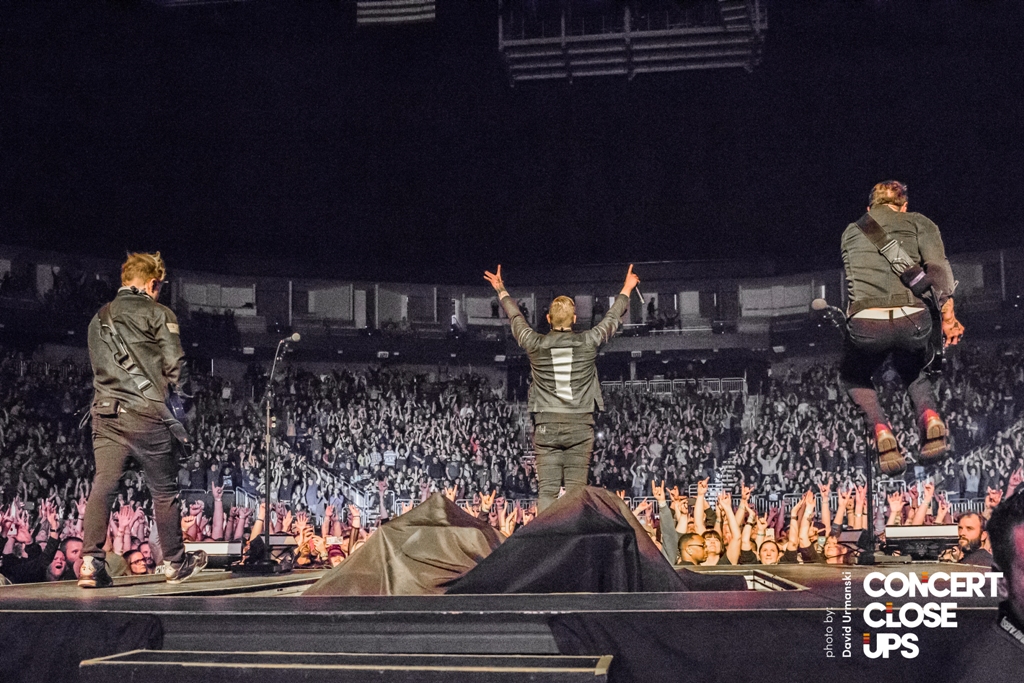 March 8, 2019
Review by David Urmanski
Photos by David Urmanski
Website: www.Shinedown.com

BAND MEMBERS: SHINEDOWN
Brent Smith – Vocals
Zach Myers – Guitar & Vocals
Eric Bass – Bass & Vocals
Barry Kerch -Drums
American rock band, Shinedown, were welcomed with open arms at the Fiserv Forum in Milwaukee Friday night in support of their ATTENTION ATTENTION world tour which kicked off in late-February in their home state of Florida. Teaming up with Papa Roach and Asking Alexandria as part of a 55-city tour, this tremendous trio reached deep to give the packed house every ounce of energy the fans deserved for this highly anticipated show.
In fact, Shinedown is no stranger to Wisconsin and proves to be a regular staple at various concert venues throughout the state, whether it be as a headlining favorite at the popular summer music festival, Rock USA, in Oshkosh or more intimate settings like the Green Bay Distillery in Green Bay where they performed as Smith & Myers of Shinedown just over a year ago. If the truth be told, as witnessed again Friday evening, Shinedown continues to live up to their reputation of providing a high-energy performance, momentous and unforgettable riffs, a thunderous rhythm section and precision vocals leaving adoring fans wanting more long after the stage lights go down.
When it comes to visual appeal, Shinedown's stage production was equally impressive with stimulating scenery featuring pyrotechnics, lasers, well-timed lighting and a catwalk used to give as many concert-goers on the general admission floor a close up perspective of the band performing their most notable hits in stupendous fashion. As recurring protocol, Shinedown frontman, Smith, addressed the crowd early on in the set to encourage the fans to "look to your left" and "look to your right" in attempt to get them to shake hands and reciprocate high fives.
Once the precedence was set to respect those around you and rally around what can easily be deemed the best band in modern rock music today, the congregation seated and standing around the Shinedown pulpit moved forward with magnanimous gratitude for being part of something that is so much bigger than just a band performing live music at a local concert venue. For that moment in time, these music fans embodied the same admiration for the four guys on stage that the band extends back to their fans time and time again with each song written and every show performed. A promise that music will continue to break down barriers and bring people together in a way no other medium can. Music compels people to move forward in life with confidence, positivity and a sense of belonging. Shinedown exemplifies what music has to offer and for that reason I will continue to support them and their fans. Until next time Shinedown…we anxiously await your return!
SET LIST
"Devil"
"Diamond Eyes"
"Enemies"
"Monsters"
"Black Soul"
"I'll Follow You"
"Unity"
"Get Up"
"Bully"
"Amaryllis"
"Call Me"
"How Did You Love"
"Second Chance"
"45"
"Simple Man" (Lynyrd Skynyrd cover)
ENCORE
"Cut The Cord"
"Sound of Madness"
"Brilliant"

CONCERT REVIEW RATING SCALE:
1 = Poor
2 = Average
3 = Good
4 = Excellent
5 = Extraordinary
SHINEDOWN Concert Rating: 5