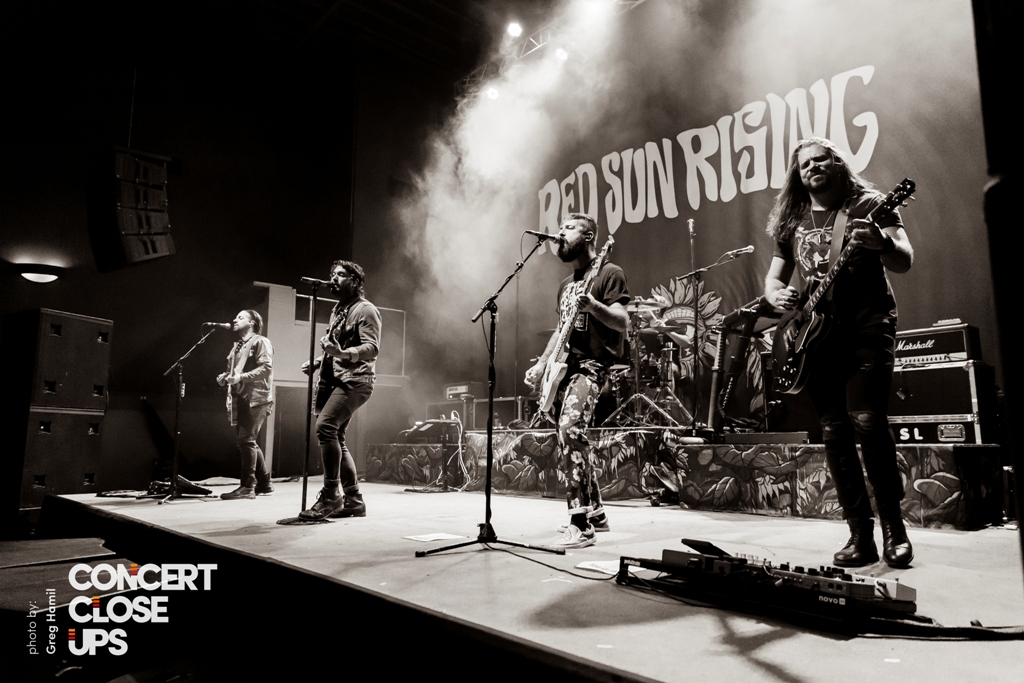 December 7, 2018
Photos by Greg Hamil
Website: www.RedSunRisingMusic.com


www.Facebook.com/RedSunRisingMusic
BAND MEMBERS: RED SUN RISING
Mike Protich – Vocals, Guitar
Ryan Williams – Guitar
Ricky Miller – Bass, Vocals
Dave McGarry – Guitar, Vocals
Pat Gerasia – Drums
Red Sun Rising hit the stage at the Apollo Theater in high gear and never let off the gas. Opening with "Veins", the crowd was immediately pumped and ready for more as lead vocalist, Mike Protich, got them jumping during the transition into "Amnesia". This song set the tone for the rest of the night as the precision harmonies sung by Protich, McGarry and Miller resonated through the venue like a siren reverberating across a harbor. Expecting things to slow down? No way that was going to happen as the trifecta of the opening three songs only created more anticipation and exhilaration as Red Sun Rising broke straight into their #1 hit "Emotionless".
As the show progressed, the band did finally slow things down a bit when performing the ever-passionate "Uninvited" where Miller climbed on top of a overhang and sat while McGarry and Williams relaxed on the risers. However, as with any good show, the energy resumed as the band cranked out "The Otherside", the second #1 hit for the band and ended the concert with "Deathwise" from their second album "Thread".
Red Sun Rising is definitely for real and brings the full package to the stage. In addition to their raw musical talent, the chemistry between the band members is what makes them such an appealing live act. Mike Protich is a master of working the crowd and effortlessly keeping the energy at a consistent high-level from beginning until end while Williams and McGarry deliver the hook with such incredible guitar riffs. Additionally, the rhythm section is as solid as it gets with Ricky Williams taking command of the stage while Pat Gerasia maintains the backbone of the sound on drums while making it look easy and cool. If you have not seen Red Sun Rising in a live setting what are you waiting for? Catch them as soon as possible as these guys are going places!
SET LIST:
Veins
Amesia
Emotionless
Clarity
Uninvited
The Otherside
El Lazo
Blister
My Muse
Evil Like You
Deathwish
CONCERT REVIEW RATING SCALE:
1 = Poor
2 = Average
3 = Good
4 = Excellent
5 = Extraordinary
RED SUN RISING CONCERT RATING: 5