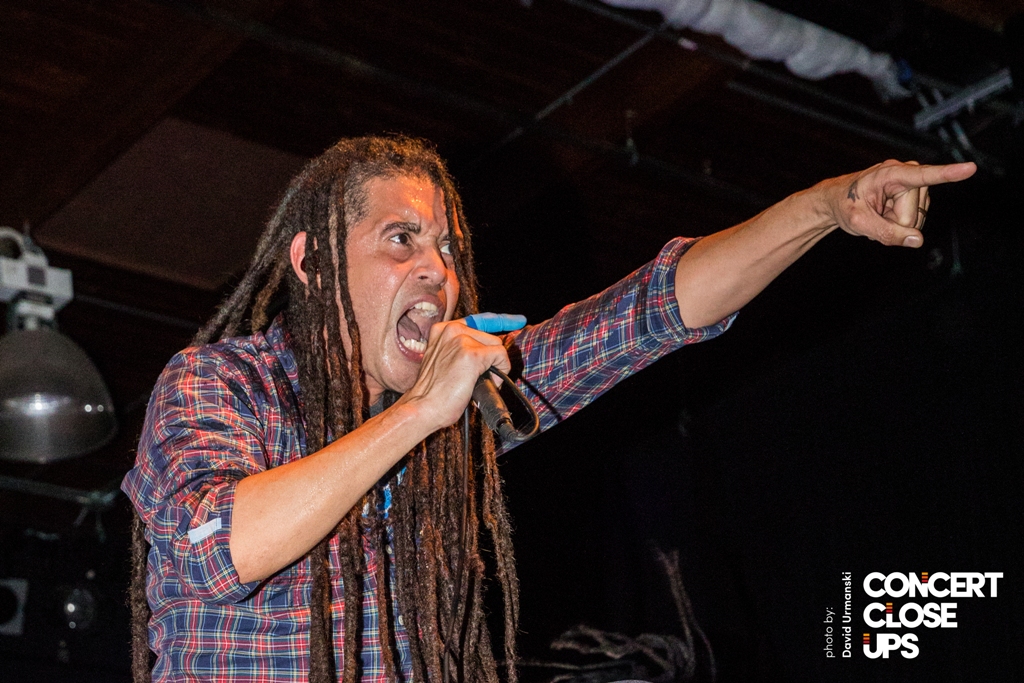 November 29, 2018
Photos by David Urmanski
Website: www.Nonpoint.com


www.Facebook.com/NonpointOfficial

BAND MEMBERS: NONPOINT
Elias Soriano – Lead Vocals
Robb Rivera – Drums
Rasheed Thomas – Guitar & Backing Vocals
Adam Woloszyn – Bass
BC Kochmit – Lead Guitar & Backing Vocals
BAND BIOGRAPHY:
Commitment to forward motion ensures longevity. After 20-plus years, ten full-length releases, countless sold out shows, and over one million albums sold worldwide, Nonpoint endure through sustaining an unbreakable bond among themselves and to a diehard fan base all over the globe.
On 2018's aptly titled tenth offering, X [Spinefarm Records], the quintet—Elias Soriano [vocals], Robb Rivera [drums], Rasheed Thomas [guitar], Adam Woloszyn [bass], and B.C. Kochmit [guitar]—not only maintain the momentum, but also amplify the intensity. Signature grooves hit with haymaker force bolstered by hip-hop cadences, thrashed-out six-string precision, and unshakable melodies.
Reaching this milestone, time increased the hunger they shared. "As long as people want us to keep writing records, we're going to keep writing records," exclaims Rivera. "We have a special understanding in the studio, and the chemistry has only gotten better. We live for every moment on stage. We don't want to ever stop." "I don't see why we shouldn't be on our tenth record," Soriano admits. "Since we are so deep into our career, we wanted to do something serious for number ten. We really took our time. We've been honing in on writing something like this for two decades. Every single song received its due. Now, our end game is just to go until the fucking wheels come off."
Since their 1997 formation in Fort Lauderdale, FL, that mindset has fueled every move. 2000's Statement lived up to its name, introducing a hypnotic hybrid of deft lyricism and crushing hooks evinced by the breakout single "What A Day." Following Development in 2002, Recoil spawned a hyper-charged cover of Phil Collins' "In The Air Tonight," which went on to soundtrack a key moment of the 2006 Miami Vice blockbuster reboot starring Academy® Award winner Jamie Foxx. Meanwhile, To The Pain represented a high watermark. It impressively sold 130,000 copies stateside as "Bullet With A Name" and "Alive and Kicking" emerged as radio and concert staples.
Never slowing down, Vengeance [2007] and Miracle [2010] set the stage for the one-two punch of Nonpoint [2012] and The Return [2014]. The latter bowed at #1 on the Billboard Top Hard Rock Albums Chart, #3 on the Top Alternative Albums Chart, #5 on the Top Independent Albums Chart, #7 on the Top Rock Albums Chart, and in the Top 40 of the Top 200. Additionally, its lead single "Breaking Skin" stood out as "the most-played song on SiriusXM for 2015." Album number nine The Poison Red continued the current hot streak two years later as the band regularly averaged over 650K monthly listeners on Spotify. Along the way, they've held their own on bills alongside everyone from Disturbed and Megadeth to Papa Roach and Stone Sour.
Preparing to kick off a new chapter, the guys did something they hadn't done in thirteen years…"We took almost a year off," recalls Rivera. "When we did get back together, nobody posted anything on social media. We dove right into it quietly and without expectations. It felt great to have the time." Returning to Chicago, Nonpoint congregated in a room, jammed, and created music on-the-spot, leading to "the perfect reintroduction to the writing process." With Fred Archambault [Avenged Sevenfold] behind the board as producer at Uptown Recording Studio, they laid down all ten tracks in 22 days.
"We joke that he was our 'Captain Jack Sparrow'," smiles Soriano. "He was really encouraging. It was a breath of fresh air, and it brought us to another level. It goes without saying we'd love to work together again." X opener "Empty Batteries" kicks in the door with a battering ram riff underscored by an airtight beat. Written with the intention of "creating an introduction," the flurry gives way to a haunting, hypnotic, and huge refrain. "For the most part, it's really about looking inside," says the frontman. "You're reaching down, getting into a battle with yourself, and realizing there's more to be done. A lot of people today need coaching or permission to fill their batteries—but they can do it themselves. They simply need to have a fucking dream and a goal. You're getting the last little bit of gusto, refilling it, and going again."
"Chaos & Earthquakes" hinges on airy guitars, resounding keys, ripping solos, and rapid fire flows before a pummeling chant. "It really discusses the state of things lately," he goes on. "We're watching an end-of-days scenario play out constantly in the media. The lyrics urge getting away from the madness. I, myself, literally stopped watching. I didn't want to feel that anymore."
Elsewhere, "Fix This" builds from a hushed verse towards one of the group's catchiest choruses yet, "You don't really want to fix this." The power goes from zero to sixty on "Dodge Your Destiny" as the closer "Position One" leaves a relatable final word under poetic spitting and squealing string bends. "It happens to all of us," adds Soriano. "You want to move forward, but you're stuck in a circular lifestyle. You can break the cycle though."
In the end, Nonpoint will never stop, and the legacy only grows with X. "It's probably our best record we've done musically," Rivera leaves off. "There are elements of every album. We put it all on the line. I hope fans walk away satisfied." "Nonpoint is part of our DNA," concludes Soriano. "Our families and friends all know how deep-rooted all of us are in this project. It's defined us for over two decades. We're pretty fucking lucky and blessed." – Rick Florino, June 2018
CONCERT REVIEW RATING SCALE:
1 = Poor
2 = Average
3 = Good
4 = Excellent
5 = Extraordinary
NONPOINT CONCERT RATING: 5
THE VENUE:  THE GREEN BAY DISTILLERY

As Northeast Wisconsin's premiere dining destination, located in the heart of Green Bay directly across from Ray Nitschke Field and within walking distance of Lambeau Field, the Green Bay Distillery is a family-friendly, sports-focused restaurant featuring 66 menu items – all with genuine Wisconsin flavor.   Aside from great food and a friendly atmosphere, Green Bay Distillery host dozens of concerts annually and is the 

perfect venue for weddings, meetings, fundraisers and private events.



Address:  835 Mike McCarthy Way - Ashwaubenon, Wisconsin 54304

Phone:  (920) 393-4403

Website:  www.GreenBayDistillery.com

  
www.Facebook.com/GreenBayDistillery


Email:

  

General Information: 

info@greenbaydistillery.com

  Banquets/Events: events@greenbaydistillery.com

Upcoming Events & Tickets:  www.GreenBayDistillery.com/Events

Hours:

  Sunday: 11am-Last Call 10pm
  Monday: Closed
  Tuesday: 11am-Last Call 10pm
  Wednesday: 11am-Last Call 10pm
  Thursday: 11am-Last Call Midnight
  Friday: 11am-Last Call Midnight
  Saturday: 11am-Last Call Midnight