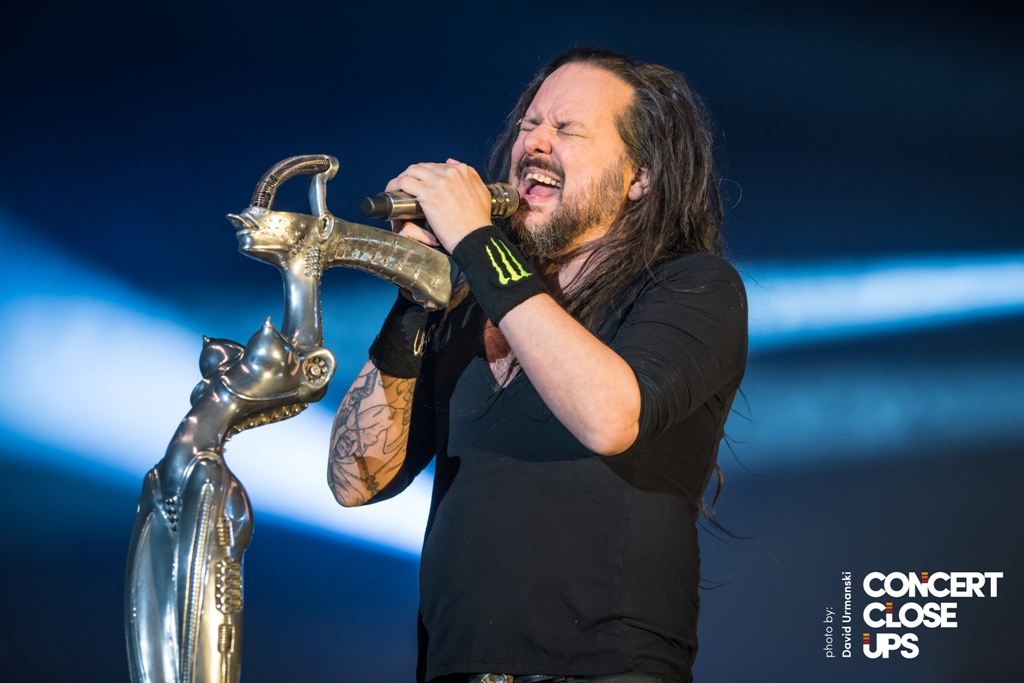 February 9, 2020
Review by Makena Betler
Photos by David Urmanski
THE BAND: Korn
Jonathan Davis – Lead vocals
Brian "Head" Welch – Guitar
James "Munky" Shaffer – Guitar
Reginald "Fieldy" Arvizu – Bass
Ray Luzier – Drum Kit
THE BAND: Breaking Benjamin
Benjamin Burnley – Lead vocals
Jason Rauch – Lead guitar
Keith Wallen – Rhythm guitar
Aaron Bruch – Bass
Shaun Foist – Drum kit, percussion
THE BAND: Bones UK
Rosie Oddie – Lead vocals
Carmen Vandenberg – Guitar
Heavy – Drum Kit
When hearing 10 inches of snow is inbound, most people entertain themselves via a night of indoor activities. However, for approximately 5,600 Wisconsinites, it meant it was time to attend the highly-anticipated, annual Razor Edgefest event. This year, to help celebrate the 25th anniversary of local radio station Razor 94.7 | 104.7, Korn, Breaking Benjamin and Bones UK navigated to the frozen, sacred grounds of Packers country to bring the house down at the Resch Center located in the heart of Green Bay across the street from the legendary Lambeau Field.
Kicking off the evening, Bones UK is a powerful trio from London who recently relocated to Los Angeles once their band began to see traction. Within the last year, they released their first full-length, self-titled album with 12 songs that fully demonstrate their truly unique sound. Their single, "Pretty Waste," was nominated for a 2020 Grammy within the Best Rock Performance category. A little over a year ago, I saw them for the first time in a small cocktail lounge in Milwaukee. Now, Bones UK is being introduced as a supporting act at sold-out arenas and stadiums across the U.S. and collaborating with artists like Jeff Beck while taking the world by storm. Their songs represent many heavy topics including sexualization of genders, stereotypes and being proud of your flaws. Songs like 'Beautiful Is Boring' showcase their powerful message.
Guitarist, Carmen Vandenberg, tore up clean riffs that would make your jaw drop with fantastic finger picking that was as smooth as butter and put me into a trance as I watch in amazement while Rosie Oddie's voice is a dangerous mix of sexy and scrappy. Accompanied by their skilled drummer, Heavy, the three make up a new genre of rock; blues rock infused with electronic and brilliant guitar. At one point in the band's career, someone had told Carmen that girls can't play guitar and that they'll never be as good as men. With that, the band wrote the song "Girls Can't Play Guitar," and later proved that the critic was very, very wrong.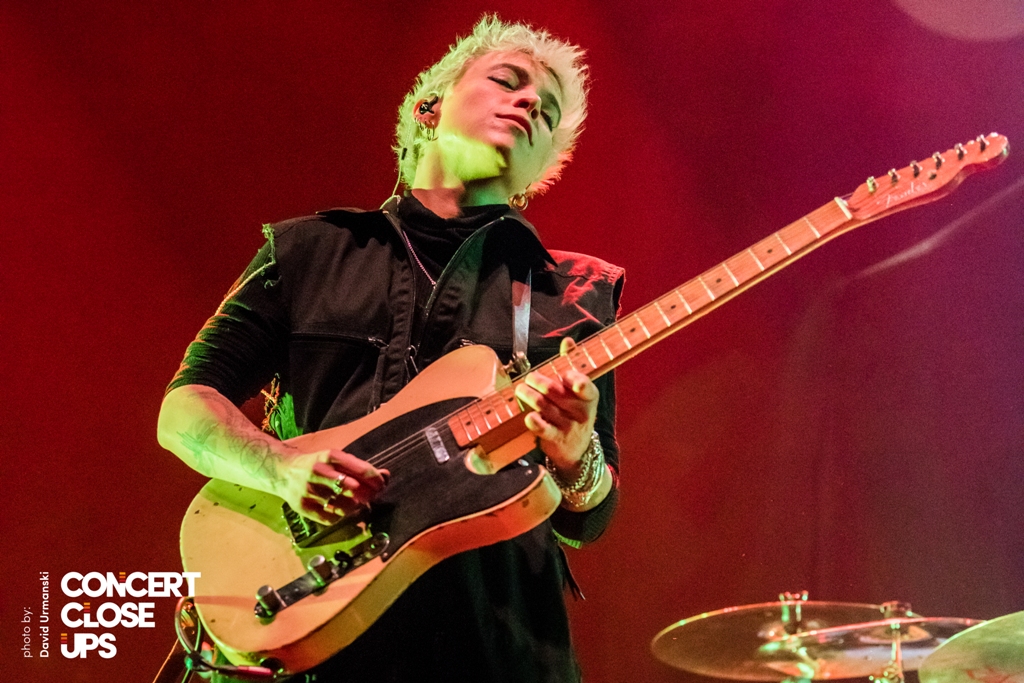 Next up, was one of my favorite bands to see live…Breaking Benjamin. It's not the fancy pyrotechnics or laser shows that draws fans to the band's live performances, rather it's the pure, raw talent that emits from the very souls of Ben Burnley (vocals) and crew. Each song digs deep inside your gut with emotions you didn't even know you had. Originally from Pennsylvania, the group was formed in 1999 by Ben and drummer Jeremy Hummel (not current). In the first few years, they released two albums before making a few lineup changes. By 2009, two more albums were created including one of their most well-known, Dear Agony. This album consists of radio-favorites 'I Will Not Bow' and 'Give Me A Sign.'
Shortly after the band's fourth album release, Breaking Benjamin was forced to take some time off, allowing Ben to fight a recurring illness. During that time, a fifth album was released without full permission from every bandmate, which ultimately resulted in the dismissal of two members and a third to soon follow in their footsteps. Since then, Breaking Benjamin have released their three biggest albums, completed multiple stadium tours and have even produced "Blow Me Away" featuring Valora for the popular video game, Halo.
To begin their set, Breaking Benjamin opened with "Vega" from Ember (2018) followed by crowd-favorite "Diary of Jane" from Dark Before Dawn. With each song, I found myself astounded by the passion exuded during the performance. For a few songs, they switched up singers, which further proved how talented they are as a whole. Two tracks from Ember, "Torn In Two" and "Red Cold River" completed the first half of their set before transitioning to my personal favorite, "Blow Me Away". I'm not sure what it was about their portrayal of this song, but whenever they perform the track my eyes fill with tears. Somehow, I'm overcome with the realization of just how stunning the entire Breaking Benjamin production is. Nearly an hour had passed and 14 songs later, Breaking Benjamin said goodnight to Green Bay.


With each album they release, they continue to out-do themselves. Many times, you see bands transition into a different sub-genre, leaving fans of the original sound in the dust. But, somehow, Breaking Benjamin proves to stay true to their roots while keeping fans engaged with their new music and begging for more. Just a few months ago, Aurora was released, an acoustic album consisting of fan favorites as well as a brand new tune. Historically, I have not been a huge fan of acoustic versions, however I have this album on repeat since I first laid my hands on it. It's reasons like this that keep me eager for constant Breaking Benjamin interaction, whether it's a live show or newly released music. This band has a truly special quality about them; the low, monotonous hum supporting the dark, mysterious timbre of Ben's voice with the slightest aggression to emphasize the message.
Finally, at 9:20pm, the act that thousands braved the storm for took the stage…Korn. With a massive sheet covered the front of the stage and creepy music echoed throughout the cement walls of the Resch Center in an effort to increase crowd anticipation, the curtain finally fell and the begging riff of "Here to Stay" began. The crowd went wild. Mosh pits formed and bodies, drinks and various articles of clothing were thrown around celebrating the commencement of an epic night.
Korn is one of those timeless bands that's nearly impossible to get sick of. In 1993 three members from the band L.A.P.D. formed the new band Korn. Just one year later, the band released their debut album, Korn, but their music didn't reach the main stream rock radios until their third release, Follow the Leader which comprised of their most well-known songs to date including "Freak On A Leash" which reached the number one spot on the charts in 1998. With something special about the band that people couldn't get enough of, Korn completely restructured the nu metal sound and was the first band to convert the tweaked genre to the mainstream music scene.
It isn't uncommon for a band that has been together as long as Korn to have some creative differences or disagreements over the years. Surprisingly, four of the five bandmates are original members with the only exception being Ray Luzier on drums. There was a span of six years when Brian "Head" Welch (guitar) took some time off to reevaluate the meaning of life. It was 2005 and times were tense for the band with drug use causing contention and being a major reason for heated arguments. During Head's hiatus, Ray was welcomed into the band, replacing David Silveria. While Korn continued to remain relevant, it wasn't until the triumphant return of Head in 2013 when the band created two more hit albums, The Serenity of Suffering (2015-2018) and The Nothing (2019).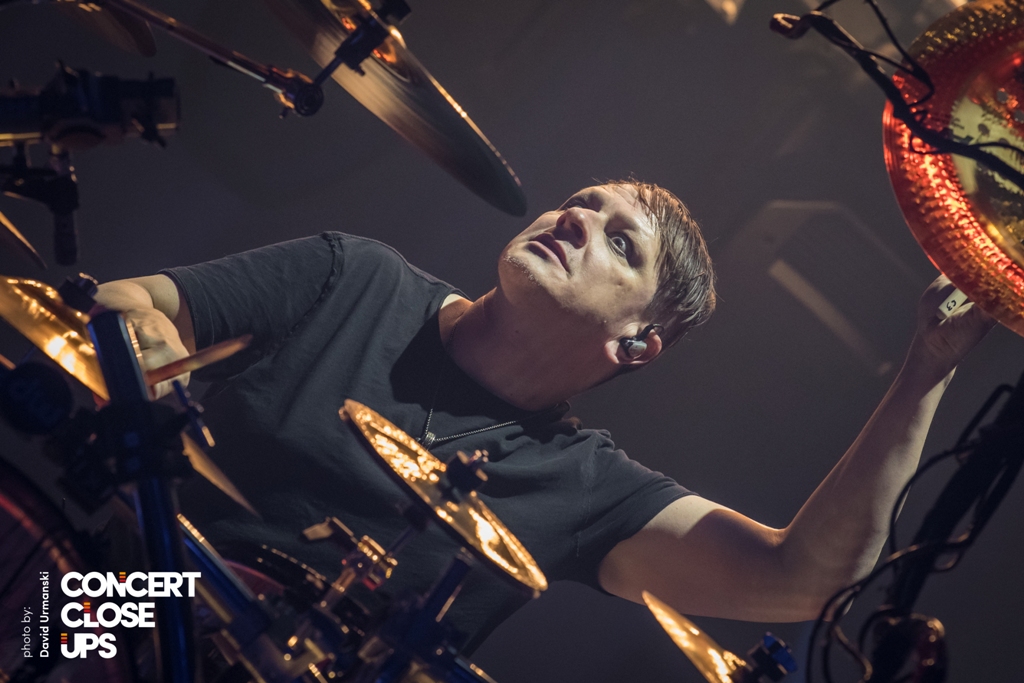 Three from The Nothing came next, "Cold," "You'll Never Find Me," which was a crowd favorite, and "Can You Hear Me." Next was one of the most inspiring moments of the entire night; they began "Shoots and Ladders" which, for those of you who don't know, is a comedic montage of nursery rhymes. It then transitioned into "One" by Metallica. The most beautiful thing about music is how it brings people together. It doesn't matter what your beliefs are, where you come from or how much change you have in your pocket. When approximately 5,600 concert-goers began to chant the lyrics to "One" with synchronized fist bumps, it was one of the most amazing experiences I've had to date. Within those 90 seconds, we were all equals with no one person being any better than the next.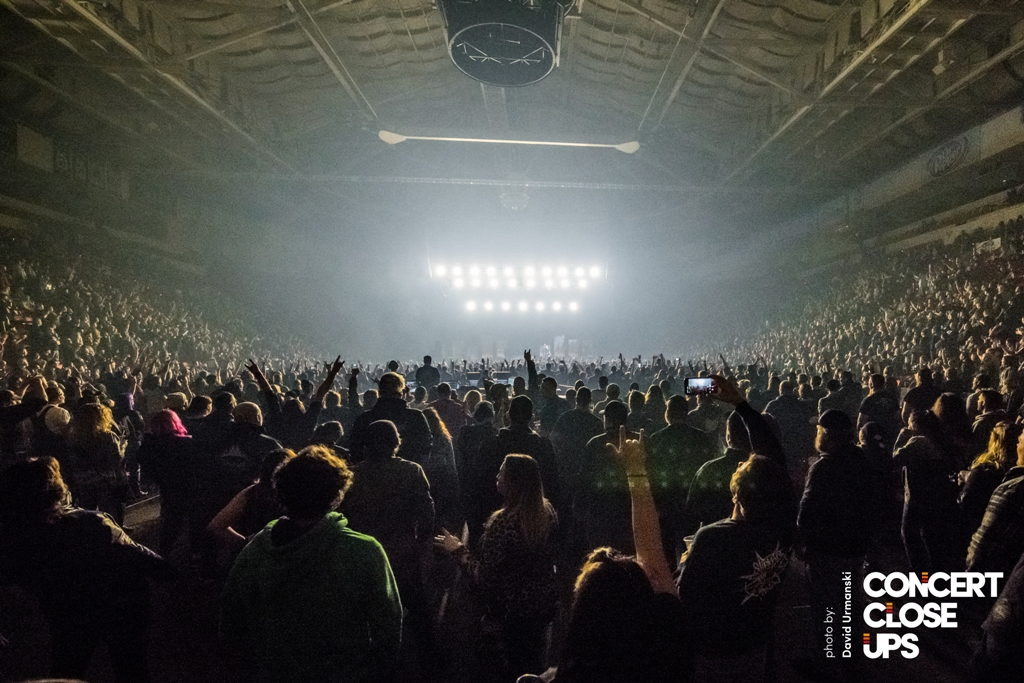 It wouldn't be a full Korn performance without Jonathan (vocals) gracing us with a bagpipes solo. This goes on for several minutes and is very impressive. It takes a special talent to be able to incorporate this Scottish instrument into a heavy metal rock show, but Davis proves he knows what he's doing. Korn continued with some more radio hits including "Got The Life," and "Freak On A Leash." As they all left the stage, the crowd made sure to let the band know that they weren't ready to go home. Just moments after exiting, the band came back to finish with four encores. "4 U," and "Twist" were just warmups to "Coming Undone" mixed with the iconic Queen song, "We Will Rock You." Here it was, that moment resurfacing; music bringing so many people together into one arena to proclaiming their love for music, old and new. "Falling Away From Me" was their final song for the night, though we all could have stayed for hours more.
Herds of headbangers flooded the streets, all while Monday morning was taunting their minds. I, too, was dreading going to work in just a few short hours, but as I was driving home, I was still blown away by the three magnificent bands I had just witnessed. The sheer talent that was condensed into one venue was mind-boggling. There were no three bands that would have been a better pick for a night of pure, unadulterated rock and roll celebrating 25 years of an ever-evolving radio station that continues to bring quality of life to the local airwaves.
KORN SETLIST:
Here To Stay
Blind
Clown
Cold
You'll Never Find Me
Shoots and Ladders/One (Metallica cover)
Got the Life
Faget
Somebody Someone
Make Me Bad
Freak on a Leash
KORN ENCORE:
4 U
Twist
Coming Undone/We Will Rock You (Queen cover)
Falling Away From Me
BREAKING BENJAMIN SETLIST:
Vega
The Diary of Jane
Until the End
Believe
Failure
Torn in Two
Red Cold River
Breath
Polyamorous
Shallow Bay
Blow Me Away
Sooner or Later
So Cold
I Will Not Bow
BONES UK SETLIST:
Intro
Creature
Choke
Filthy Freaks
Beautiful Is Boring
Black Blood
Pretty Waste
Helter Skelter (Beatles cover)
CONCERT REVIEW RATING SCALE:
1 = Poor
2 = Average
3 = Good
4 = Excellent
5 = Extraordinary
KORN, BREAKING BENJAMIN & BONES UK Concert Rating: 5