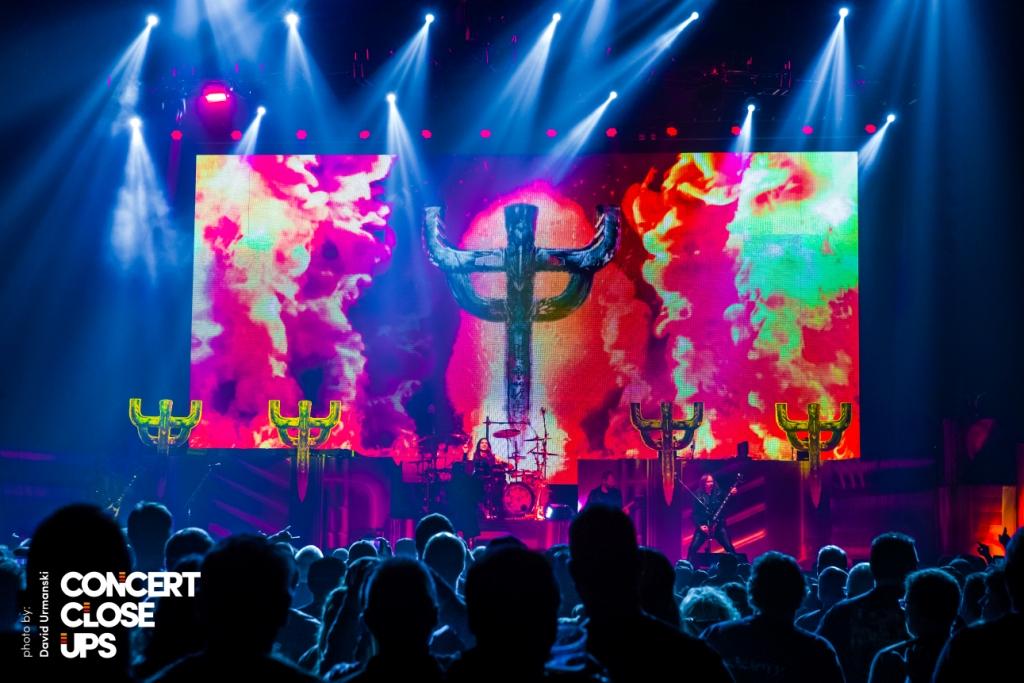 April 5, 2018
Review by David Urmanski
Photos by David Urmanski
THE BAND: JUDAS PRIEST
Rob Halford – Vocals
Richie Faulkner – Guitar
Andy Sneap (replacing Glenn Tipton) – Guitar
Ian Hill – Bass
Scott Travis – Drums
Website: www.JudasPriest.com


www.Facebook.com/OfficialJudasPriest
Frequently ranked as one of the greatest metal bands of all time, Judas Priest graced over 4,000 devoted metal maniacs with their presence Thursday night in Green Bay in extraordinary heavy metal fashion despite the recent departure of legendary guitarist, Glenn Tipton, as a result of his challenging progression with Parkinson's after being diagnosed with the disease 10 years ago. Although Tipton will be missed by fans and bandmates alike after a 44 year commitment to the band, he knows the show must go on and that it exactly what happened with the current line-up consisting of Rob Halford on ear-piercing, operatic vocals along with guitarists Richie Faulkner and Andy Sneap, bassist Ian Hill and drummer Soctt Travis.
In fact, the band was firing on all cylinders Thursday night in support of their eighteenth studio album "Firepower" and 50-date world tour which kicked-off in mid-March and concludes on August 10th at the Bloodstock Festival in Catton Hall, United Kingdom. With over 50 million records sold since the band formed in 1969, Judas Priest had a plethora of material to choose from when building their set-list for the evening which included 18 of their greatest hits such as "Breaking the Law", "Hell Bent for Leather", "You've Got Another Thing Comin'" and "Living After Midnight" as well as new releases "Firepower" and the latest album's first single "Lightning Strike".
The "Firepower" album was recorded from March to June 2017 at Backstage Recording Studios in Derbyshire, United Kingdom and co-produced by Tom Allom and current guitarist and Grammy Award-winning producer Andy Sneap and listed as one of the "Top 25 Most Anticipated Albums of 2018" by the largest guitarist community website Ultimate-Guitar.com. As a highly influential heavy metal band for nearly five decades, earning them the nickname "Metal Gods" from their song of the same name, Judas Priest proves they can still write and record great works and easily transfer the sound and energy from their albums to the stage with little to no effort.
SET LIST:
Firepower
Running Wild
Grinder
Sinner
The Ripper
Lightning Strike
Bloodstone
Saints in Hell
Turbo Lover
The Green Manalishi (With the Two Prong Crown)
Evil Never Dies
Some Heads Are Gonna Roll
Breaking the Law
Hell Bent for Leather
Painkiller
Encore:
The Hellion
Electric Eye
Metal Gods
You've Got Another Thing Comin'
Living After Midnight
CONCERT REVIEW RATING SCALE:
1 = Poor
2 = Average
3 = Good
4 = Excellent
5 = Extraordinary
JUDAS PRIEST Concert Rating: 5
THE VENUE: THE RESCH CENTER
The Resch Center Complex is comprised of the Resch Center, Brown County Veterans Memorial and Shopko Hall. It also includes Bart Starr Plaza and Subway and U.S. Cellular Parking Lots. The Complex is located across the street from Lambeau Field and is a vital part of the Entertainment District. The Complex hosts a wide variety of events, including concerts, comedy, family shows, sporting events, theater, consumer/trade shows, tailgating, and parking. It is managed by PMI Entertainment Group (PMI) with tickets being sold by Ticket Star, a regional ticketing company owned and operated by PMI. In addition, many of the events within the Complex are produced by Expo & Event Production, also a division of PMI.

Address:  820 Armed Forces Drive - Green Bay, Wisconsin 54304

Phone:  (920) 494-3401

Website:  www.ReschCenter.com

  
www.Facebook.com/ReschCenter


Upcoming Events & Tickets: www.ReschCenter.com/Events

Hours:  7pm to 2am Thursday, Friday and Saturday