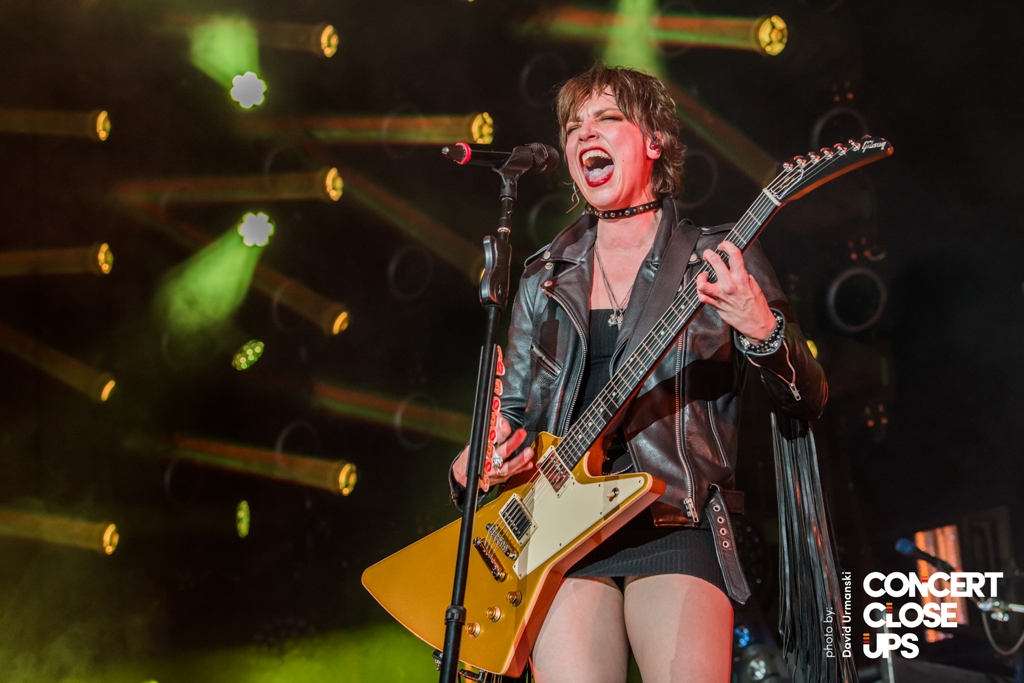 September 20, 2019
Review by Makena Betler
Photos by David Urmanski
Website: www.HalestormRocks.com


www.Facebook.com/HalestormRocks
BAND MEMBERS: HALESTORM
Lzzy Hale – Vocals, rhythm guitar
Joe Hottinger – Lead guitar
Arejay Hale – Drums, backing vocals
Josh Smith – Bass, backing vocals
Thousands of concertgoers spent hours of their day waiting in line outside the Resch Center in Green Bay in anticipation of seeing Halestorm perform as direct supporting act for Godsmack Friday night. With lead guitarist Joe Hottinger being a Green Bay Packers fan, it was a natural choice from his perspective to kick-off the Fall 2019 Tour across the street from the legendary Lambeau Field. As it crept closer and closer to showtime, many fans got anxious to get inside the arena to claim their general admission spot on the floor for the three-band show. Canadian rock band, Monster Truck, opened with a short but killer set building anticipation for what was to come.
Hailing from Pennsylvania, rock band extraordinaire, Halestorm, took the stage at precisely 7:45pm with brother and sister Arejay and Lzzy Hale at the helm elevating the energy level throughout the venue along with bandmates Joe Hottinger on lead guitar and Josh Smith on bass. When Arejay and Lzzy were just 10 and 13 respectively, the band was well on their way to super stardom, though their father had to step in from time-to-time to help them remain focused. In time the siblings found their sound by adding Joe and Josh to the lineup and never looked back. Since then, the band has been awarded a Grammy and toured nearly nonstop with other famed rock n' rollers including Alice Cooper, Avenged Sevenfold and Shinedown while, at the same time, being advocates for women in the music industry. Lzzy has been open about the challenges she has faced being a woman in the rock music industry, but Sully Erna of Godsmack said it best, "Lzzy Hale is the absolute Queen of Rock Music."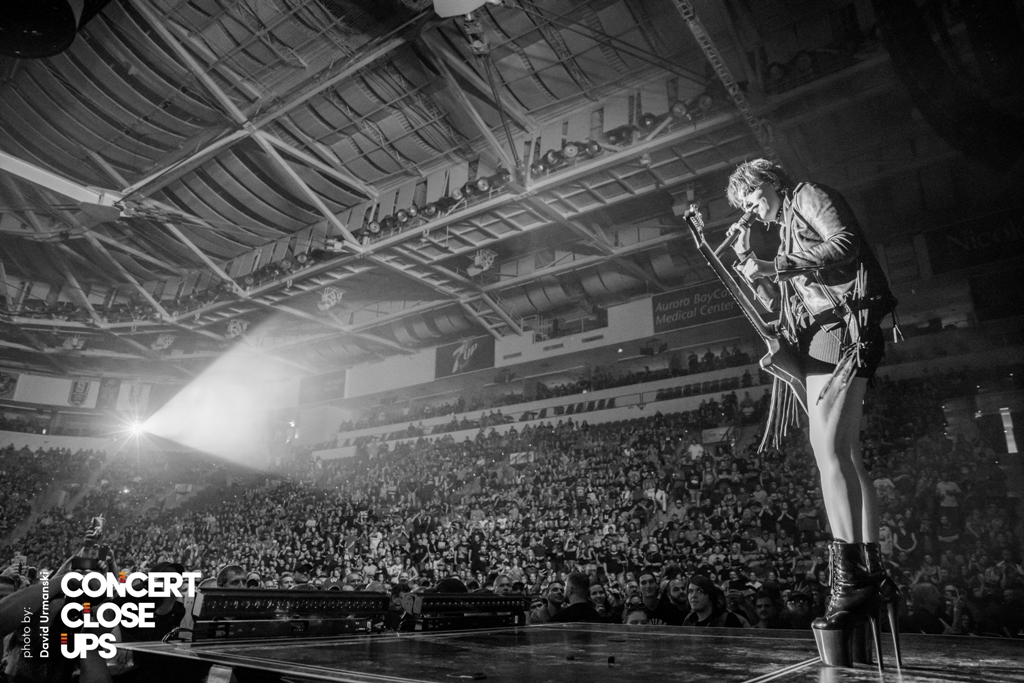 As the lights began to dim and subtle sounds of background music resonated from the sound system, Lzzy was already hitting high notes backstage before the band stepped foot onstage hyping the crowd up before starting their set with their latest single "Do Not Disturb" from the Vicious album released in July of 2018.  Between the muted, red lighting and the flirtatious guitar riffs, the crowd was welcomed with a seductive aesthetic and it didn't take long for Lzzy to show her appreciation for the reciprocated love the band was receiving by rewarding the audience with follow-up, Grammy award-winning number "Love Bites (So Do I)" from The Strange Case Of… album released in 2012.  The sexy ambiance carried through with "I Get Off" trailing into "Amen" with a lead guitar duo between Joe and Lzzy that went on for several minutes before it was Arejay's time to shine.
Arejay's drum solo is a must see for any percussion fanatic as it is impossible to stand still as he emits his enthusiastic energy likened to the drum solos of the 1980's hairband days while feeding off the crowd's response and matching his beat bombardment to the shifting scene of light around him.  Even without vocals and the melody of guitar riffs matching his rhythmic harmonies, Arejay proved true talent and charisma can go along way when left to one's own volition.   Pulling out giant drum sticks half way through the solo further proved how goofy he can be as if the Hawaiian shorts and sport coat apparel didn't already give you a glimpse into Arejay's animated sense of humor.  After much-deserved applause, the rest of the gang rejoined their cadenced counterpart onstage and cranked out  "Freak Like Me".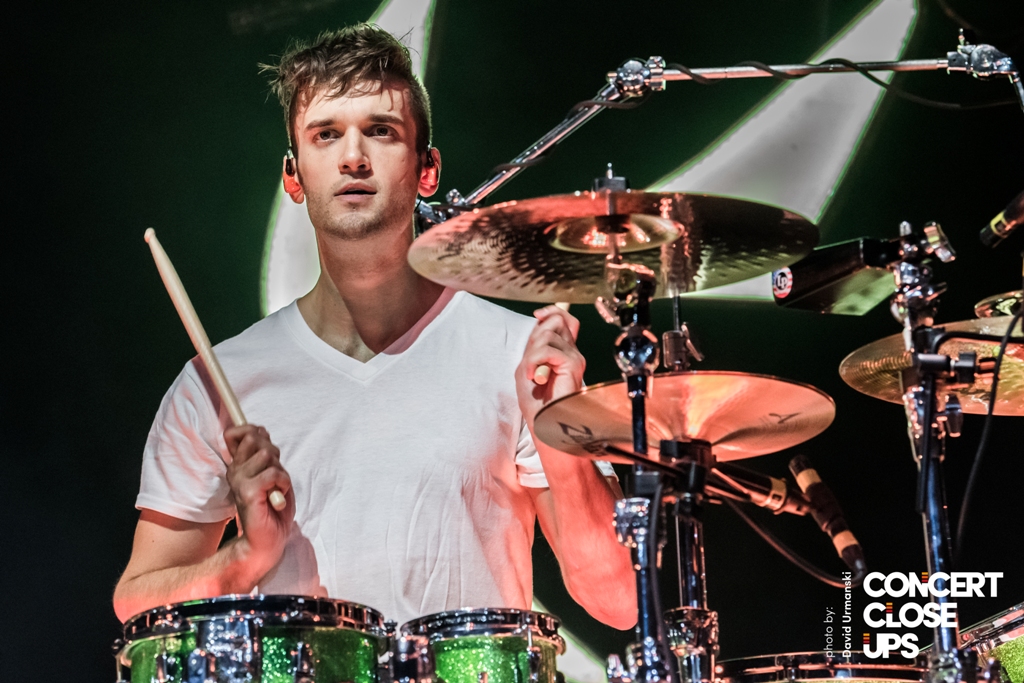 Halestorm then delivered the goods once again when performing tunes "Black Vultures" and "Uncomfortable" from latest release Vicious which Lzzy has claimed to be an album that has allowed the band to be as true to themselves as possible while making music.  While prior Halestorm albums have been exceptional, they have not showcased each band member in the same manner as Vicious only further confirming how a great band can be enhanced by great, individual musicians.
Once again, the lights dimmed and the music softened to a slow tempo as Lzzy started to sing "Chemicals".  Knowing the band and the crowd could not part ways without a proper goodbye, Halestorm transitioned into "Here's to Us" allowing Lzzy the opportunity to extend a final thank you to crowd of concert-goers for sharing the evening with them.  Walking out in his Green Bay Packers jersey, Joe initiated a loud and repetitive roar of "Go Pack  Go" throughout the arena.   Then Halestorm said goodnight with an extended version of "I Miss The Misery" keeping the seduction and intensity high throughout.
Halestorm is an inspiration to so many as they advocate for mental health awareness, women in the music industry and support of the LGBTQ community. Day by day, the band continues to grow as musicians and as individuals while steadily increasing their following by being true to themselves while respecting and appreciating their fans. We have seen so many great things come from the band and it is obvious they have so much more to offer with no end in site.   There's a storm brewing and it's going to be huge!
SETLIST:
Do Not Disturb
Love Bites (So Do I)
I Get Off
Amen (extended ending)
Drum solo
Freak Like Me
Black Vultures
Uncomfortable
Chemicals
Here's to Us
I Miss the Misery
CONCERT REVIEW RATING SCALE:
1 = Poor
2 = Average
3 = Good
4 = Excellent
5 = Extraordinary
HALESTORM Concert Rating: 5