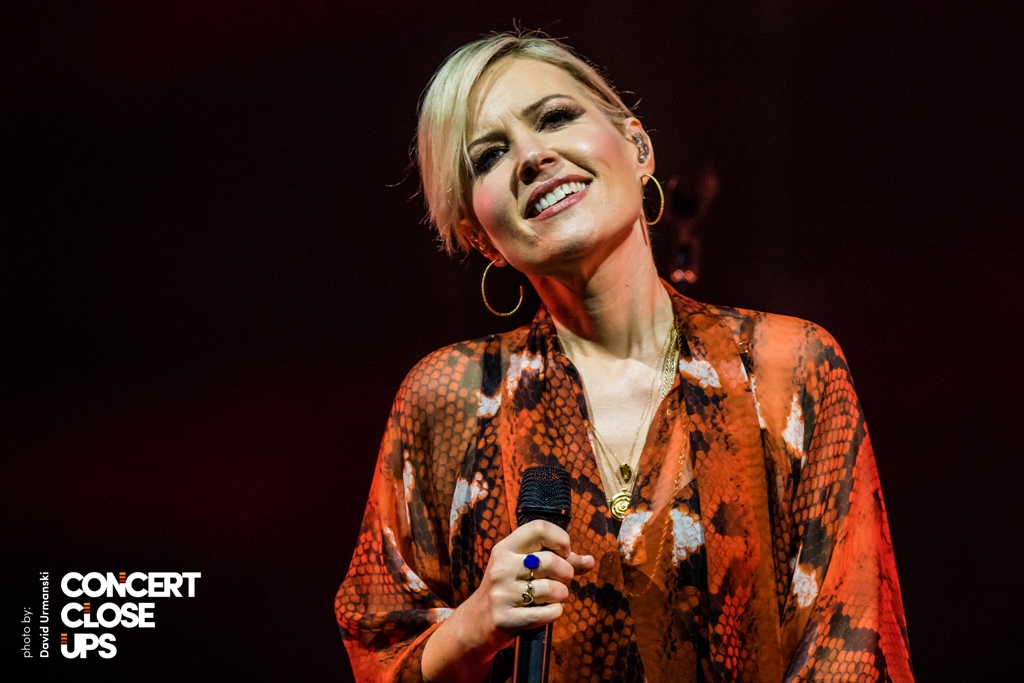 June 13, 2019
Review by David Urmanski
Photos by David Urmanski
Website: www.DidoMusic.com

English singer and songwriter, Dido Florian Cloud de Bounevialle O'Malley Armstrong, known professionally as Dido performed a flawless set to a sold-out crowd at the Vic Theatre in Chicago Thursday evening in support of her fifth album, Still On My Mind, which was released in March of this year marking the twentieth anniversary since the release of her debut, multi-platinum album No Angel which became a worldwide phenomenon a year after its 1999 introduction when one of the greatest and most influential rappers of all time, Eminem, sampled the refrain from Dido's "Thank You" to help create his smash hit "Stan."
Having taken a 15-year hiatus from touring, in which time she married Rohan Gavin in 2010 and gave birth to her son Stanley who was born in 2011, concert-goers would have never been the wiser as she took the audience on a momentous journey creating quiet moments and jump-around moments when serenading the crowd with her unique style of adult-contemporary pop music for just over 90 minutes with a dynamic display of scenic mood lighting surrounding her to create a perfect balance of ambiance and magical moments for all to enjoy.
Additionally, those in attendance could tell Dido was very deliberate when selecting the sequence of her setlist as Dido opened with new number "Hurricanes" which took the audience on a slow, meloncholy ride before transitioning into the simple and creeping beats of "Hell After This" also from her latest release. It wasn't until the third song "Life for Rent" before Dido traveling back in time to a track from her fastest selling album by the same name which, according to the International Federation of the Phonographic Industry (IFPI), was the fourth best-selling album worldwide in 2003 with 14 million copies sold. Life For Rent catapulted Dido's status as one of the brightest new talents in pop music of the time and spawned a sold-out tour which included performances at large arenas in a variety of markets.
Half way through her set, Dido sat down with legs crossed and draped over the stage to perform "Quiet Times" from her 2008 album Safe Trip Home drawing considerable applause. In fact, there were no song transitions throughout the entire evening that did not command cheers, praise and the recurring fan callout, "I love you Dido". With die-hard admirers coming far and wide to Chicago to catch this highly-anticipated show, there was a sense of love and respect in the air that few artists today could ascertain.
One faithful fan in the front row, by the name of Mike, even flew all the way from Florida to make the show knowing it may be his only chance to catch the acclaimed singer/songwriter in person up close and personal. Although Mike may have held the record that evening for most miles logged to get to the show, Mike was not unique in this sense as the entire audience seemed starstruck despite the fact that Dido has always been known to be humble and extremely appreciative of her fans. And for this reason, as well as the fact that she is one of the truly amazing artists of the 21st century, Dido will continue to sell-out shows and find success wherever she goes. It may have been a while since she achieved commercial success, however the new album Still On My Mind is a masterpiece and worthy of adding to any pop music collection. Thank you so much for the comeback Dido…let's do this again real soon!
SET LIST:
Hurricanes
Hell After This
Life for Rent
Hunter
No Freedom
Grafton Street
Sand In My Shoes
Give You Up
Thank You
Friends
Sitting On The Roof
Quiet Times
Here With Me
See You When You're 40
Mad Love
End of Night
Take You Homoe
Take My Hand
ENCORE:
Have to Stay
White Flag
CONCERT REVIEW RATING SCALE:
1 = Poor
2 = Average
3 = Good
4 = Excellent
5 = Extraordinary
DIDO CONCERT RATING: 5