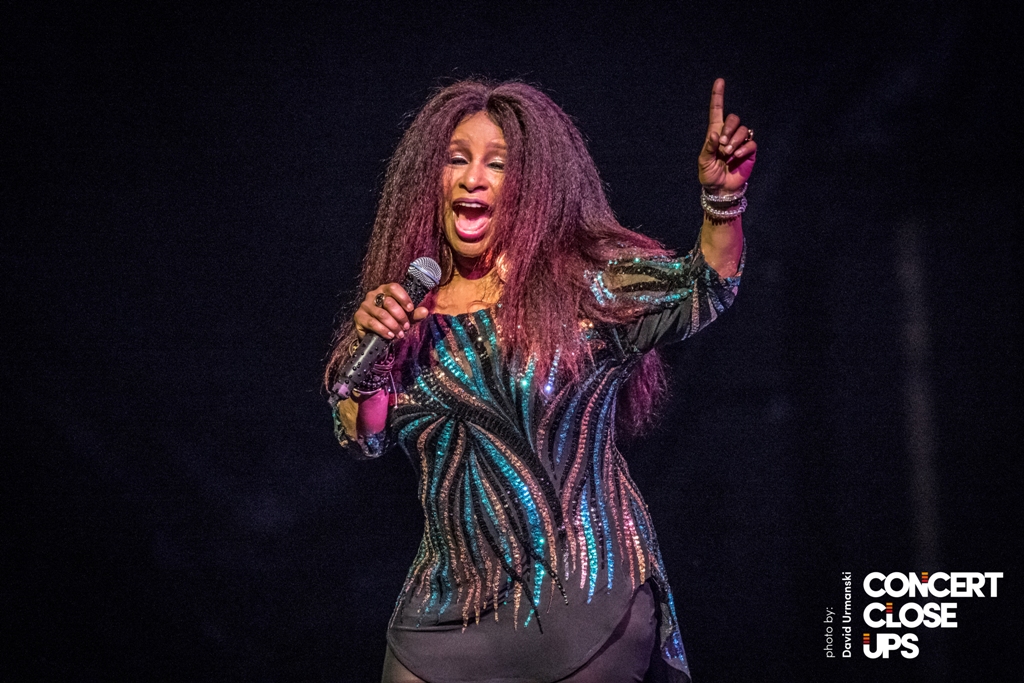 July 2, 2019
Photos by David Urmanski
Website: www.ChakaKhan.com
ARTIST BIOGRAPHY:
Chaka Khan is a true Renaissance Woman. A singer, songwriter, producer, visual artist, author, actor, philanthropist, entrepreneur, activist and mother, Chaka is an international music icon who has influenced multiple generations of artists and continues to do so. From the moment she burst onto the music scene in the 1970s as the 18-year-old lead singer of the multiracial band Rufus, her powerful voice and show-stopping stage presence set her apart from any other singer, and during her 40-year career, she has developed a vast international fan base and performed on six continents.
Chaka is a ten-time GRAMMY® Award winner (with 22 GRAMMY® nominations) who has the rare ability to sing in eight music genres, including R&B, jazz, pop, rock, gospel, country, classical and dance music. She has released 22 albums and racked up ten #1 Billboard magazine charted songs, eight RIAA certified gold singles and eleven RIAA certified gold and platinum albums. Chaka's recorded music has produced over 2,000 catalogue song placements.
She is also the recipient of numerous awards for her extraordinary achievements in music and entertainment. Last year, the City of Chicago honored her with a Street Naming of "Chaka Khan Way" and declared Sunday, July 28, 2013, "Chaka Khan Day" in Chicago, her hometown. The weekend-long celebration included a free outdoor concert in Millennium Park. Earlier in the year she was awarded a BET Honors and was the recipient of the Trumpet Award (Legend Award); honored by the Howard Theatre Restoration, Inc., at its 2nd Annual Gala and Benefit Concert; inducted into the Apollo Legends Hall of Fame at its Annual Spring Gala; inducted into the Hollywood Bowl Hall of Fame; honored with a star on the Hollywood Walk of Fame and with the United Negro College Fund's An Evening of Stars Tribute. She also received the Soul Train Legend Award (2009), the BET Lifetime Achievement Award (2006), the GRAMMY® Honors Award from the NARAS Chicago Chapter (2006) and the World Music Lifetime Achievement Award (2003). In 2004, she was awarded an Honorary Doctorate of Music from the Berklee School of Music in Boston, MA.
In 1999, she established the Chaka Khan Foundation, which includes a variety of programs and initiatives that assist women and children at risk. In July, 2012, she received the McDonald Corporation's 365Black Award, honoring her for her leadership of the Chaka Khan Foundation. Besides being a successful musician and a devoted philanthropist, she is also a successful entrepreneur. In 2004, she launched a line of gourmet chocolates, Chakalates, which was sold in 20 Neiman Marcus stores around the country. In February 2013, she re-launched her signature brand of chocolates nationally and internationally, and also introduced the Khana Sutra candle, the first product in a fragrance line for men, women and the home.
Chaka Khan was born Yvette Stevens in 1953. She grew up in Chicago, Illinois, the eldest of five siblings. As teenagers, she and her sister Bonnie formed a singing group, The Crystalettes, with two friends from school, and Chaka later sang with several local groups before she became the lead singer for the band Ask Rufus, which would become Rufus. With Chaka the group immediately began turning out hit after hit, and it was the beginning of a legendary music
career.
Living for a time in London and Germany, she currently resides in Los Angeles. She has two children, Indira Milini and Damien. Her life and career are chronicled in her autobiography, Through the Fire, which was published by Rodale Books in 2003 and is currently being updated for re-release and adapted into a screenplay. The year 2018-2019 marks Chaka's 45th anniversary in music and entertainment.
SET LIST:
This Is My Night
Do You Love What You Feel (Rufus & Chaka Khan cover)
Tell Me Something Good (Rufus song)
Everlasting Love (Rufus & Chaka Khan cover)
What Cha' Gonna Do for Me (Ned Doheny cover)
Sweet Thing (Rufus & Chaka Khan cover)
Through the Fire
You Belong to Me (with Michael McDonald)
Super Life
I Feel for You (Prince cover)
I'm Every Woman
ENCORE:
Ain't Nobody (Rufus & Chaka Khan cover)
CONCERT REVIEW RATING SCALE:
1 = Poor
2 = Average
3 = Good
4 = Excellent
5 = Extraordinary
CHAKA KHAN CONCERT RATING: 5