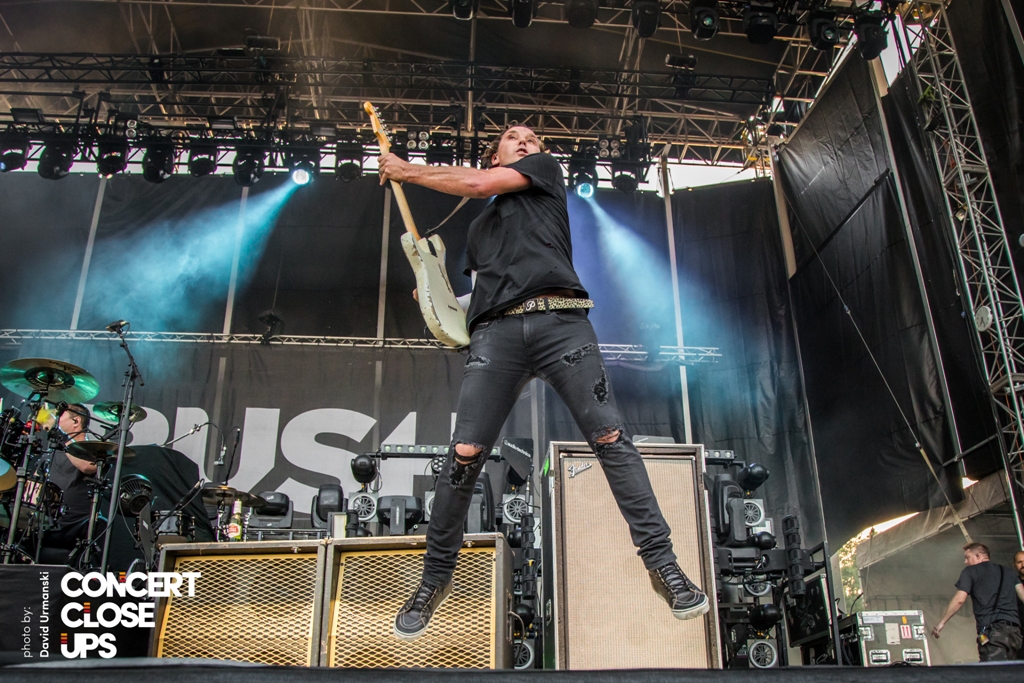 July 12, 2018
Photos by David Urmanski
BAND MEMBERS: BUSH
Gavin Rossdale – Vocals/Guitar
Chris Traynor – Guitar
Corey Britz – Bass
Robin Goodridge – Drums
BAND BIOGRAPHY: BUSH
The headline of the Billboard article said it all: "Like They Never Left." The story, which ran in the Oct 29, 2011 issue, hailed the return of mega-platinum rock band BUSH, who had just self-released The Sea of Memories, their first album in 10 years and wasted no time returning to the top of the charts. In fact, they did it in grand style: the album's lead single, "The Sound of Winter," made rock radio history by becoming the first self-released song ever to hit No. 1 at Alternative Radio. "The Sound of Winter" also holds the distinction of being the reunited group's first No. 1 single since 1999's chart-topping hit, "The Chemicals Between Us."
"It's the most brilliant start we could have imagined," says Bush vocalist/guitarist Gavin Rossdale. "Having a No. 1 song at radio is a testament to not only the band, but the great team that surrounds us, the support at radio and of course, the tireless fans who give us daily oxygen – we're thankful for it all."
The band (Rossdale, guitarist Chris Traynor, drummer Robin Goodridge, and bassist Corey Britz) supported the album with a whirlwind media blitz and tour, which included performances on "Jimmy Kimmel Live" and "The Tonight Show with Jay Leno," as well as concert specials for DirecTV's "Guitar Center Sessions" and HDNet and a sold-out international tour. Tickets for some of the shows sold out in under a minute. "It's really humbling because you never know what to expect," says Rossdale. "I had no idea that it would go like this. I just wanted to make a great record."
That record, The Sea of Memories, is steeped in the notion that one has to know where they came from to know where they're going. "We are the sum of everything we've done — right, wrong and in-between," says Rossdale. "We're all victims, and benefactors, of our past." And Bush should know. The British-born band has had more success over the course of their first half-dozen years than most artists do in a lifetime. From Sixteen Stone to The Science of Things, they made some of the most successful rock albums in recent memory. The seminal outfit also forged a sound that would come to characterize an entire decade.
Today, Rossdale is mining the past for clues to the future, and has come up with an album that reflects both sides of that time quotient. On The Sea of Memories, he's resurrected the band with drummer Robin Goodridge, guitarist Chris Traynor and bassist Corey Britz. "When making music, you have a choice to repeat what you've done or move on," says Rossdale. "It would've been safe to just rework [1994's debut album] Sixteen Stone over and over, but what kind of life would that be? When you're driving down the road, you're focused on what's in front of you; you don't really think to keep checking in your rear view mirror. I like the idea of art changing, developing and morphing."
The Sea of Memories is drenched in Bush's trademark intensity and driven by Rossdale's emotive, bittersweet vocals, but it's also infused with an immediacy that pushes the album into new, compelling directions. From their lead single, the atmospheric powerhouse "The Sound of Winter," to the rapid-fire exuberance of "All My Life," Bush reveals itself as a re-energized band. It's a fresh mindset that's at least partially influenced by events surrounding the making of this record.
Rossdale thought they had finished the CD late last year after recording with producer Bob Rock (Metallica, Aerosmith). But creative differences with its label led to an amicable parting of ways and the band left with album in hand and a choice of places to call home. While their team fielded offers from a plethora of labels, the band went back into Rossdale's home Kingston Sound studios in LA and emerged with five new songs. "I didn't want to get caught up in the process of signing a new deal," says Rossdale. "I wanted to keep moving and creating. We had good ideas and wanted to flesh them out."
It was during this re-energized state that the band decided to take control of the reins and release the album themselves. Thus, The Sea of Memories is Bush's first indie effort since the early 1990s. Rossdale's own imprint, Zuma Rock Records, issued the album through an exclusive partnership with eOne Music, with earMusic handling the European release. "It's been a relief and a breath of fresh air," says Rossdale of making the leap from a major label, and being able to work under fewer creative constraints. "There's a pressure that comes with being on a major. If you're nurtured and looked after properly, it gives you the freedom and confidence to be creative, and from that comes good results. But it can also be disheartening. This feels good. This feels right."
After the release of Golden State in 2001, Bush began unraveling from a grueling tour schedule and pressure brought on by their own success. Guitarist Nigel Pulsford finally begged off touring altogether, and in 2002, left the band to spend more time with his family. Bassist Dave Parsons soon followed. "There was no big bang," says Rossdale of the break-up. "We did it in a very English way—quietly."
Rossdale spent the next eight years pursuing new projects—from forming the band Institute in 2004 (which also included guitarist Traynor) to launching a solo career in 2008. Still, a Bush reunion was never that far off in his thoughts. "My delay in reuniting the band was really waiting for Nigel to come back, but he just didn't want to tour anymore," says Rossdale. "It was like 'What am I going to do?' As much as I wanted to wait, I also like to be in the studio and perform. So Institute and then my solo career were much more by default then by design. And I felt a bit off-kilter. It all felt less powerful, and just less all around. As long as I make music, I'd much rather make it under the name Bush than my own." Says Robin Goodridge of the reunion: "I always knew Bush would make another record. It was only a matter of time before the itch got too much for some of us. When you have something that great, it never leaves you."
The Sea of Memories has a foot in Bush's past and its future: a balance the band was determined to strike if they were to connect with loyal fans and reach new listeners. "I was a fan of Bush, so I wanted to do the music justice," says Corey Britz, the newest member, though no stranger to the camp, as he's played with Rossdale on various projects over the past few years. "Bush has always had a particular feel, and I hope to get as close to the mark as possible. I'm proud, nervous, and excited to be a part of a band that I have been a fan of for so many years."
Guitarist Chris Traynor has played with Bush since the Golden State tour. He was also part of Rossdale's ensuing band, Institute, and on the singer's more recent solo projects. "I think every Bush record has been sonically and stylistically different from the last," says Traynor. "The engine that drives the band, and makes it Bush, is Gavin's songwriting and singing. The ever-expanding vocabulary and musical territory of the band has to do with his overall vision as an artist. I really respect the fact that Gavin is driven to push forward and progress musically."
The freedom Rossdale has found musically on The Sea of Memories also translates into his lyrics. Throughout the record, he offers up poetic, colorful and often ironic narratives on day-to-day living—sometimes biographical, sometimes not. "I think the record has that balance of living: the struggle, romance, loss, desire, aspirations," says Rossdale. "Like the song 'All Night Doctors,' I enjoyed writing a dialogue, showing a snapshot of someone else's life. For most people, happiness revolves around what they've achieved. But success is really about how they reconcile their aspirations with where they actually land in life. That balance has always intrigued me. I've found that depression, stress and worry is almost always rooted in the past and the future. But there's a lot of riches to be found in the moment."
Website: www.BushOfficial.com
CONCERT REVIEW RATING SCALE:
1 = Poor
2 = Average
3 = Good
4 = Excellent
5 = Extraordinary
BUSH Concert Rating: 5
THE VENUE: ROCK USA

Scheduled for July 12-14, the 2018 Rock USA music festival brands itself as 'Solid Rock. No Limits.' and will open its gates to one of the nation's biggest annual rock events with three incredible days of a broad, world-class, limitless mix of rock at discount pricing in an effort to kick up the rock festival experience.  Join Rock USA for camping, shopping, great food and drinks and an always kick ass band lineup. Rock fans get more and pay less! Absolutely out on the edge.

Address:  4125 Washburn Street, Oshkosh WI 54904

Phone:  (920) 882-4949

Website: www.RockUSAOshkosh.com


www.Facebook.com/OfficialRUSA


Concert Tickets:  www.RockUSAOshkosh.com/Tickets