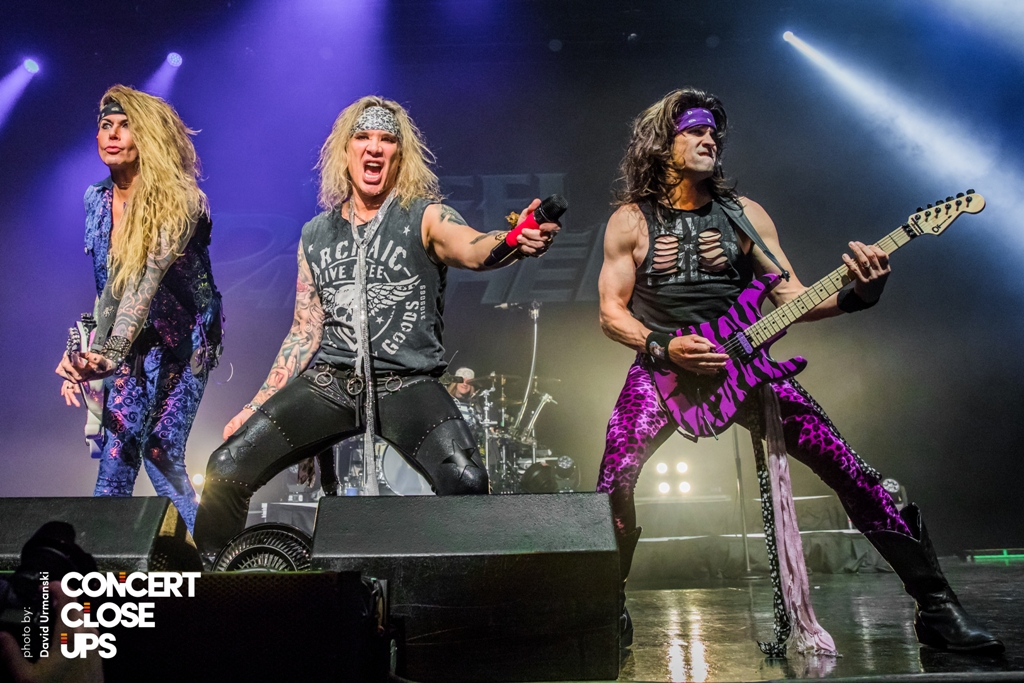 December 10, 2019
Review by Makena Betler
Photos by David Urmanski
Website: www.SteelPantherRocks.com

BAND MEMBERS:
Michael Starr – Lead vocals
Satchel – Guitar
Lexxi Foxx – Bass
Stix Zandinia – Drum Kit
Hair metal enthusiasts poured into The Sylvee Tuesday night in true Fanther fashion to head bang to Steel Panther for the annual Solid Rock 94.1 WJJO Yellow Snow Ball. Traveling from Los Angeles in support of their Heavy Metal Rules tour, the parody band best known for their obscene lyrics and overdramtic, sterotypical 'glam metal' personas brought the house down for a nearly two-hour set. Thousands of fans gathered in their most glamourous 80's fashion, including but not limited to, leopard print pants, bleach blond wigs and torn denim vests.
Formerly known as Metal Shop and Metal Skool, Steel Panther finally found their footing in 2008 in the heart of the Sunset Strip. Since then, the band has released five studio albums, toured world-wide and collaborated with artists like Corey Taylor, M. Shadows and Justin Hawkins. They have also received four awards including Loudwire's "Live Act of the Year Award" for two years in a row.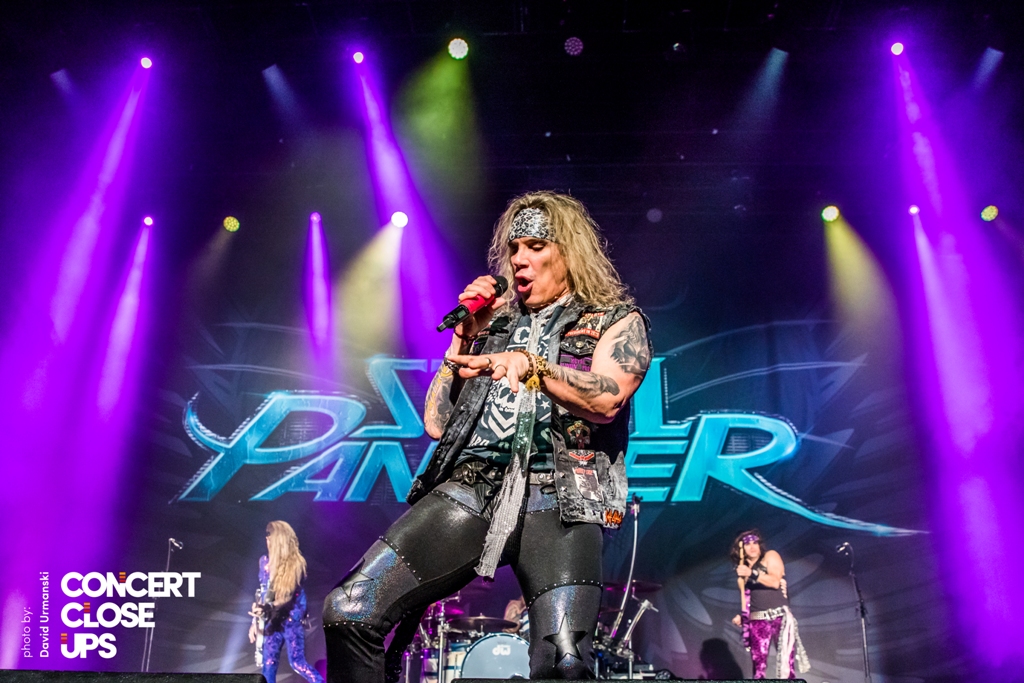 As the lights dimmed, a smoky layer of fog covered the audience and the restless crowd grew impatient. Finally, a loud roar overcame the room as the guitar strumming grew louder and the band belted out "Eyes of a Panther" from their debut studio album Feel the Steel resulting in a stellar opening to a night full of cheesy 80's flashbacks and glam celebrity imitations. Followed by songs "Let Me Cum In" and "Asian Hooker", Steel Panther made it very clear they were there to get the crowd of concert-goers hyped with their branded execution of sexual innuendos and endless hip thrusts.
While all four glam bandmates take on their own unique personas within the hair metal ensemble, frontman Michael Starr proves to be the chief big shot of the band who routinely performs a great impersonation of Ozzy Osbourne wandering around aimlessly onstage. Additionally, he is always open to whipping up some healthy and hilarious banter with guitarist Satchel who both tend to like the ladies and regularly pick on bassist, Lexxi Foxx, who is best known as the 'glamorous diva' of the group who cakes on pink blush and pencils in his eyebrows to match the hair sprayed masterpiece that generously flows down his back. Drummer, Stix Zandinia, on the other hand is often seated for our protection but lets his goofy personality shine through from the rear of the stage as he flirtatiously winks and gestures to the women in the front row who beg for his attention throughout the evening.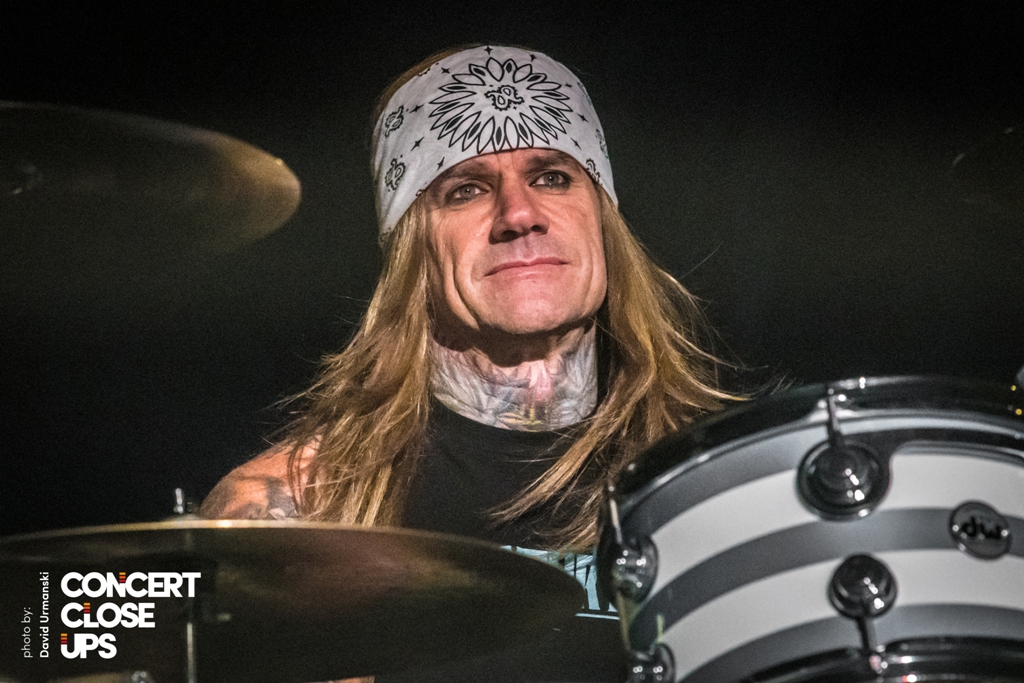 "Poontang Boomerang" was introduced to shine the light on Foxx while Starr and Satchel aim leaf blowers at him to achieve the perfect, windswept Rolling Stone cover look. Though remarkably inappropriate, everyone in the room was dancing and singing along to every word. Starr was having the time of his life as he heard the echo of the crowd singing back to him and felt the thumps from the jumping audience cascading to the stage.
Just when you thought the night turned cheerfully chaotic, "Party All Night (Fuck All Day)" and "17 Girls in a Row" was unleashed on the fans who in-turn proceeded to kick it into high gear. Reminiscent of a massive musical orgy of drunken concert-goers, the audience mashed together singing word for word with Starr and gang while several uninhibited ladies from the audience joined the band onstage for some dancing, singing and stimulating escapades while donning their favorite 80's fashions.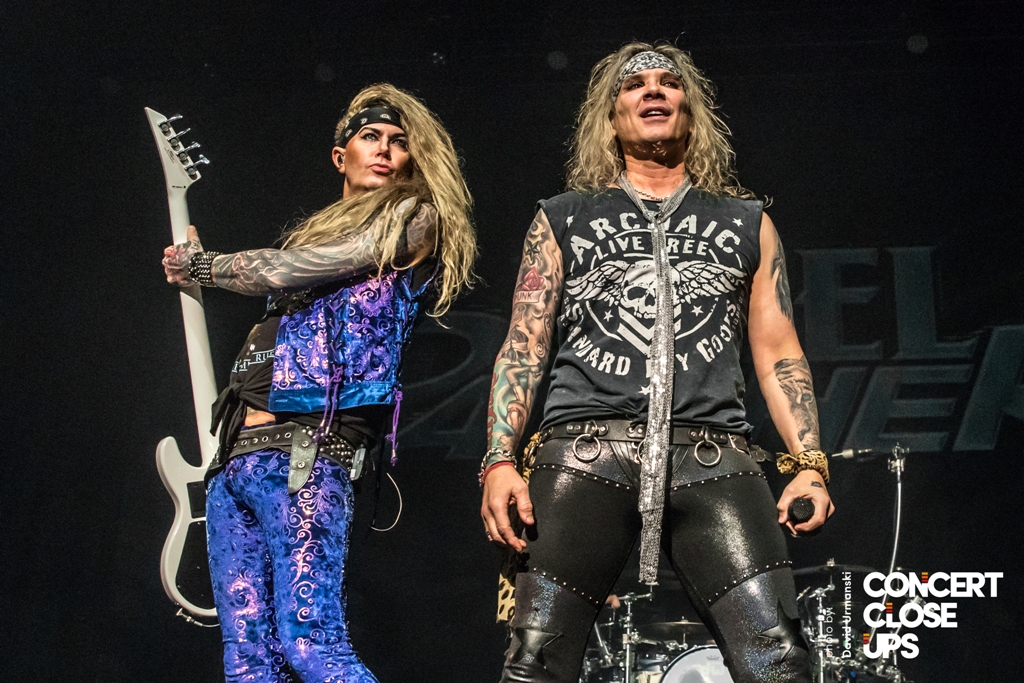 Until that point, each song on the set list was high-energy and upbeat, however Steel Panther downshifted and rolled back the tempo to perform love ballad "Community Property" from Feel the Steel. Unlike a typical ballad honoring the love and affection of a romantic partner, the fanthers in attendance recited the romantic poetry divulging lyrics of an open relationship, "Cause my heart belongs to you. My love is pure and true. My heart belongs to you, but my cock is community property." An obvious play on cheesy love songs, the crowed sway in sync to the melody and blissfully sang in unison to their loved ones.
Before walking offstage for the band's first goodbye, Steel Panther knocked out fan favorite "Death to All but Metal" as a tribute to all things heavy metal. Steel Panther sang their hearts out as the head-bangers in attendance pulsed their hand horns to the beat. Teasing the tune as their closing number and farewell, the venue blew up with energy and excitement knowing the band wouldn't leave before performing absurd and appalling "Gloryhole". As one of the bands most well-known songs and third single from the band's All You Can Eat album, the encore left everyone in attendance satisfied and spent.
As I watched people exit the venue, the number of Steel Panther shirts I witnessed fans wearing grew significantly. With taglines like, "Say Perhaps to Drugs" and "Pussy Melter" printed on them, the fanthers wore them proudly below their bleach blonde mops and flaunted their drum heads and guitar picks while sharing concert stories as the night came to a close. I wasn't exactly sure what to expect from a Steel Panther performance, but they did not disappoint. The next time they come to a city near you, I strongly recommend you take the opportunity to attend. The mix of energy, comedy and pure talent left me eager for more.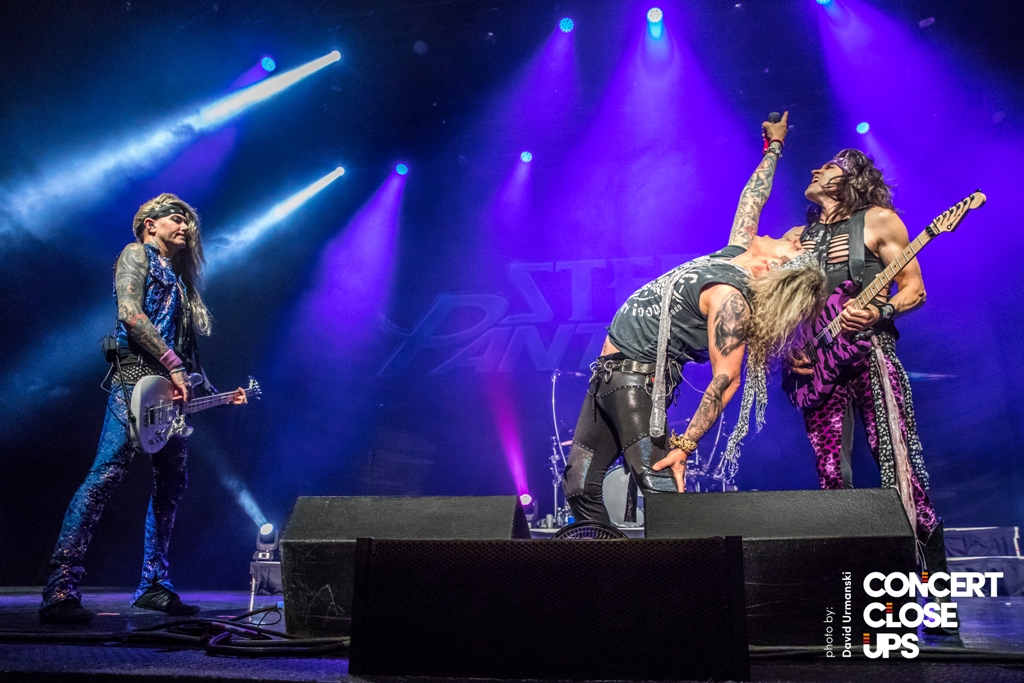 SETLIST:
Eyes of a Panther
Let Me Cum In
All I Wanna Do I Fuck (Myself Tonight)
Asian Hooker
Party Like Tomorrow Is the End of the World
Poontang Boomerang
Fuck Everybody
I Ain't Buying What You're Selling
Weenie Ride
Party All Day (Fuck All Night)
17 Girls in a Row
Community Property
Death to All but Metal
ENCORE:
Gloryhole
CONCERT REVIEW RATING SCALE:
1 = Poor
2 = Average
3 = Good
4 = Excellent
5 = Extraordinary
STEEL PANTHER CONCERT RATING: 5