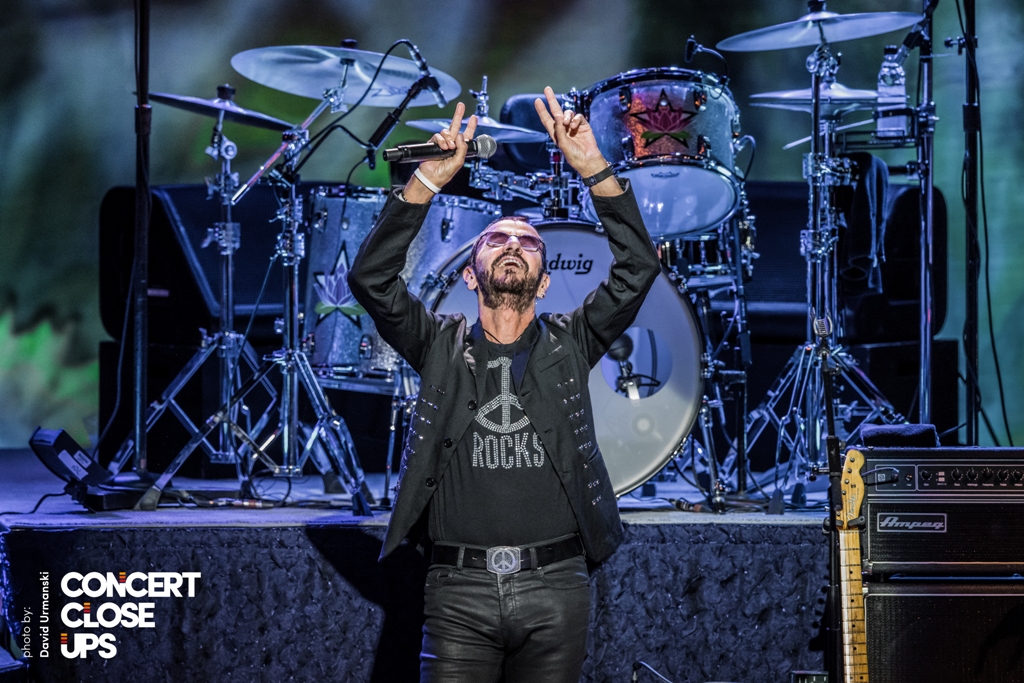 August 4, 2019
Review by David Urmanski
Photos by David Urmanski
RINGO STARR Website: www.RingoStarr.com
THE BEACH BOYS Website: www.TheBeachBoys.com
Ringo Starr & His All Starr Band commemorated the 30th Anniversary of their first 1989 tour with back to back shows at the Ravinia in Highland Park, IL Saturday and Sunday evening for a highly anticipated double bill with long-time venue and rock n' roll fan favorite, The Beach Boys, for what proved to be a spectacular night of good vibrations, classic singalongs and dancing well into the night with a little help from Ringo and his friends.
Formed in 1961 and hailing from sunny California, The Beach Boys took the outdoor stage by storm and captivated the 3,000-plus multi-generational audience of smiling, summer concert-goers with their own unique sound synthesis of rock and roll hits starting strong with signature single "Do It Again", followed by mega surf rock releases "Surfin' Safari", "Catch the Wave" and Joe Jones cover "California Sun" as well as an additional 23 timeless tunes, including Beatles cover "Here Comes the Sun", before ending on a high note with encores "Kokomo", Ramones cover "Rockaway Beach" and ever-fitting finale "Fun, Fun, Fun".
As one of the most famous pop bands of all time with over 100 million records sold, The Beach Boys took the tour on the road with founding singer/songwriter, Mike Love, and vocalist/keyboardist/bassist, Bruce Johnston, who joined the band in 1965 and contributed to albums thereafter. The Beach Boys were also joined onstage by special guest actor, producer, comedian, musician and singer, John Stamos, who is best known for his starring role as Jesse Katsopolis on the ABC sitcom Full House. Stamos performed a variety of instruments throughout the set to include guitar, drums and congas as well as back-up vocals and lead vocals on the harmonically beautiful "Forever".
With a brief intermission between bands to allow the audience to re-energize after undergoing an abundance of surf-style stimulation and enduring engagement, Ringo Starr and His All Starr Band took the stage for a heartfelt recap of the last 30 years in the making with current supergroup lineup featuring guitarists Steve Lukather (Toto) and Colin Hay (Men at Work), keyboardist Gregg Rolie (Santana, Journey), bassist Hamish Stuart (Average White Band), drummer Gregg Bissonette (David Lee Roth) and multi-instrumentalist Warren Ham (Kansas, Toto).
Donning a "Peace Rocks" t-shirt and matching peace-sign belt buckle, Ringo Starr wasted no time getting the audience to sing along in perfect pitch and sway back and forth with him in utopian unison to the songs of yesteryear. Also making time for generous laughter between songs, Ringo jokingly recounted stories of the past to include his recollection "when I joined the Beatles, I'd written a lot of songs. None of them were recorded." before transitioning into Beatles covers "Don't Pass Me By" and "Yellow Submarine".
Ringo also exclaimed his love for the part of the show deemed "The Magicial Musical Moment" led by keyboardist Gregg Rolie when performing "Black Magic Woman" where Ringo proceeded to walk offstage only to return 7-1/2 minutes later to a much deserved standing ovation directed toward His All Starr Band's rendition of the Santana hit. While it seemed to be the perfect time to introduce the band, Ringo still managed to query the audience "What's my name?" so he didn't feel left out stating "I can go home now. That's it for me!" before asking if there were any young girls in the audience and dedicating "You're Sixteen" to all of them and those gals who are young at heart.
When it was all said and done, Ringo Starr & His All Starr Band came to Highland Park to share their stories through song while performing a variety of beloved, classic hits to a crowd of young and old alike who desperately desired the opportunity to relive iconic songs with the iconic artists who created them. As witnessed again Sunday evening, music continues to bring people together and creates connections that nothing else can destroy or emulate. Sometimes it takes listening to and witnessing bands like The Beach Boys and Ringo Starr & His All Starr Band to reawaken our souls and remind us just how much rock music is truly alive and well.
THE BEACH BOYS SETLIST:
Do It Again
Surfin' Safari
Catch a Wave
California Sun (Joe Jones cover)
It's OK
Surfin' U.S.A.
Surfer Girl
Don't Worry Baby
Little Deuce Coupe
409
Shut Down
I Get Around
Be True to Your School
Getcha Back
The Warmth of the Sun (with Ambha Love)
Forever (with John Stamos)
God Only Knows
Pisces Brothers (Mike Love song)
Here Comes the Sun (The Beatles cover)
California Girls
Sloop John B
Wouldn't It Be Nice
Help Me, Rhonda
Do You Wanna Dance? (Bobby Freeman cover)
Barbara Ann (The Regents cover)
Summertime Blues (Eddie Cochran cover)
Good Vibrations
THE BEACH BOYS ENCORE:
Kokomo
Rockaway Beach (Ramones cover)
Fun, Fun, Fun
RINGO STARR & HIS ALL STARR BAND SETLIST:
Matchbox (Carl Perkins cover)
It Don't Come Easy (Ringo Starr song)
Evil Ways (Willie Bobo cover) (with Gregg Rolie)
Rosanna (Toto cover) (with Steve Lukather)
Pick Up the Pieces (Average White Band cover) (with Hamish Stuart)
Down Under (Men at Work cover) (with Colin Hay)
Boys (The Shirelles cover)
Don't Pass Me By (The Beatles cover)
Yellow Submarine (The Beatles cover)
Black Magic Woman / Gypsy Queen (with Gregg Rolie)
You're Sixteen (Johnny Burnette cover)
Anthem (Ringo Starr song)
Work to Do (The Isley Brothers cover) (with Hamish Stuart)
Oye como va (Tito Puente cover) (with Gregg Rolie)
I Wanna Be Your Man (The Beatles cover)
Who Can It Be Now? (Men at Work cover) (with Colin Hay)
Hold the Line (Toto cover) (with Steve Lukather)
Photograph (Ringo Starr song)
Act Naturally (Buck Owens cover)
With a Little Help From My Friends (The Beatles cover) (with 'Give Peace a Chance' by… more )
CONCERT REVIEW RATING SCALE:
1 = Poor
2 = Average
3 = Good
4 = Excellent
5 = Extraordinary
THE BEACH BOYS CONCERT RATING: 5
RINGO STARR & HIS ALL STARR BAND CONCERT RATING: 5