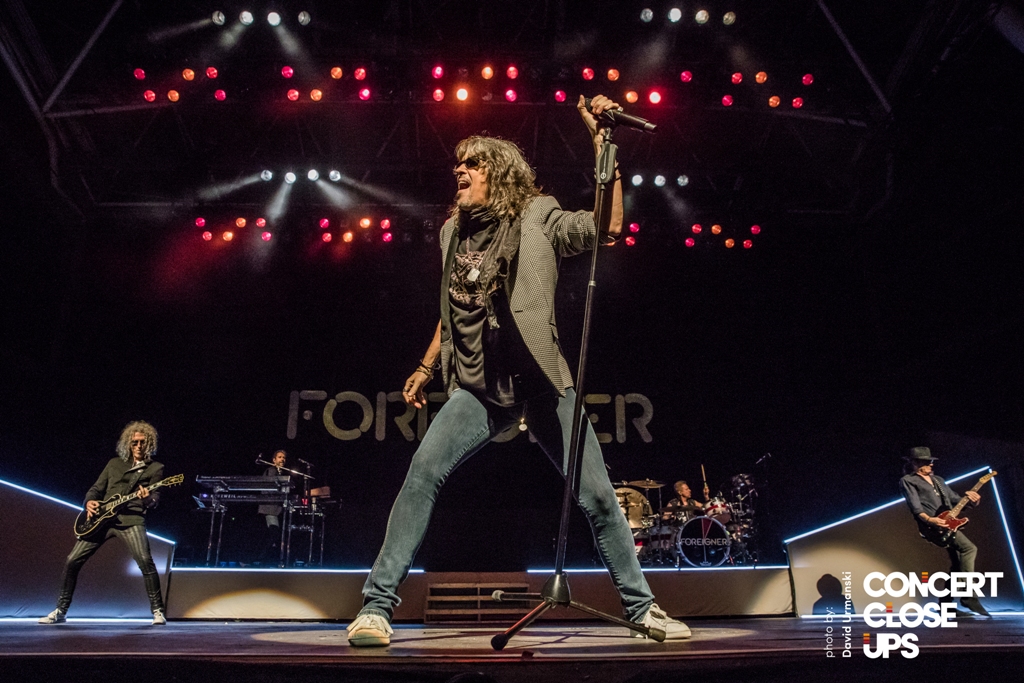 June 26, 2019
Review by David Urmanski
Photos by David Urmanski
Website: www.ForeignerOnline.com/Welcome
BAND MEMBERS:
Mick Jones – Lead Guitar
Kelly Hansen – Lead Vocals
Bruce Watson – Lead Guitar
Jeff Pilson – Bass
Tom Gimbel – Flute, Rhythm Guitar, Saxophone
Michael Bluestein – Keys
Chris Frazier – Drums
If you were going to hold The World's Largest Music Festival to kick off the summer season in grand fashion, there is no better band to lay down the foundation for what promises to be an exceptional 11-day event than English-American rock band, Foreigner. Performing at the BMO Harris Pavilion located on the Summerfest grounds adjacent to the downtown Milwaukee shores of Lake Michigan, the band wasted no time getting the exhilarated crowd on their feet right out the gate and keeping them there from the initial slide of the G-chord of band staple Double Vision through the last beat of their 1978 rock anthem Hot Blooded during a high-energy, power-packed 11 song set.
With 10 multi-platinum albums, 16 Top 30 hits and album sales exceeding 75 million since forming in New York City in 1976, Foreigner continues to be one of the most iconic rock bands to take the stage. Led by founding guitarist/backup vocalist and Songwriters Hall of Fame member, Mick Jones, the band regrouped with Kelly Hansen on lead vocals in 2002 after the departure of legendary former singer-songwriter Lou Gramm.
As proven Wednesday evening, Hansen is not only a magnificent vocalist, but he is also one of the most charismatic and energetic frontmen in rock and roll today with an innate ability to connect with any crowd…even the long-time, die-hard Foreigner fans who have been following the band since its inception.
With Jones leading the charge on guitar playing the unforgettable riffs that have been stuck in our heads for decades accompanied by Jeff Pilson of Dokken fame on bass, multi-instrumentalist Tom Gimbel, guitarist Bruce Watson, Michael Bluestein on keyboards, and Chris Frazier on drums, Foreigner continues to rock the charts and sell-out amphitheatres and stadiums worldwide while gaining legions of new fans along the way.
With over 40 years behind them and no signs of slowing down, the band's success derives from a catalog of classics rivaled by few and accepted by many. In a new era of rock n' roll, that is not as easy to accomplish as Foreigner makes it look.
SET LIST:
Double Vision
Head Games
Cold as Ice
Waiting for a Girl Like You
Dirty White Boy
Feels Like the First Time
Urgent
Keyboard and Drum Solo
Juke Box Hero
ENCORE:
I Want to Know What Love Is (with the Pius XI choir)
Hot Blooded
CONCERT REVIEW RATING SCALE:
1 = Poor
2 = Average
3 = Good
4 = Excellent
5 = Extraordinary
FOREIGNER CONCERT RATING: 5