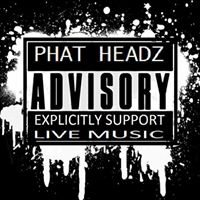 If you have a rock band and you're going to play at Phat Headz II, you're going to have a few more people watching than you expected. Rock 'n' roll icons — everybody from Johnny Cash to Mick Jagger to Lady Gaga — are airbrushed on the walls by John Barnard, a friend of the bar.
Phat Headz II is legendary in the music scene. Its personality shines with everything from simple drinks to a classic rough edge that makes its shtick completely authentic. It's not trying to be anything other than a rock club, which it does pretty damn well. Phat Headz has live music several nights a week, be it original bands, cover acts or Singin' Fools Karaoke at 9:30 p.m. every Tuesday and an open jam at 9 p.m. every Wednesday.
No-frills beers, mostly in bottles, with some domestics and imports. They also make a fresh 24-ounce Summer Hummer during the warmer months.
Phat Headz absolutely has the feeling of a classic rock club, with nice touches like the wall decor and the homemade Statler and Waldorf puppets, the hecklers from The Muppets. If you look, those kinds of details are everywhere.

Address:  420 N. Clay Street, Green Bay, Wisconsin 54301

Phone:  (920) 393-1400


www.Facebook.com/PhatHeadzII


Upcoming Concerts & Tickets:  www.Rockerchix-Promoters.com

Hours: 
Sunday    12pm to 2am
Monday    Closed
Tuesday   7pm to 2am
Wednesday 7pm to 2am
Thursday  7pm to 2am
Friday    7pm to 2:30am
Saturday  7pm to 2:30am