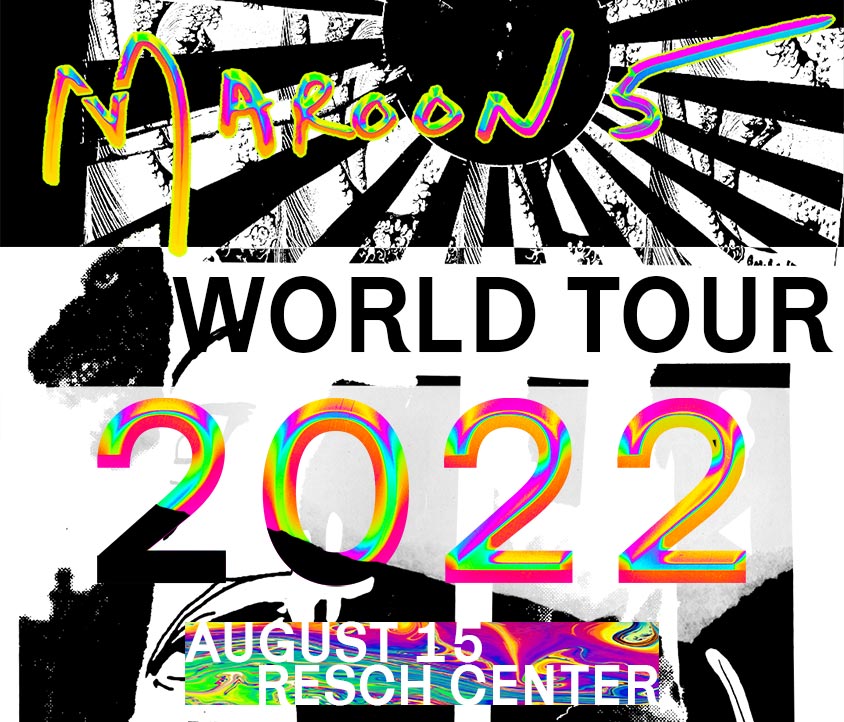 MAROON 5 @ Resch Center – Green Bay, WI
Monday, August 15, 2022
TICKETS still available: Ticket Star
Three-time GRAMMY® Award-winning diamond-selling band Maroon 5 have revealed the details for the next leg of their 2022 World Tour dates, and it includes a stop at the Resch Center on Monday, August 15, 7:30 p.m. Tickets go on sale Friday, April 29 at 10 a.m. at ReschCenter.com, by phone 800.895.0071 or at the Ticket Star box office in the Resch Center.
A special Maroon 5 fan club pre-sale launches at 10am local time on April 26, while Spotify and LiveNation presales commence on April 27 at 10 a.m. followed by local pre-sales on April 28 at 10 a.m.
Maroon 5 has a sustained global impact as an international pop music force. 2022 notably marks the 20th anniversary of Maroon 5's formation and their classic quadruple-platinum debut, Songs About Jane, which initially arrived on June 25, 2002, and has since sold over 20 million records. During 2021, Maroon 5 made their triumphant return to the road in the U.S., performing 30 dates in front of over 450,000 fans over the summer. Now, they're continuing their 2022 World Tour. To date, the universally renowned Los Angeles band have achieved three GRAMMY® Awards, over 80 million in album sales, 450 million singles worldwide and earned gold and platinum certifications in more than 35 countries. Maroon 5 reach an audience of 52 million-plus monthly Spotify listeners. They have performed over 750 shows and sold north of 7.5 million tickets worldwide since their formation.
VENUE:  RESCH CENTER

Owned by Brown County, the Resch Center opened in 2002 and is managed by Green Bay-based PMI Entertainment Group (PMI). Before their demolition to make way for the Resch Expo, Shopko Hall and the Brown County Veterans Memorial Arena were also part of a complex with the Resch Center.  

Bart Starr Plaza is in front of the building and the Blue parking lot is directly across the street on Armed Forces Drive. It is located about a block away from Lambeau Field and is a vital part of the stadium/entertainment district.

The Resch Center hosts a wide variety of events, including concerts, comedy, family shows, sporting events, theater, consumer/trade shows, and a game day tailgate party. All tickets for the building are sold by Ticket Star, a regional ticketing company owned and operated by PMI. In addition, many events or shows are produced by Blue Green Events, also a division of PMI.

The Resch Expo opened in January of 2021 and has 125,000 square feet of column free exhibition space for trade shows, large equipment expos, sporting tournaments, and more. The $93M project is also managed by PMI Entertainment Group and includes six meeting suites on the second level that can also be used as one large suite. The Resch Expo can be used as one large hall, two halls, or separated into three halls.

Address:  820 Armed Forces Drive - Green Bay, Wisconsin 54304

Phone:  (800) 895-0071

Website:  www.ReschCenter.com

Upcoming Events & Tickets: www.ReschCenter.com/Events

Hours:  The Ticket Star Box Office is open Monday - Friday from 10 a.m. - 2 p.m. On event days, it's open from 10 a.m. until one hour after the start of the event.